What You Should Know Before Shipping Harvest Equipment
Inside this article:
How to harvest equipment from an ag auction
Why you need to have your machine inspected before purchasing or bidding
Best practices for farm equipment inspections
How to prepare your machine for transport
Tips for buying used equipment from sellers or dealers
Tips for transporting your own equipment safely
How to get the best quote for farm equipment shipping
Farming and the agricultural business would not be where it is today if it wasn't for harvesting equipment. The technological advancements in agricultural machinery have taken the farming industry to new heights, feeding millions of people across Canada.
As of 2021, the agriculture business employed roughly 250,000 Canadians, all of whom use many variations of harvesting equipment to feed their communities and harvest for export.
With farmers residing all over Canada, how does one transport heavy machinery to those who need it? Machinery transport can end in disaster if not done by an experienced company. Farm machinery is expensive, and having a reliable shipper to care for your machines helps ensure they arrive at their destination securely.
Canadian farmers need farm equipment shipping for many reasons, but most often, it's to deliver a new or used piece of equipment from the seller, auction site, or dealer to the final destination. Let's take a closer look at each scenario and why you need to have a trusted shipper's phone number in your back pocket (or saved in your contacts!).
Shipping From Agricultural Auction
Purchasing farm equipment through auctions is an easy way to get cost-efficient farming equipment. It's important to look at the items that are up for bidding before the auction starts to get the most out of the event. Taking a look through the catalogue of items for sale allows you to prepare for bidding and plan your budget.
These tips are applicable for both in-person and online auctions since online auctions are growing dramatically in popularity, thanks to both technological advancements and accessible shipping.
Many auction houses have online options, whether a website or an app. It's easier now than ever to purchase machinery from the comfort of your home, no matter the distance of the auction site. Online agricultural auctions still allow for a personalized experience, as you can talk directly with the previous owner and ask questions when needed through the app or by contacting the auction house.
If online auctions are a simplified and easy way to purchase from anywhere, why bother with in-person auctions?
Live, in-person auctions do have their benefits! In smaller towns, on-site auctions typically have a lower volume of attendees, increasing your chances of getting a better price. Another perk of in-person auctions is the social aspect of meeting friends and colleagues.
The on-site auction atmosphere brings a sense of excitement and exhilaration that you may miss with online auctions. You also get the benefit of seeing the equipment in person, allowing you to inspect each item a little closer. Viewing the equipment yourself does not replace having an official machine inspection done, which is essential whether you're participating in person or online.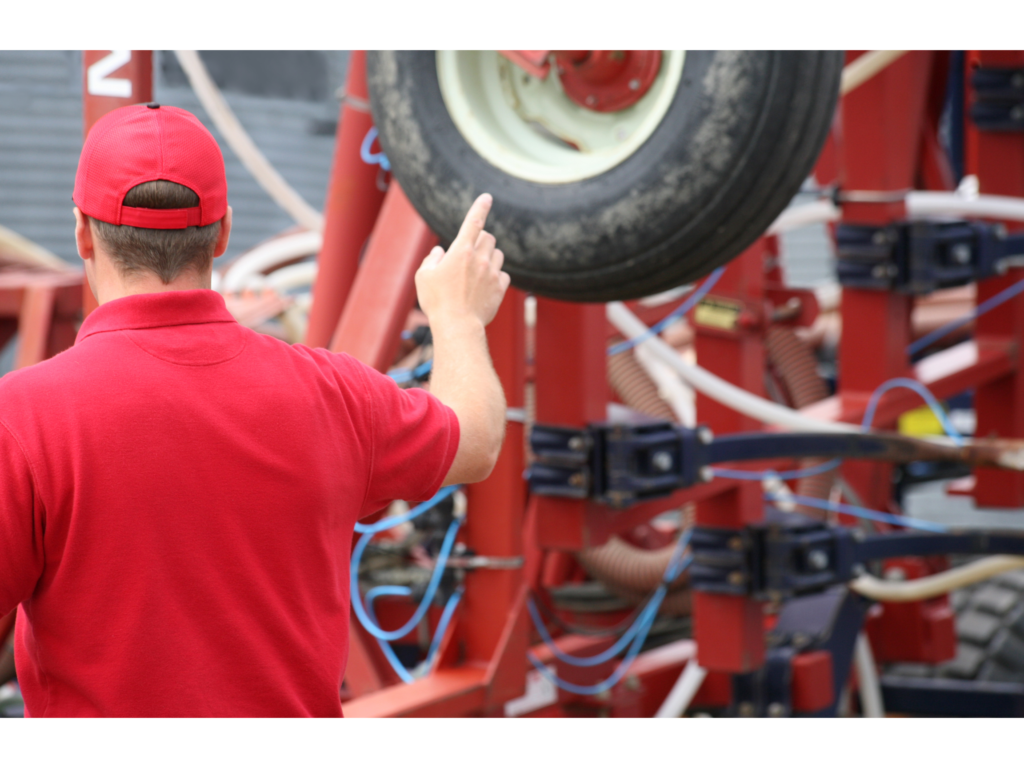 Machine Inspections at Auctions
When you've finally found a machine you want to bid on, such as a combine harvester, how do you ensure it's in tip-top shape? This is where a machine inspection by a professional heavy equipment mechanic is needed.
Bring an expert. Who knows more about quality farming equipment than a heavy-duty mechanic? If you don't know any mechanics personally, stop by your local garage or ask around. A mechanic can catch small details you would not want to be overlooked.
Check the history. Look at the machine records, the history of the ownership, and any other documentation included in the auction. Where your equipment has come from is essential to know, along with its usage and any mechanical issues it may have had in the past. Knowing the history of your purchased equipment can help you determine how much you want to pay for the machine and help you in the future if any problems arise.
Inspect the specifications and features. Inquire or test the parts of the machinery like wipers, lights, touchscreens, etc. Touchscreens specifically can lose their sensitivity over the years. Also, look for wear and tear, including stress on crucial metal joints. The older the machine, the more labour and pressure the frame has been through.
Engine inspection. You'll want to inspect the engine of any machine you are planning to bid on. Ask to see the engine running to listen for unusual sounds and watch for leaking fluids. If you hear any unusual sounds, it could cause future complications, and it's best to address them at the start. Suppose you're participating in an auction from a distance. In that case, you can hire a professional mechanic to conduct this type of inspection for you and report back with the details.
Machine Prep From Farm Equipment Auctions
Once you find a machine that passes the inspection and you win the bid, it's then time to prepare your machine for transport. You'll want to be in contact with the auction company while you arrange for the pick-up. Communication is important for a smooth transition.
Once you've settled on the pick-up deadline, you can arrange with your shipper the final details. When using a reliable farm equipment shipping company, such as Trusted Dispatch, this is the point where you post your load to our load board. Once a load is posted, available drivers claim the shipment and confirm the pick-up date, location, and loading strategy.
Once you've been matched with a driver, you can communicate any special considerations or instructions. Any directions you give to your driver, have them written over email or letter to decrease confusion. Written instructions are also beneficial to reference if there is anything that goes wrong during transportation.
Shipping Farm Equipment From a Used Seller
A brand new John Deere Combine Harvester can cost anywhere between $380,000 – $480,000. Brand new machinery can be costly, and why spend the big bucks when you can get a similar machine for a lower price? Purchasing used equipment is the way to go if you are looking for a cost-sensitive option. Ten or twenty years ago, used equipment would be found in the newspaper or community bulletins (aside from auctions), but today there are many options for finding pre-owned machinery.
AG Dealer is an excellent resource for finding used or secondhand heavy-duty machinery. Over 33,000 agriculture and farm equipment listings are on AG Dealer's website, ranging from tractors to trailers, forestry, trucks and recreational vehicles. Finding quality equipment has never been easier, and with just a click of a button, AG Dealer can help you find what you need. And AG Dealer has partnered with CWB National Leasing for easy financing and Trusted Dispatch for smooth transportation.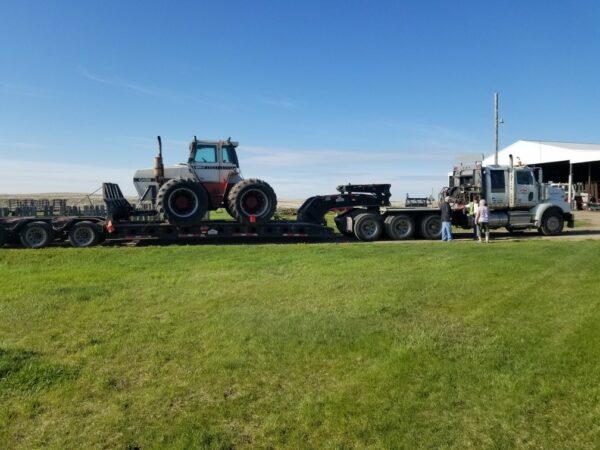 Machine Inspection
Similar to auctions, machine inspections are essential when purchasing used equipment directly from the seller. Taking the time to do your homework on the specific machine you are looking at will ensure the least amount of purchase mishaps. Communicating with the seller about past issues and asking for high-quality, detailed photos or even a video can help ensure the quality of the purchase and help you decide whether to inspect the machine further.
If you decide a machine looks good and the price is reasonable, you will want to hire a mechanic to inspect the machine in person. Photos and video cannot replace hearing the engine turn over or looking the equipment over in person for signs of wear and tear or leaks. Unless you have the expertise, it's best to hire a professional mechanic to do the inspection. If a seller is resistant to allowing an inspection, this should be a red flag to consider before moving forward.
Machine Preparations
Once you're ready to purchase the equipment and ship it home, consistent communication with the seller is essential. After your payment arrangements are finalized, you'll want to discuss the pick-up and transport of the machine. You can discuss ideal pick-up times with the seller and ask for any relevant notes and photos to send to your driver that will help them prepare for transport. Asking the seller to have the machine parked in an open, flat area will help make the loading process smoother.
Transporting Your Own Farm Equipment
There are many reasons why you may need to transport the farm equipment you already own rather than shipping a new purchase. You might be transporting a machine to and from a heavy mechanic or hauling it to another land location. Whatever your reason is, and whether it is tractor transport, combine or any other equipment, if you need to ship, here are some tips to help it go smoothly.
Preparing Your Machine
Starting off with solid machine prep is the base point of your machine's journey. It is the perfect time to clean up your equipment. While scrubbing down any old dirt, or debris, take the opportunity to inspect for any damages.
A lot of time, dirt build-up and mud residue can hide tiny dents, scratches, or wear and tear the vehicle has gone through. You can discover the damages before travel.
A difficult aspect of moving cargo is loading and unloading. Whether you are transporting yourself or having a company come in, parking your equipment in an easy-to-access place will make the process easier for everyone involved. The larger the space around your machine, the better to allow transport trucks and trailers to maneuver effectively.
Putting Safety and Secure Transport First
Your cargo safety and the driver's safety are the top priorities. When looking for farm equipment transport and equipment transport services, we recommend going with a company that puts safety first. Trusted Dispatch knows that driver and cargo safety are the number one concern. There are many policies in place to ensure safety is upheld and secure.
While driving long distances over winding dirt roads, many things can happen, such as rocks flying or air-born debris hitting your equipment. At Trusted Dispatch, our drivers are required to cover their windshields to protect against stone chips and other small projectiles. Whether your machinery travels long or short distances, it's crucial to have your cargo secured to the trailer for the safety of your item and everyone on the road. When driving at high speeds, any cargo movement can create a safety hazard for the driver and other drivers on the road. Even a simple weight shift can cause driving issues, and any dislodged items can become hazards on the road.
Another essential safety provision is driver consistency. Hauling at appropriate speeds while obeying all road rules and regulations will ensure your machinery travels safely. The drivers in the Trusted Dispatch network are experienced, professional heavy haulers. Our member drivers are fully vetted, cargo-insured, and experienced because only the best should transport your equipment.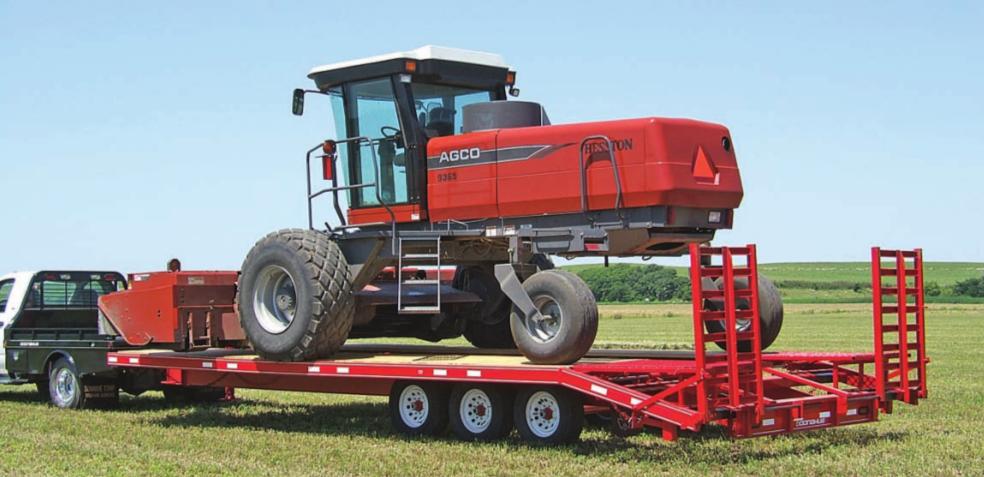 How to Get the Best Quote for Harvesting Equipment Shipping
It's easy to get a free quote from Trusted Dispatch, as long as you know the measurements of what you need to be hauled and where you are picking up your equipment. If you are unsure about the dimensions of your machine, Trusted Dispatch has over 60,000 heavy equipment specifications in our powerful Specs Tool, making it easy to find weight and dimensions in seconds.
Our shipping calculator will provide you with a free quote instantly. You'll have your quote immediately to save for later or post right away to start your transport journey in minutes.
Fair rates are important at Trusted Dispatch. By correctly pairing drivers based on their expertise and equipment for the journey, the shipper will have the best price for the job.
Communicating With Your Driver
Another crucial aspect Trusted Dispatch focuses on is communication. Transportation can get messy when contact is not direct. Unlike other companies, Trusted Dispatch does not use middlemen or brokers, only connecting customers directly with drivers. Direct communication with drivers allows for an easier process with little to no confusion or misunderstanding.
Expert Farm Equipment Hauling in Canada
If you've been eyeing a machine, whether at an auction, AG Dealer or other source and are excited to start the shipping process, then look no further. Contact the hauling experts at Trusted Dispatch and get your free quote today.
If you know anyone in your community who needs farm equipment transport, refer them to Trusted Dispatch. Trusted Dispatch appreciates the importance of the farming community, and if you give a referral, you'll get $50 in your pocket!