In this article:
How you can prepare your tractor and farm implements for shipping
How to research the best farm equipment shipping company

Do they have professional drivers?
Where do they operate?
Are their rates fair?
Do they have good customer reviews?

Get your free, instant quote for tractor shipping and other farm equipment
How to Prepare Your Tractor and Farm Implements for Shipping
Maybe you're new to farming and farm equipment, or perhaps you've been working with farm equipment for years. However, you've just purchased a new tractor as well as some implements, and you need to figure out how to ship it, but you don't know where to start.
We can answer that question for you: start with Trusted Dispatch! We make heavy-haul shipping as easy as 1, 2, and 3 with our straightforward process, fair prices, and connections to experienced drivers. We can guide you through the shipping steps, including getting a quote, posting your load to the load board, and preparing your load for shipping.
How to Research the Best Farm Equipment Transport Company
Before you confirm your shipping arrangements, you'll want to make sure you're connected with a reliable and experienced company. When shipping large and expensive equipment such as tractors, you need to know that your machine is in the right hands.
Do They Have Professional Drivers?
One of the first questions to ask is whether or not the company's drivers are fully vetted. You don't want just anyone hauling your equipment—you want a driver that you can trust. At Trusted Dispatch, we put drivers through a vetting process before adding them to our network. Our drivers are experienced owner-operators with their own trailers suited for heavy hauling. We ensure they all have experience safely loading, securing, and hauling heavy equipment. The drivers also have cargo insurance and know the rules and regulations around hauling oversized loads. For more on the experience of our network of drivers, you can view them in action on our "Our Drivers in Action" page.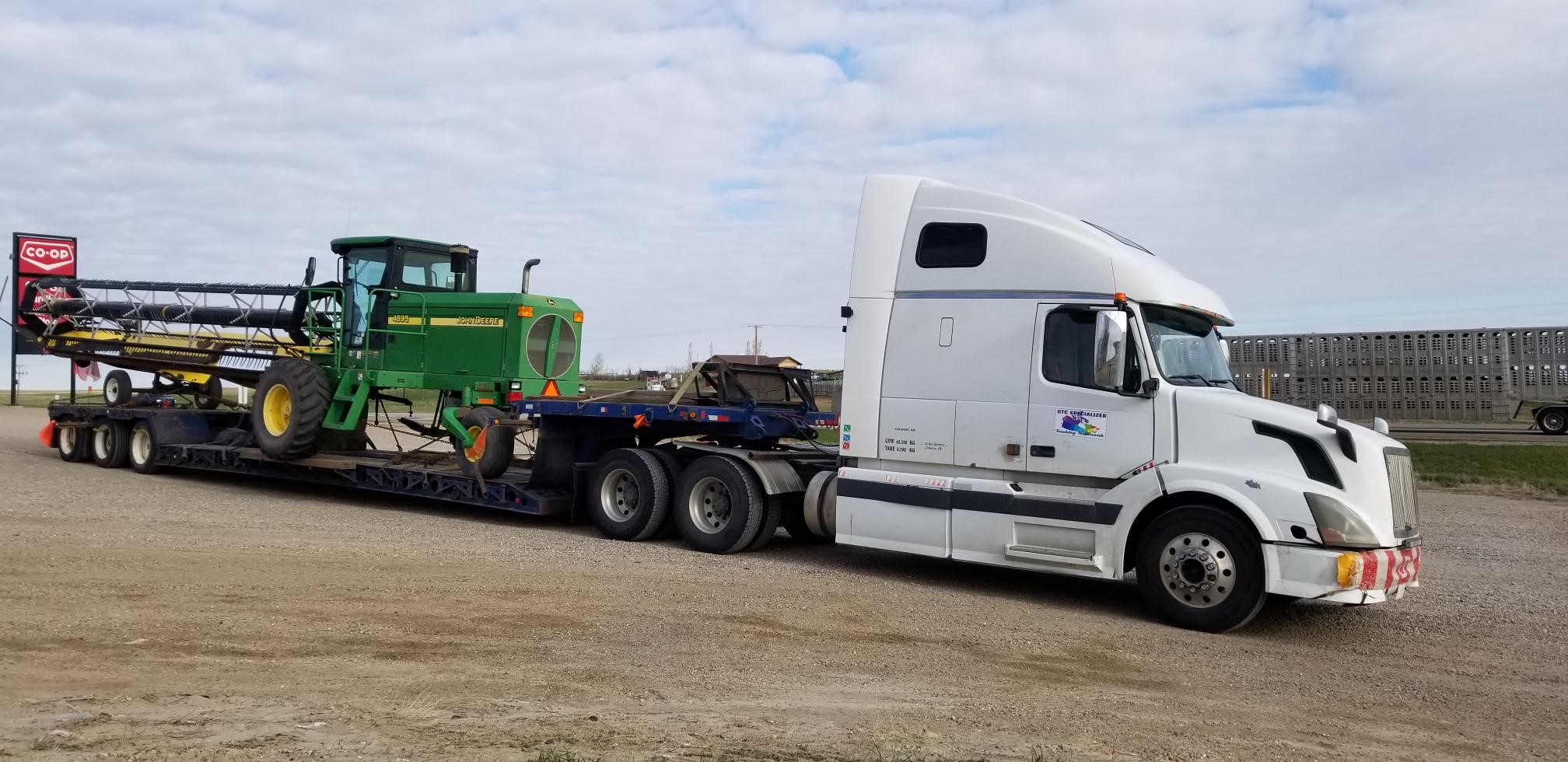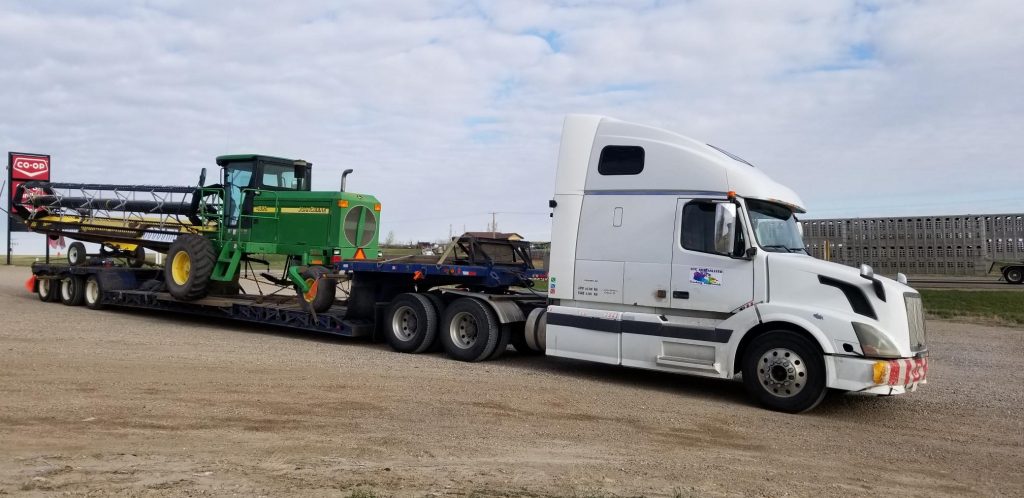 Where Do They Operate?
Where can the company deliver? In order to have the most unrestricted access to auctions and the farm equipment sold there, you want to work with a shipping company with a large transport radius. For example, Trusted Dispatch can ship loads from anywhere in North America, so there is no need to worry about getting connected with a driver to pick up your equipment. When you need to ship across the border, we are more than prepared to guide you through that process with our excellent customer service and list of trusted customs brokers.
Are Their Rates Fair?
What do their prices look like, and how do they compare to other shipping companies? At Trusted Dispatch, we do our best to provide shipping rates that are fair to both customers and drivers while remaining competitive. By getting a free, instant quote now, you can see first-hand how our prices compare.
What Do Other Customers Say?
What do their customer reviews look like? Typically, honest reviews of customers are very useful in determining the quality of the company you're researching. Negative reviews say a lot, but so do positive reviews because they show a customer was so impressed with the service they took the time to acknowledge it and let future customers know. Trusted Dispatch has 4.9 stars out of 5 on Google Reviews, and you can read our testimonials to see why so many customers trust us for their heavy transport needs.
How to Prepare Equipment for Shipping
There are ways you can prepare your equipment before loading day to help your driver and smooth out the loading process. Cleaning off excess dirt and grime is a great first step and will help reveal any damage to your machine and help clear the tie-down points. You can also check that all loading/securing points on the equipment are undamaged and accessible.
The next step is taking photos of your equipment for both your own documentation purposes and for the driver so that they can prepare in advance of loading day. These photos are also excellent for keeping track of your machine's condition.
Finally, you'll need to park the equipment in a location well suited for loading. This means a flat, open space. The flat ground makes for the safe loading, and an open area helps guarantee that there will be room to load the equipment onto the trailer.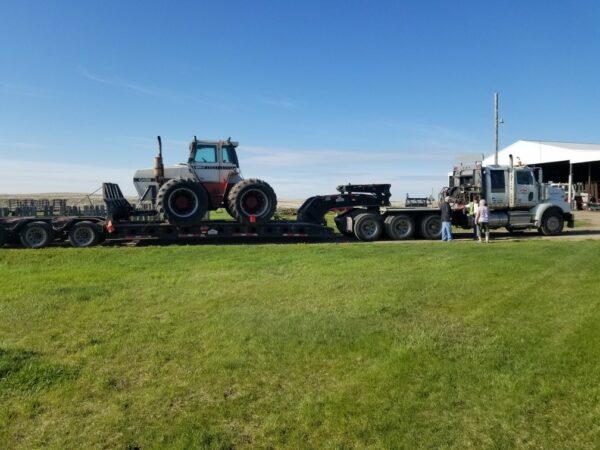 Get Your Shipping Quote
To get your free, instant quote from Trusted Dispatch, you need to know exactly where you are shipping your load to and from. That information is vital for calculating a quote. Once you have done that, the only other information needed is the dimensions of your equipment, i.e., height, width, length, and weight. For help with finding the exact measurements of your equipment, you can use our powerful Specs Tool to find the dimensions of tens of thousands of machine makes and models.
If you are shipping a machine with attachments, you should describe them thoroughly. It's also helpful to provide clear photos so that your driver can plan for loading in advance. In fact, taking photos of your load, even if you are not shipping attachments, is a good idea, and it can help your load get picked up faster from the load board.
Farm Machinery Shipping Company in Canada and the United States
If you are looking to ship farm machinery in Canada and the United States, or even in between the two, look no further than Trusted Dispatch for all your shipping needs. It's our job to make heavy-haul shipping easier for you! We try to accommodate as many loads as possible, and we always strive for customer satisfaction.
We are always happy to answer questions about the shipping process, and we are available during regular business hours via phone, email, and online chat. You can also check out our Trusted Tips page for more on all things heavy-haul!
Get started with your free, instant quote today.