How to Find The Best Quote for Harvester Combine Shipping
When was the last time you needed to transport a harvester combine? If you take good care to maintain your machines, you probably don't need to haul your equipment too often unless you are expanding your harvesting capacity or acquiring more land. Yet, even as you meticulously care for your equipment, you will eventually need to replace one machine or another. When you purchase a new harvester combine or any other large piece of farm machinery, you'll need to find a shipping company to transport it. And, since most people don't have their own trucks and trailers at their disposal, how do you go about finding the best quote? Here are a few tips to help you distinguish a good quote from a cheap one.
Look for Experienced Drivers
There is more to getting a great quote for heavy-haul shipping than the price tag itself. A company with a low rating that puts your valuable equipment at risk is not worth a lowball shipping price. It's essential to research the experience of the drivers before deciding on a transport company. Knowing that your driver has experience loading or unloading equipment as well as securely transporting machines across all distances and terrain will help you get your machine delivered safely.
At Trusted Dispatch, we vet all our drivers, accepting only the owner-operators with excellent track records, years of experience, and commitment to quality shipping standards. No matter where your load is coming from, you can be assured that our drivers will treat your equipment with the care it deserves. 
Ask About Oversize Shipping Regulations
When you get a fair quote for heavy transport, ask about the company's ability to ship oversized equipment. In the case of farm machinery, you may have awkwardly shaped farm equipment that you need to be shipped. Any load that is overly wide requires certain signage, escort cars, or pilot cars, depending on the region and distance travelled. For example, in the western provinces of Canada, farm equipment does not always need to have pilot cars.
Oversized shipping also requires the use of particular trailers to accommodate wide loads, long loads, and tall loads. At Trusted Dispatch, our network of drivers has a range of trailers to accommodate most oversized and awkward loads. These can include removable gooseneck trailers and drop deck trailers suitable for transporting heavy, wide equipment.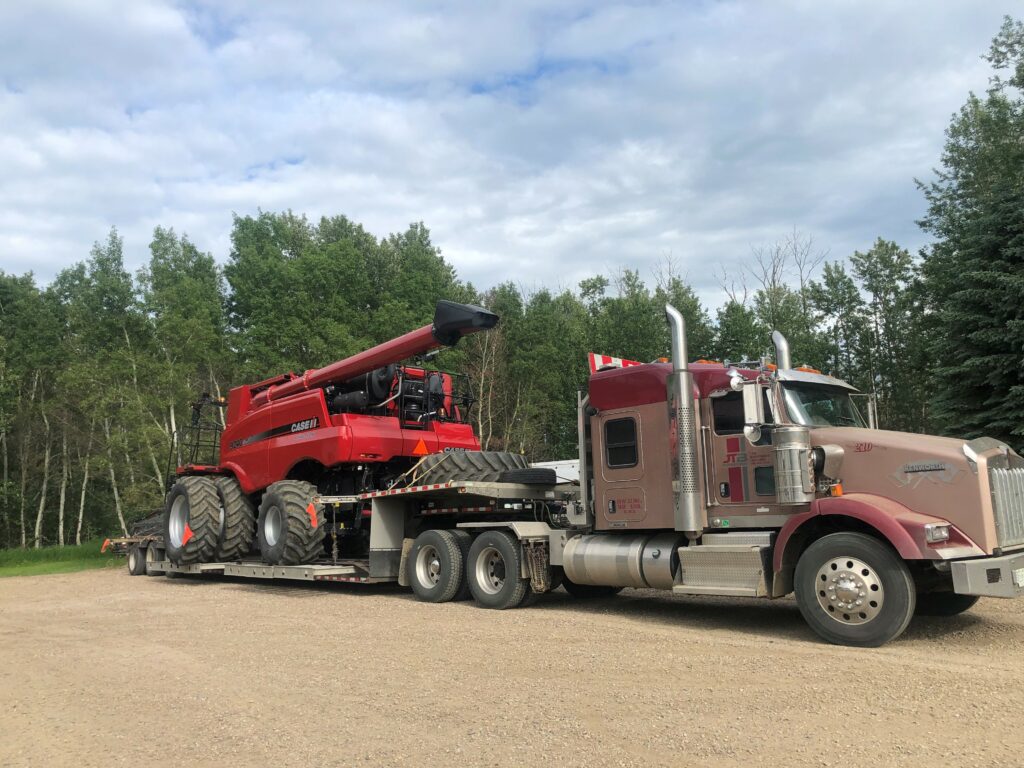 Preparing Your Machine for Heavy Equipment Shipping
Getting a good quote is the first step to starting the shipping process. Here are some basic things you can do to help your driver load your machine efficiently. A quality shipping company will also share helpful tips for preparing your machinery for transport.
Check your combine or machine for any damage before shipping.
Wash your equipment before transport day, especially the tie-down points.
Park the machine in a location that is easy for the driver to load from and matches the location.
Your driver will cover the windshields before driving away.
Harvester Shipping in Canada
Trusted Dispatch is your go-to shipper when you need reliable, secure harvester shipping in Canada or North America. Get your free, instant quote with our heavy equipment shipping calculator today!