Inside this article:
Safety needs to be the top priority when shipping heavy equipment
There are four main options to haul heavy machinery:

Hire a friend or local driver
Ship by rail
Use a load board
Pay a freight company

Useful tips to get your machine hauled sooner, safer, and affordably
Get your free heavy haul quote instantly
How Are Heavy Machines Transported?
You typically need a semi-truck and a specialized trailer to transport a heavy machine, such as the equipment used in agriculture, mining, construction, or forestry. You also need to have experience with transporting heavy loads or hire a professional driver with experience.
If you don't have any connections to a driver, you can choose a heavy haul company to get your machine moved. While hiring a company to move your equipment can be straightforward, there are some tips you should know to make the process easier.
Particularly if you're new to transporting heavy equipment, it's worth your time to learn a little about the process so that when you get started moving your machines, it doesn't feel so much like driving through fog, and you can make the right choices to move your machines how you need them to be moved. In this article, learn about transportation safety, loading and unloading, transport options, tips for quick shipping, and more.
Why Safety Needs to Be the Top Priority
Knowing the basics of heavy hauling is vital for loads to arrive safely and on time. Forestry, agriculture, construction, and other types of heavy industrial equipment are usually valuable. Due to their size, these machines are more challenging to maneuver and thus require expertise to handle them carefully in order to prevent injuries or damage to the equipment.
When machines are not loaded correctly, they pose a potential danger to the driver, anyone else working on the load, and other drivers on the road. At Trusted Dispatch, safety is our top priority for all loads. If you're planning to haul heavy equipment, here are our top tips on heavy haul transport safety.
Safe Loading and Unloading Tips
As you prepare for loading day, you'll want to talk with your driver about preparations. When you ship with Trusted Dispatch, you'll be connected directly to the driver, who will transport your shipment. The drivers in our network are experts and can help you directly.
One of the most important parts of safe loading is parking your machine in a safe loading area. The ground should be flat and clear of obstacles, with lots of open space around and above to allow large machines and vehicles to move around. A clean loading environment enables your driver to line up the machines with the trailer before safely loading the equipment.
Follow the Rules of Load Securement
After your equipment loads safely, the next step is to secure it so that it remains safely in position. The driver will need to use proper chains at all the correct tie-down points on the machine and know exactly where to secure the chain according to the size of the machine. Your equipment should also be clear of dirt and debris prior to loading. Professional drivers will inspect the chains before driving away to confirm everything is secure and will not come loose on the highway. The driver will also stop at designated checkpoints to ensure nothing comes loose during transit. It is hazardous to drive with a machine that is not secured correctly, which is why you want to work with an expert.
Obtain the Appropriate Permits for Heavy Hauling
When transporting an oversized load, you or your driver must acquire the proper permits before loading day. Each province in Canada has different restrictions regarding oversized loads, which means you are required to obtain a permit from each region your load passes through. An experienced, professional driver will take care of the permit request process. You never want to be caught on the road without a permit, as the fines can be quite serious. When you work with a reliable heavy-haul trucking company, you'll never have to worry about the permit process, as they will take care of it for all loads.
When you haul your heavy loads with Trusted Dispatch, the expert drivers in our network will help you sort out such permits. All our drivers are highly familiar with the rules and regulations associated with transporting oversized loads and will be able to help guide you through the process. At Trusted Dispatch, our drivers never pick up a load without the proper paperwork.
Find a Reliable Shipper
There are many options for transporting heavy equipment, and we will dive into the details later in this article. But to stay safe, you need to find a reliable heavy hauler, whether that is someone you know or you hire a professional company. Look for both red and green flags, and make an educated choice on whom you choose to handle your heavy equipment.
Start comparing companies by checking customer reviews, researching what their process is like, and finding out how experienced their drivers are. You can also ask questions and learn about the shipping process yourself, and since you're reading this article, you're off to a great start!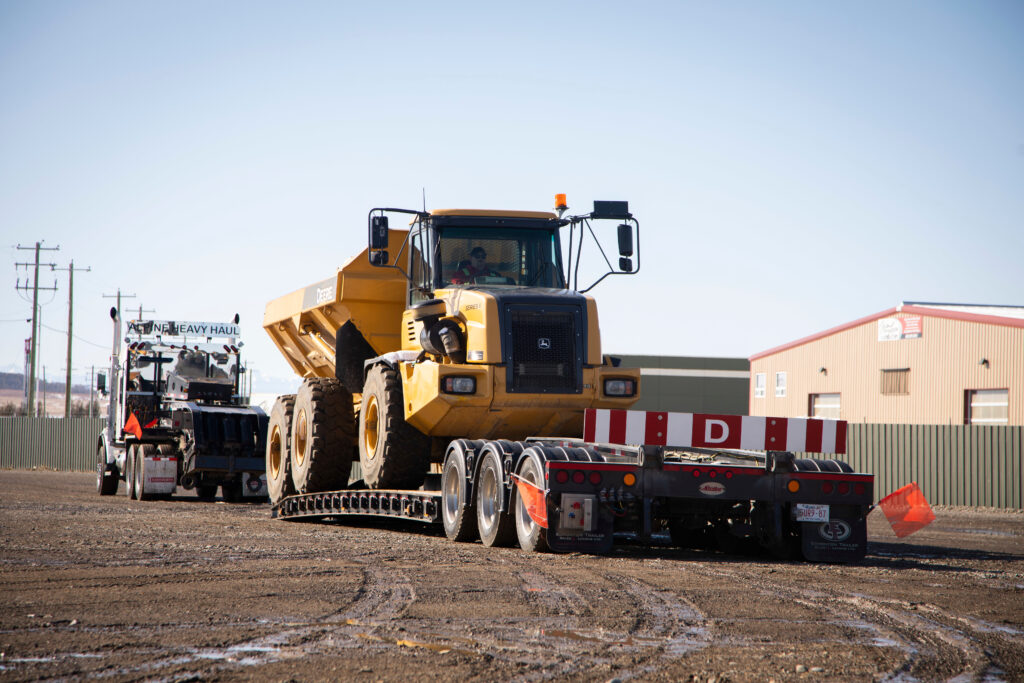 There are Various Options for Transporting Heavy Equipment
There are multiple options available to you for transporting your equipment, and learning about them will help you choose which is right for you. The method that works for you will depend on the timeline of your shipping requirements, your budget, your personal connections, your location, and, of course, the load itself.
Option 1: Hire a Friend or Local Owner-Operator
Here, your personal connections will come in handy. If the job you have is relatively short and simple, you might get it done by hiring a local owner-operator or someone that you know. The process should be fairly quick and straightforward and likely inexpensive. However, when your haul is a bit longer, is one-way or needs specialized knowledge, you may need some help beyond your own network of connections.
Option 2: Ship by Rail
Rail transport is certainly a viable option when rail yards line up with your destinations, but it becomes less convenient when they are further away since you will then need to arrange transportation to and from the rail yard. However, if the conditions are right, rail transport does offer a straightforward and speedy way to transport heavy equipment. Rail cars are optimized for carrying heavy loads, and trains travel in direct routes at speeds much greater than the highway. If you're interested in this option, we recommend doing further research to find out how to book a rail car, load your machine, and get your load inspected.
Option 3: Use a Load Board
Load boards are straightforward digital systems that help you find the driver you need faster. You start by posting the load you need to be shipped. Then, a driver who wants to take on the load will contact you. From there, you pay and connect to finalize the details. 
There are many benefits to a load board. One huge positive is the absence of a middle person or broker taking a cut of the money—this means that you get a fair rate, and your driver receives fair pay. As mentioned, you have direct contact with your driver, so it's easy to sort out specific details related to loading and unloading. Further, the wide network of drivers that use the load board means possible connections with any of them. The more drivers in the network, the easier it is to get your load hauled, no matter the size, weight, or shape of your shipment.
Option 4: Pay a Freight Company
When you work with a freight company, there is typically less flexibility than a load board. Often, the movement of the load is more out of your control, and you probably won't have direct communication with your driver. There will likely be fewer drivers working for the company as compared to a load board, and some companies only travel certain routes. If they fit your needs, they are certainly a viable option, though there may be additional fees for infrastructure costs, and they will only suit the needs of a certain type of job.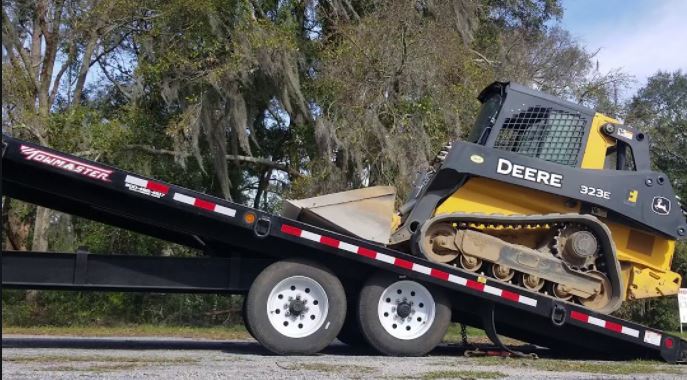 Tips to Get Your Load Shipped Efficiently
Once you've educated yourself on the different methods of shipping heavy equipment, you can choose the method that works best for you, whether it be transit by rail, freight service or a load board. Once you decide, you're over the first hurdle of shipping your heavy equipment.
Getting your load shipped is relatively easy, but there are definitely some tips to follow to save time and reduce stress. Here are Trusted Dispatch's top tips for efficiently sending your heavy-haul load.
Tip One: Communicate Consistently
To help your driver get your load on the road, we recommend including as much detail as possible when you post your load to the load board. Where do you need it picked up from? Where does it need to be dropped off? What time frame does the job need to be completed within? All this information will help your driver make a plan. It is also highly recommended that you post photos of your machine and loading area so your driver can choose the best trailer for the job. After you've connected with your driver, keep the communication going and update your driver on any changes related to the job.
When you work with Trusted Dispatch, communication is easy with our app. You can contact drivers directly once they claim your load, and for further assistance, you can talk with a real person over the phone, email, or online chat.
Tip Two: Prepare Your Machine for Pick-Up
To avoid delays and frustration on loading day, ask your driver how they'd like you to prepare ahead of time. There is a possibility they would like you to do some more specific tasks, but generally, there is a checklist of things to do to prepare your machine for pick-up.
Start with the removal of all personal items from the machine. Top up all necessary fluids to ensure the machine is in good shape to drive onto the trailer on loading day and to drive off at the final destination. Cover windshields and windows to protect from any damage on the road, as well as any other vulnerable pieces. Clean the machine, paying particular attention to tie-down points to ensure that they are free of damage and debris. When your driver arrives, they will double-check these things for you and check the doors are locked and the parking brake, but they always appreciate any help from you.
In the winter, particularly in the sub-zero temperatures of Canada, it is also important to start your machine early to prevent difficulty starting when your driver arrives.
Tip Three: Have Flexible Timing
At Trusted Dispatch, we do our best to make things simple and easy for you and for our drivers, but when shipping heavy equipment, you do need to have a bit of adaptability and flexible timing. Shipping heavy equipment requires logistical planning and the ability to adjust your schedule. You are also required to follow many rules and regulations while in transport, and things such as weather, holidays, or construction may impact the timing of your plans. Safety should always be a priority, as it is with Trusted Dispatch. If the unexpected arises and could complicate a safe drive, the shipment will need to be rescheduled.
If you've purchased a machine from an auction, you also need to be wary of the timing. You need to know the deadline for when you need to remove your equipment from the auction lot. If you miss this deadline, you may face some unwanted fees. If you wait too long to move your machine, you will also lose the luxury of flexible timing. This may make it more difficult to find the right driver. It's best to be proactive and know your time restrictions. With flexible pick-up and drop-off dates, you'll be able to find the best price for shipping possible.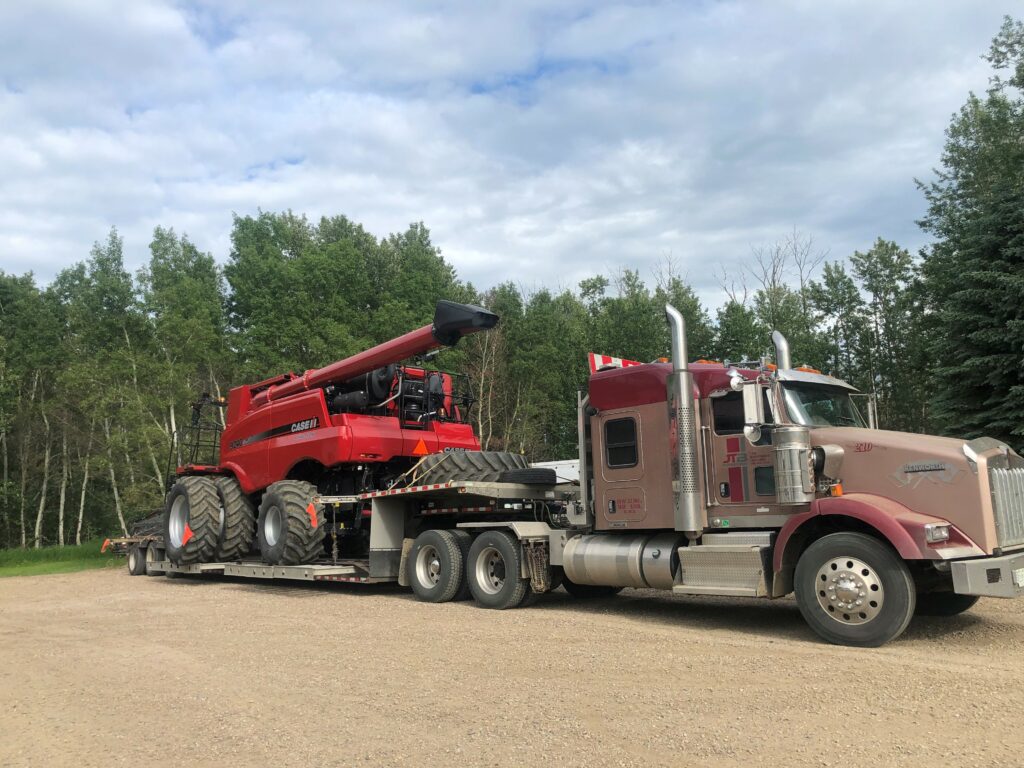 Your Reliable Heavy Hauler in Canada and the United States
When it comes to finding a heavy hauler in Alberta (and in North America, for that matter), you can rely on Trusted Dispatch. With a network of experienced drivers and a company built by those with experience with heavy machinery and the process of moving it, we can help you move whatever load you need.
We prioritize safety and experience and are more than happy to answer any questions you may have. If they can't be answered by our website or Trusted Tips blog, we are available to help via email, phone, and online chat.
You can trust that your load will be safe with any of our drivers, as we thoroughly vet them before adding them to our network. All of them are insured owner-operators and are highly knowledgeable in the realm of heavy-haul transport. They know how to navigate the complexities of road regulations, load permits, safety inspections, trailer selection, and more.
Get Your Free Heavy Haul Quote
Get started shipping your heavy equipment anywhere in the United States and Canada by getting a free, instant quote from Trusted Dispatch today. All you need to do is provide your pick-up and drop-off location and the dimensions of your load, and we'll help you get to work sending your machine wherever it needs to go.