How to Find a Reliable Low-Bed Trucking Company in B.C.
While low-bed trailers are versatile pieces of equipment, they are handy for transporting oversized loads and machinery that exceed normal height restrictions. As its name suggests, this type of trailer sits very low to the ground providing better stability for both wide and heavier loads.
Low bed or low boy trailers are commonly used to transport heavy equipment across a wide range of industries. These include oil and gas, construction, forestry, and agriculture. When you need to find a trucking company to transport your heavy equipment within British Columbia and across the other provinces, there are several factors that you should keep in mind to ensure safe and successful delivery.
Find a Company that Prioritizes Safety and Communication
Heavy machinery is expensive and requires a significant capital investment. For this reason, it is essential that you connect with a company that prioritizes safety to ensure that your equipment reaches its destination in one piece and is free of any damage.
Choose a transport company with expert drivers who have years of heavy-duty hauling experience under their belt. Securing the services of a professional heavy hauler is vital for several reasons:
They own the essential equipment required to haul heavy loads
They possess the knowledge and skills to transport heavy equipment
They understand proper equipment securement rules
They are aware of provincial restrictions and observe provincial rules for transporting oversized loads
They are able to secure the necessary permits to travel across provinces
Being able to easily communicate with the heavy haul trucking company and your driver is vital to ensure a smooth delivery. When researching a trucking company to ship your equipment, look for one that facilitates easy communication.
You need more than just an email address as a contact detail. At Trusted Dispatch, you can connect directly with our team to ask questions over the phone or by using our online chat function.
Once you post your load to the Trusted Dispatch board and a driver chooses it, you will also be given the contact details of that driver so you can connect and share important information about your shipment.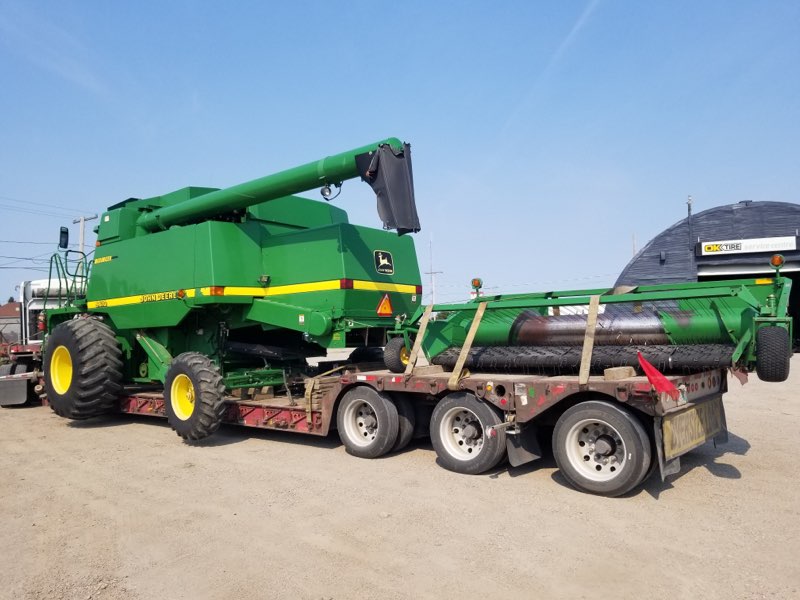 Use a Load Board for the Best Rates and Route Options
Companies that offer a load board provide many advantages.
A larger network of drivers across North America allows for more route options
Multiple drivers in overlapping locations promote high competition and lower prices
The ability to secure a driver within 24 to 48 hours of posting your load
Transportation is guaranteed once you accept your driver and pay your fee
Research Their Reputation
Do They Have Online Reviews?
One of the best ways to secure the services of a professional heavy haul driver is to ask around for recommendations. Alternatively, check out the reviews and ratings on the company's testimonial page and on independent review sites such as their Google business page.
How a company responds to user reviews is just as important as the reviews themselves. The level of their response will give an indication as to the level of customer service you can expect.
Are The Drivers Professional Heavy Haulers?
Choose a company that carefully vets their drivers for professionalism. Heavy hauling requires specific knowledge and skills to transport equipment safely and securely to its destination.
Professional drivers are also fully cargo-insured. This is important to ensure that your machinery is covered in case of an unexpected incident that causes damage.
Secure Payments For Peace of Mind
With Trusted Dispatch, you prepay for your delivery upon accepting your driver. This guarantees your load will be shipped. However, we will keep your payment in trust and only release it when you confirm that your load has been delivered. Your driver will be paid about seven days later. This gives you peace of mind that your driver will show up and transport your machine safely.
Low-Bed Trucking Companies in Canada
If you are looking for a low-bed trucking company to transport your heavy equipment, contact Trusted Dispatch. Use our free calculator tool and get your instant free quote for reliable shipping services today.