Inside this Article:
How to prepare for cross-border shipping
Shipping heavy machinery by rail (pros and cons)
Shipping heavy machinery with experienced heavy haul drivers (pros and cons)
Finding a dependable heavy-haul shipping company
How to Transport Heavy Machinery Into Canada: Rail Transport vs. Heavy Haul Trucking
You've just bought a fancy new bulldozer. It's everything you've been looking for, but the problem is that it's all the way in Indiana while you're located up in central Saskatchewan. How on earth do you get it all the way across the continent and across the border? Well, heavy machinery shipping can be done a few ways, and two major ones are by rail and by heavy-haul trucking. Rail transport takes a direct route and can be faster if you're located near a loading stop, but it also requires additional steps to get your machine to and from the trainyard. On the other hand, heavy-haul trucking is straightforward and can come directly to you. However,
Then there's the matter of shipping across the border. If you're new to it, it can seem complicated and rather daunting. But with a little help and preparation, soon you'll be breezing through the process like a pro.
When it comes to shipping methods, maybe you already have a preference, or perhaps you know nothing about either method. In this article, we'll dive into the details of heavy machinery shipping via rail transport vs. heavy-haul trucking to help you make an informed, confident decision. We'll also discuss the process of shipping across the border, so you're well prepared, no matter where you need to ship.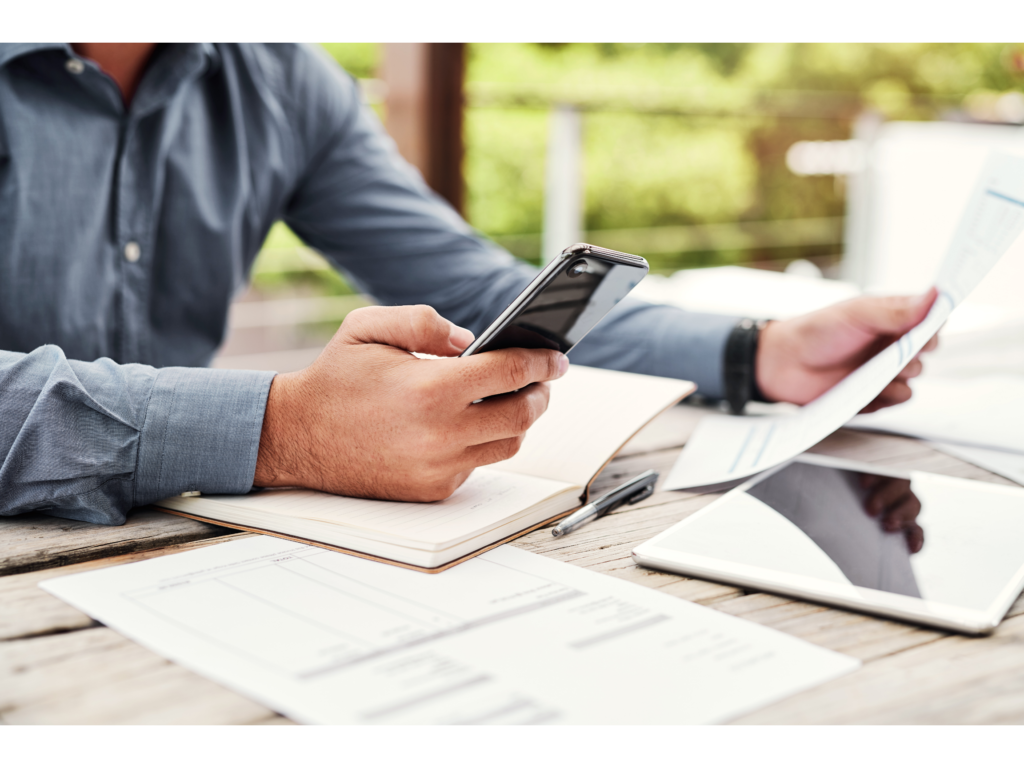 How to Prepare for Cross-Border Shipping
Cross-border shipping can get complicated and frustrating, but only if you're not prepared. By planning ahead, you prevent the frantic scramble to get things together in a limited time, saving you both time and stress. But how do you prepare? We've laid out the basics below to get you started and how to avoid unexpected costs with cross-border shipping of heavy equipment.
Hire a Customs Broker
Unless you regularly ship across the border or have another department helping you out, we highly recommend hiring a customs broker. Customs brokers make cross-border shipping so easy; once you work with one, you'll never want to ship across the border without one. They save you from wasting hours of time trawling the internet to find the right information about crossing the border. They are experts in regulations and paperwork and will be able to give you the information you need to know. You don't need to stress over getting the correct information and forms in order on your own because a customs broker will get the paperwork right for you the first time without any hassle. To help you get started, we have a list of trusted customs brokers for you to consider working with.
Organize Your Paperwork
Having your paperwork ready before loading day is important so that you can give copies to your driver and avoid delays along the route. The paperwork and fine details are something that a customs broker can help you with. It is also essential to have backup copies in your possession in case anything happens. Usually, you need a bill of sale and a bill of lading, and if you're crossing the border yourself, you need your passport.
Get a Heavy Haul Transport Quote
To better conceptualize the process of heavy machinery transport, it helps to get a rough idea of how much transporting your load will cost, as well as how the cost is broken down. A good way to do this is to research reliable companies you're interested in and collect some quotes. Different companies have different rates, and you should find the one that best works for you.
Heavy haul transport quotes include the cost of the vehicle operator's time and skill, the cost of fuel, and the cost of insurance. The dimensions of your load and the distance needed to travel are also major costs. It is also worth noting that some cross-border shipping costs may not be included in the initial quote (though many drivers will offer a comprehensive rate to simplify this). But before you start looking at companies, you'll need to decide how you want your load transported—by rail or by heavy haul trucking with a company like Trusted Dispatch.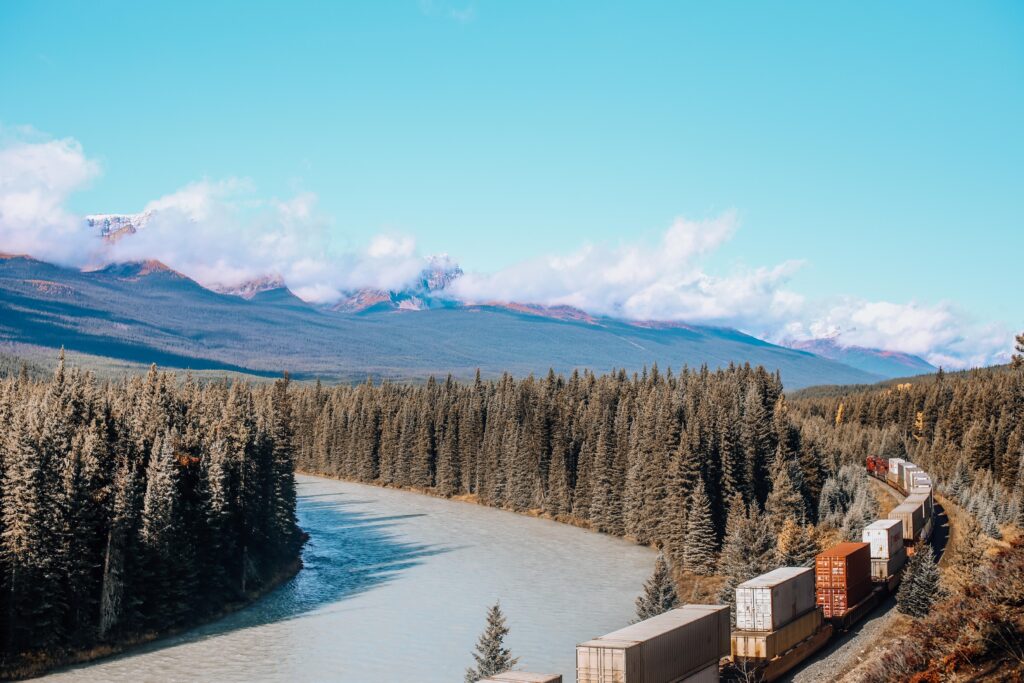 Option One: Rail Transport
Transporting your equipment by rail is faster in theory, as trains can travel at up to 350km/h (depending on the speed limit), whereas trucks can usually only travel at up to 110km/h. Rail lines are also more direct, and trains don't have to deal with road conditions or traffic as often or in the same way that trucks do. However, there are some complications that come with rail transport that you may want to keep in mind.
Trains only stop at railway stations, so there are limited locations for the load to be picked up and dropped off, and you will still need a truck to take the load to and from the station, so there isn't as much flexibility as with heavy-haul trucking. You'll need to find a trucking company and a rail transport company to complete your load delivery, so it may end up costing you more money, too.
Heavy-Duty Rail Cars
When you ship by train, your load will be transported by a heavy-duty rail car, which is optimal for transporting heavy machinery. Such cars can carry large loads weighing up to 150,000 pounds and measuring up to 11 feet tall, 11 feet wide, and 52 feet in length. If your load is larger than these dimensions, you'll need to reach out to the rail company to inquire about whether an oversized load is possible.
Booking a Rail Car
You'll want to talk with the company directly to book a rail car at least 14 days in advance. You'll need to let them know the dimensions of your load, the dates you need it transported by, and what stations you'd like it to be picked up and dropped off at. It would help if you also made arrangements for your equipment to be loaded onto the rail car, and you should call a mechanical inspector to ensure that it is secured correctly.
Proper customs documentation is also required, including a bill of lading and bill of sale (though this is where a customs broker can help out significantly).
Additional Transport
As mentioned, rail transport only travels to certain pick-up and drop-off locations, so you must consider how you will get your load to and from the train yard. If you have your own truck and you know how to load and transport the equipment yourself, that should work. But if you don't, you'll need to hire a company to help finish the load delivery. Don't know any reliable companies? You don't need to stress because Trusted Dispatch has your back. We can take your load wherever it needs to go with a simple process and fair rates.
This is an extra step, though, and with poor organization, the process can unravel and become a tangled mess if you're not careful.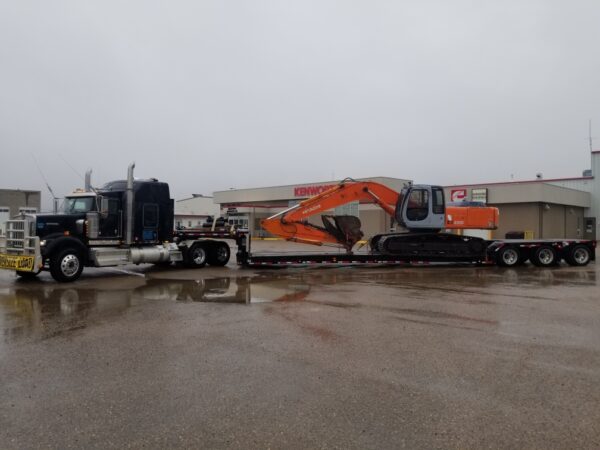 Option Two: Heavy Haul Trucking
If you don't think rail transport is for you, you can also have your equipment moved by truck. Various trucks and trailers, in combination with skilled drivers, can transport a large variety of equipment wherever it needs to go. You can haul it yourself if you know how, or you can hire a professional heavy-haul trucking company like Trusted Dispatch to help you out.
Haul It Yourself
First things first: do you have the equipment needed to haul your machine? If not, it's probably not worth the time and effort needed to haul it yourself. It'll save more time and money to hire a company to assist you. You also should have some experience hauling large loads. Heavy hauling is a precise process that needs to be done accurately in order to stay safe. If you don't have the experience, we recommend hiring someone who does.
If you do have the equipment, skills, and time necessary to haul your load on your own, we say go for it! However, you may want to enlist a friend or two to help you out, particularly with loading and unloading the trailer. That is a job that must be done with extra care to stay safe, and the more pairs of eyes you have on what's going on, the better.
You'll also want to make sure your paperwork is prepared for crossing the border (and that you have your personal documentation with you, such as your passport) to avoid delays or even fees. Nothing puts a damper on buying or selling a nice piece of equipment, like surprise fines.
Be aware of the fact that the rules of the road change depending on what region you're in. Across Canada, there is a wide variety of terrain, and the rules of the road change accordingly, so it is important to do your research on this ahead of time to avoid getting caught in a tricky situation.
Hire a Professional Heavy Equipment Transport Company
If you're not comfortable hauling the load yourself, that's no problem. All you need to do is find a reliable heavy equipment transport company like Trusted Dispatch. At Trusted Dispatch, we strive to keep the process simple for you. The professional drivers in our network who will be helping you out are highly experienced and knowledgable—we vet them thoroughly before taking them on—and they are owner-operators with full insurance.
We ship anywhere from anywhere in the United States to anywhere in Canada, and vice versa and we're ready to help you out at any step of the way. Our team will talk with you about the overall process, hiring a customs broker, and we can direct you to the right places that will help you get your paperwork in order to cross the border as well. Heavy haul logistics don't need to be complicated, no matter where you're shipping.
How a Load Board Works
Trusted Dispatch operates using a load board where you post the load you need to be shipped, and drivers find the loads that suit their equipment and timelines. When a driver decides that they want to transport your load, they'll claim it on the board and contact you directly. This eliminates the need for a middleman, which saves you money as a customer. Plus, you get to communicate directly with your driver, which increases efficiency and peace of mind. They can ask you for extra information, such as pictures that they might need to prepare before transport, and you can ask them questions you might have about the process.
With a load board facilitated by Trusted Dispatch, you don't need to worry about fraud or scams. We make sure you connect with the right driver and that payments are secure so your money is secure. Drivers are also assured that the load is real and have the assurance they will get paid for their services. As the customer, you can trust that your load will be safely delivered before payment is sent to the driver.
We also offer friendly, knowledgeable customer support via phone, email, and online chat to help answer any of your questions. We want the shipping process to be as simple and stress-free as possible for you, so we are happy to assist in sorting out any issues that may arise. You can also browse our Trusted Tips section of the website to find answers to all your heavy equipment shipping questions.
Get Your Free Heavy Load Shipping Quote
Whether you've decided to transport your heavy equipment load by rail or by truck, chances are that you need a heavy-haul shipping company to help you get your load where it needs to go. Trusted Dispatch is here to help with a network of professional, experienced drivers at the ready, with fair rates for both parties. To get started with Trusted Dispatch, you can follow these three easy steps to receive your free quote instantly:
Input your pick-up location
Input your drop-off location
Input the dimensions of your machine (height, weight, length, and width)
And just like that, you've got your free quote. Yes, it's that easy to get started with Trusted Dispatch today!