7 Tips to Improve Your Heavy Haul Logistics
When it comes to moving heavy machinery, figuring out the logistics of your move is essential. This helps your heavy haul driver properly prepare for shipment and ensures that your machinery is delivered safely and securely to its destination.
The Top Heavy Hauling Industries in Canada
At Trusted Dispatch, we've delivered a wide variety of equipment across Canada and the United States. Some of the larger industries that require heavy-haul shipping services are:
Agriculture
Construction
Oil, gas, and mining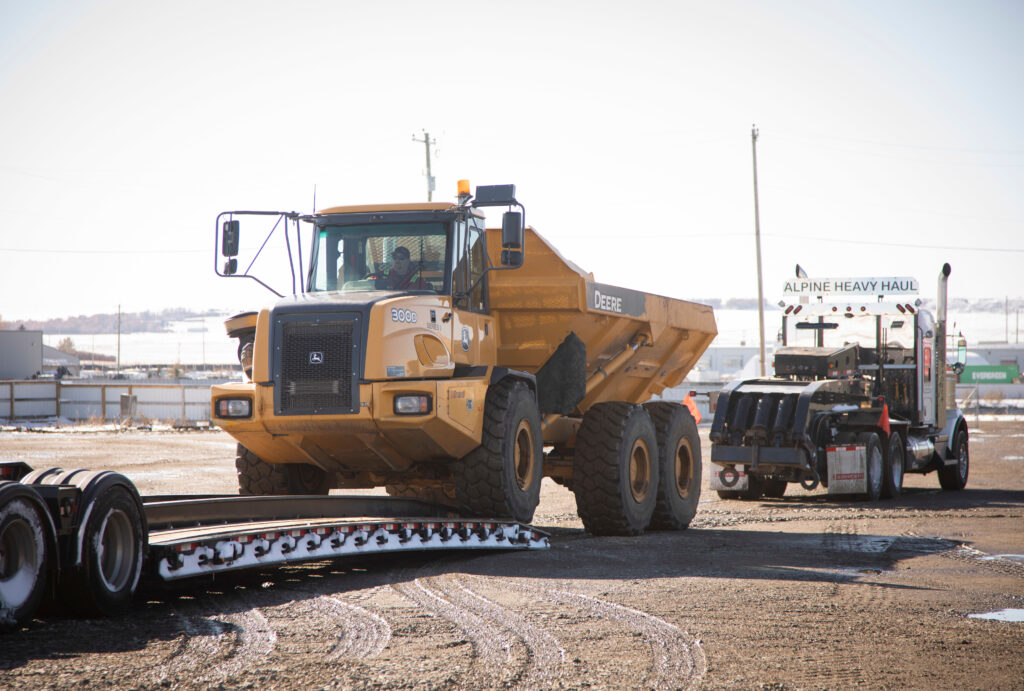 1. Heavy Haul Preparation
Heavy equipment is complex to transport. Shipping loads vary from regular to oversized, and the transportation requirements are based on the size and weight of your load. When preparing your load for shipment, several factors must be considered.
Type of Trailer
An essential aspect of heavy haul shipping is deciding what type of trailer will be needed to ship your load. A flatbed trailer can support a weight of up to 48,000 lbs and works best for smaller pieces of equipment such as harvesters, plows, and tractors. With equipment that is taller, a step deck trailer is ideal as it can carry taller pieces up to 10 ft.
For heavier, oversized machinery, removable gooseneck (RGN) trailers fitted with additional axels can support weights of up to 150,000 lbs with a height of up to 12 ft. Drivers commonly use RGN trailers when transporting larger backhoes, excavators, and mining machinery.
Location of Purchase or Sale
You may be looking to buy used equipment from an auction or purchase a new machine directly from a dealer. New equipment is expensive, and online auctions offer a more affordable way to secure equipment at lower, competitive prices. Alternatively, you may be looking to sell a piece of equipment and must ship it to a buyer.
In either case, your equipment requires the services of a heavy haul shipping company to deliver the machinery to its destination.
At Trusted Dispatch, we have a network of drivers located across North America, so there is no limit to where we can pick up and transport your equipment. This allows you to buy equipment from anywhere across the continent with peace of mind, knowing that we will have it delivered to you.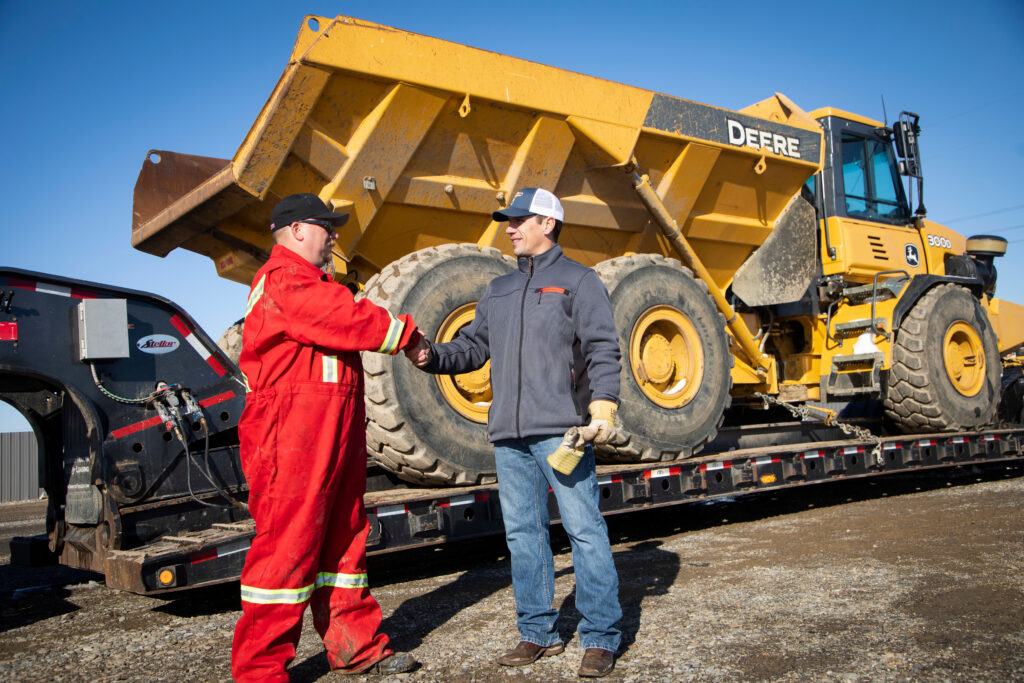 2. Finding the Right Heavy Haul Company
When you are looking for a heavy-haul shipping company to transport your heavy machinery, the cost is an important consideration.
Heavy haul shipping is complex and requires travel over several days for long distances. While the distance your machinery travels adds to the fuel and labour costs, receiving a fair price to ship your load is important. While many people shop around in search of the best quote, we advise you to consider the following factors before securing your driver.
Is the trucking company easy to work with?
How responsive are they to your questions and concerns?
Can they be reached on the phone?
Are they informative and helpful in giving you tips on how to prepare and ship your load?
For fewer headaches, you'll want to secure a heavy haul company that provides great service before they pick up your load. Calling their office to learn about their services will give you a good indication of how helpful they will be when you really need them. You'll also want to ensure that you will be connected with a driver and will be able to discuss the logistics before the pick-up day.
What about the drivers? How qualified are they to ship your load? Heavy hauling requires a driver to have extensive knowledge and experience. For this reason, it is important to ensure that they have vetted your driver properly and are capable of handling your load. They must also be fully insured so that your equipment is covered in the case of an accident or other unexpected incident.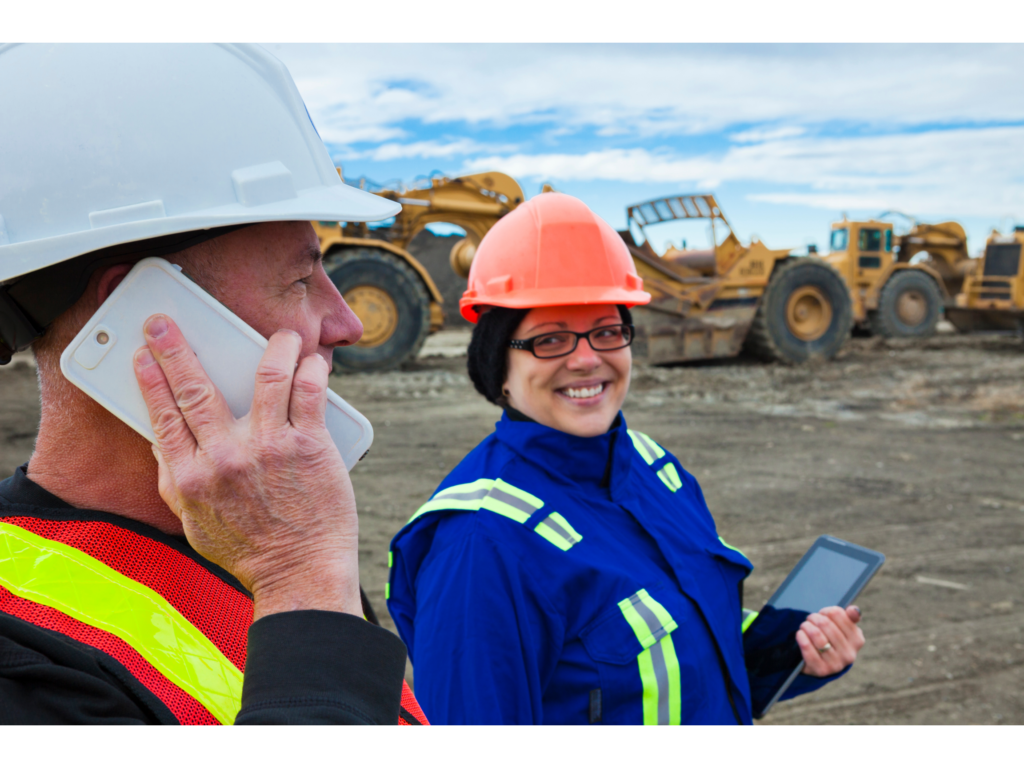 3. Communication
One of the biggest components of logistics is communication. Having effective channels of communication between you and your driver, along with the company for advice and tips is essential for smooth heavy haul transport. Here are two other areas where you'll want clear communication:
How to Secure Your Quote
When you are looking to secure the services of a heavy haul driver, communication is important. You will need to provide three key pieces of information to get your free quote.
The pick-up location
The destination
The weight and dimensions of the equipment
When it comes to vehicle specs, don't worry if you don't know these features. We have a handy Specs Tool with a database of over 60,000 pieces of machinery listed. Simply enter the make and model of the equipment to find out the weight and dimensions of your machine.
Connect With a Driver
Once you get your quote and post it to the load board, check the Trusted Dispatch app or your email regularly to see if you've received a response. Drivers usually respond within 48 hours, and you don't want to miss an opportunity to secure a driver because you didn't check your messages.
Upload photos of your equipment. This will allow your driver to plan properly for the pick-up and drop-off. Share details about the conditions of the loading and unloading area. It is important to be aware that heavy machinery must be loaded and unloaded on even ground. Also, make sure that the area is wide enough to accommodate the truck, trailer, and heavy machinery.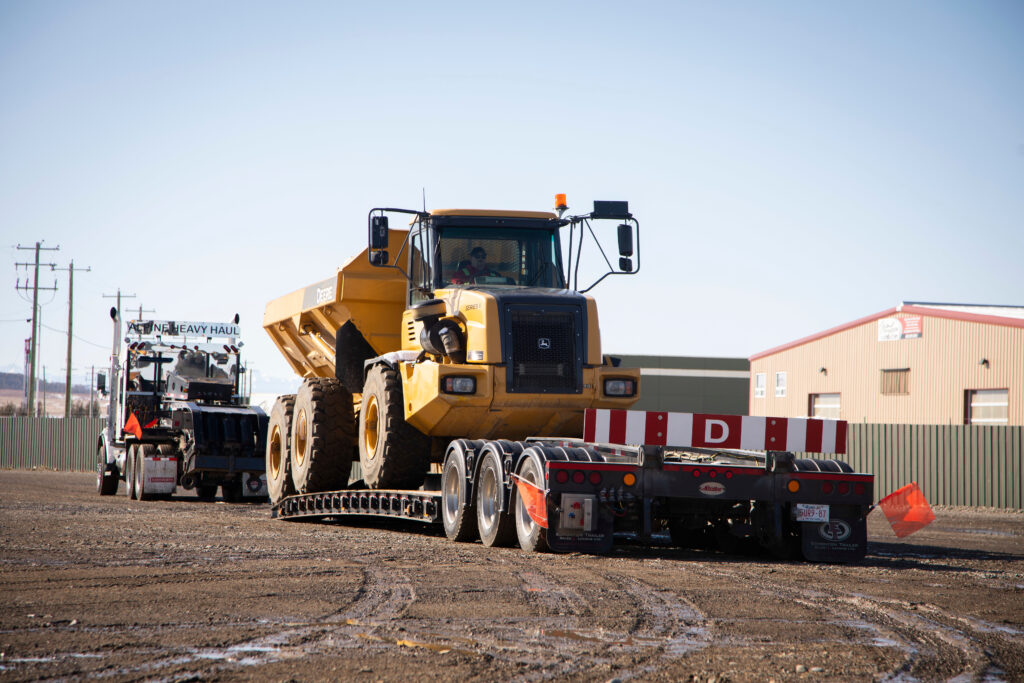 4. Prepare Your Load
Check your messages regularly so you can check in and confirm the pick-up with your driver.
Drivers are busy and plan their routes meticulously; this is why it is essential to have your machine prepared and ready for shipment when your driver arrives.
Clean your machine to assess for damage prior to pick-up. It is also easier for a driver to locate the tie-down points on a clean machine.
Remove any personal items from inside the cab to prevent anything from flying around during transport.
Make sure the doors and windows are properly secured.
Having Flexibility with Your Shipment
When shipping heavy equipment from one location to another, there are a variety of factors that can result in a delay.
Inclement Weather
Depending on the time of year, rainstorms and snowstorms are factors that can either slow down or ground your shipment for unpredictable periods of time.
Road Conditions
While traffic congestion may have trucks crawling along highways at a snail's pace, construction and a change in traffic patterns also have a similar effect. Road work does not just delay your shipment but can detour, and complete route changes may also come into play.
Oversized Loads
Oversized loads are subject to special transportation rules, which may include restrictions on when a heavy haul driver can travel.
Cross-Border Travel
Cross-border travel requires specific documentation, including a Bill of Lading, which must be presented at the customs office. When delivering heavy equipment across international borders, you may want to hire a customs broker. Customs brokers will take care of all the paperwork to facilitate a smooth delivery and minimize the risk of delays.
It is essential to keep flexibility in mind to account for unexpected factors. Wherever possible, build in a safety cushion of a few days to guard against disruption. This prevents other logistical problems that may occur if a machine is still on the road after its original expected delivery date.
Having a flexible shipping window also allows you to secure the best price, as more drivers may be available to ship your load. In the case of urgent last-minute shipments, it may be more difficult to secure a driver to deliver your equipment. In this scenario, you may want to consider boosting your load by offering an additional financial incentive for a driver to accept your shipment within your ideal time frame.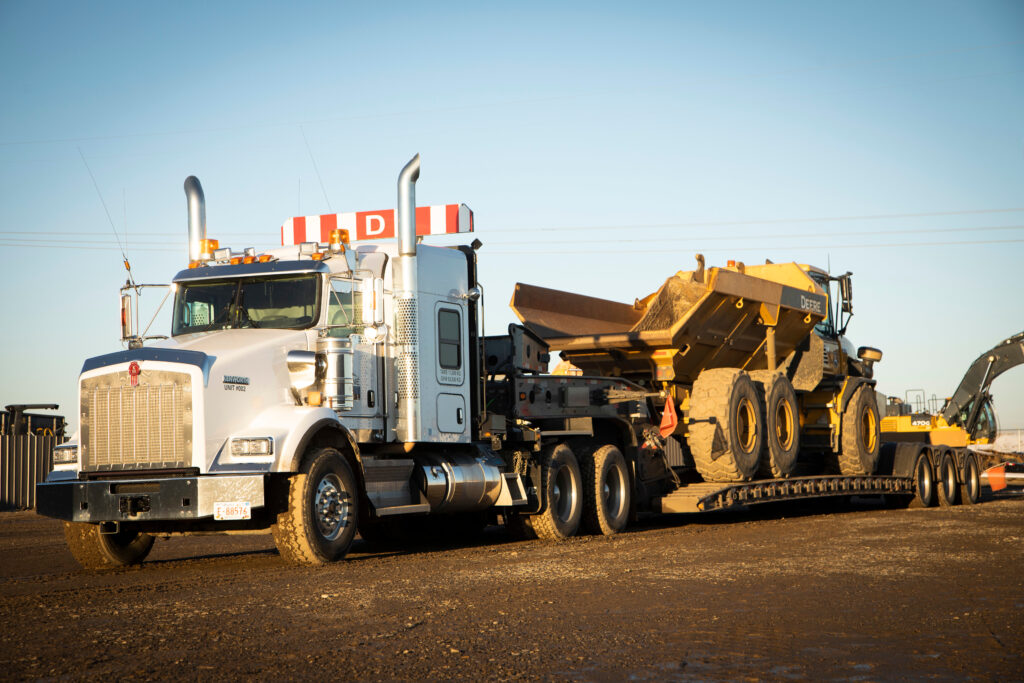 5. Safety
Heavy haul shipping and safety always go hand in hand. Professional heavy haul drivers know what it takes to ship a load safely and securely to its destination and is aware of the following factors:
The type of trailer to properly accommodate the size and weight of the machinery
How to properly secure the equipment to the trailer bed
The type of insurance and coverage needed to haul heavy equipment
Special requirements for oversized loads, such as permits and escort cars
Proper loading and unloading process for heavy machinery
Height and weight restrictions on public roadways that will affect the travel route
Understanding and following proper safety protocols require the expertise of a professional heavy haul driver. Lowball pricing and an unresponsive company may be a red flag that your driver is not a professional and does not have the proper knowledge to ship your load securely.
6. Load Securement
One of the most important parts of heavy haul transport is load securement. The last thing anyone wants or needs is for a heavy shipment to come loose or unstable during transport. This is why it is essential to work with an experienced driver who knows exactly where and how to secure your shipment to the trailer. 
Your driver will secure your load in four ways:
Truck and Trailer
They will choose a suitable trailer to support the weight and dimensions of your heavy equipment. There is a range of trailers that are designed for heavy haul shipping, from flatbed, step deck, and gooseneck trailers.
Tie-Down Points
Specific points on the machine must be secured as a matter of law and are commonly located at the four corners of the machine. Accessory equipment such as backhoes and front loaders require additional securement to their attachments and boom arms.
Chains and Straps
Your driver will secure your heavy equipment to the trailer with heavy-duty chains and ratchets. The combination of chains must support a weight of no less than 50% of the machine. These rules must be followed in order to comply with official regulations, and any violation will result in hefty fines.
Securement System Testing
When the heavy equipment is securely tied down to the trailer, your driver will test the securement system. They will do this by driving away slowly and then checking the load to make sure the shipment is still secure.
Your driver must also conduct a load check after the first 80 km and then every 150 km after that. Tie-down mechanisms have a tendency to shift and stretch during transit. Adjustable chains or a ratchet system allows a driver to easily tighten the chains at checkpoints and at any time during the trip when it is necessary. These checks are required by law and allow a driver to verify that the load is properly secured throughout the entire journey.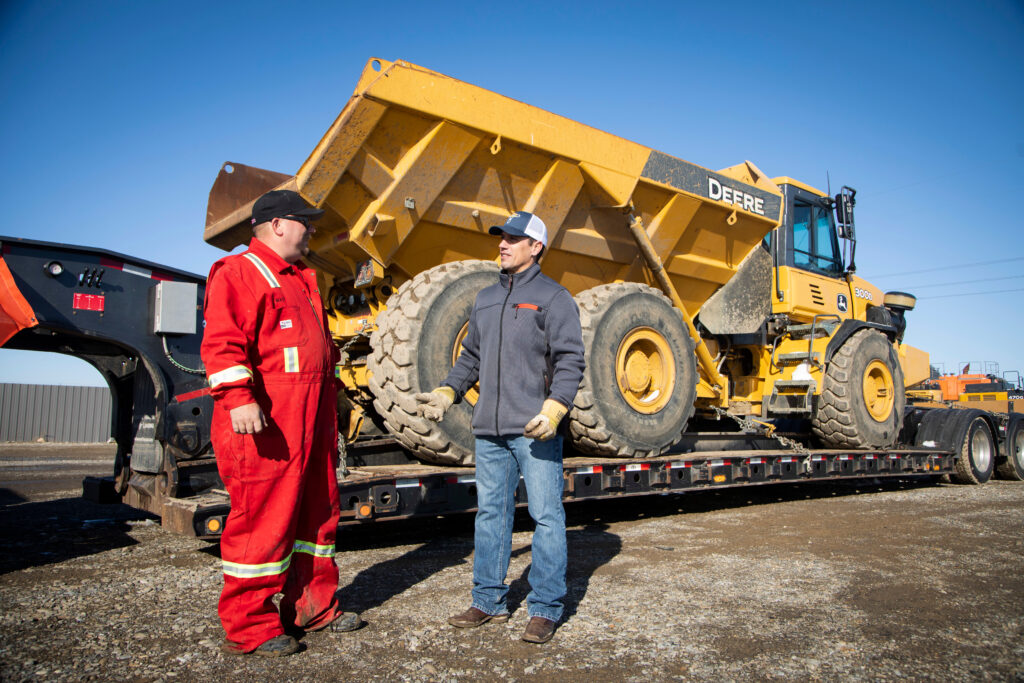 7. Experience and Training
Whether you've made a new purchase from a dealer or won an item at an auction, your heavy equipment is a valuable piece of machinery. It takes an investment of time and money to locate the perfect equipment so getting it to you safely and securely in one piece is important.
At Trusted Dispatch, we understand the importance of providing professional heavy-haul shipping services to our clients. We pride ourselves as industry specialists and guarantee the highest level of service.
Highly Experienced Drivers
Our drivers are the best. They are fully trained and vetted for professionalism. They have a wide range of heavy haul experience across several industries and have travelled extensively across provincial and international borders. Choosing a driver who understands the complexity of heavy haul shipping ensures that the transport process runs smoothly and your equipment is delivered safely to its destination.
Customer Service
Our customer service agents are ready and waiting to answer all of your shipping questions. We are here to support you every step of the way and can be contacted by phone or chat from Monday to Friday during regular business hours. Outside of these hours, customers are welcome to email us, and a customer support person will contact you within one business day.
A Reputable Company
When you are looking for shipping services, choose a reputable company that provides excellent customer service. Reviews and ratings can be helpful when making a decision, as they speak to the experience of other customers who have used their heavy haul services.
Making Heavy Haul Transport Straightforward
At Trusted Dispatch, we understand the logistics of heavy shipping. That is why we provide free instant quotes for transparency and expert drivers to securely ship your load. Our leading-edge technology and a new approach to transportation services will provide savings of up to 30% on your heavy equipment transport. Get your free quote today and let Trusted Dispatch do the heavy lifting for you.