Inside this article:
What equipment are you looking for?
Tips for buying heavy equipment at auctions.
Top auctions to buy heavy equipment.
Answers tof FAQs about heavy equipment shipping.
How to ship heavy equipment anywhere in North America with Trusted Dispatch.
Your Complete Guide to Heavy Equipment Auction Transport
There are many heavy equipment auctions across North America, with events happening nearly every month. This creates plenty of opportunities to find the necessary machinery to get your job done. While auctions provide a convenient forum to buy equipment, shipping heavy equipment or machinery to your location requires a plan. Our network of heavy-haul shippers is located across North America, which means you are not limited to a certain region and can look far and wide for the ideal equipment to suit your needs.
What Type of Heavy Equipment Are You Looking For?
There are a variety of industries that utilize heavy equipment for their jobs.
Farming
Construction
Forestry
Mining and Exploration
Oil and Gas
Material Handling
While certain auction companies specialize in equipment within a particular industry, others offer auction items across the board. Let's take a closer look at some of the popular auction houses for heavy equipment.
Ritchie Bros. Auctioneers
Ritchie Bros., headquartered in Vancouver, BC, offers a wide variety of heavy machinery across several major industries.
Mining
Forestry
Industrial
Construction
Agriculture
Energy
Oil and Gas
While the company has over 40 permanent auction sites across the globe, they also offer pop-up locations with online bidding making equipment auctions accessible to everyone. They offer several helpful options for bidders.
Online auctions
Financing options
Leasing options
Insurance
Warranties
Inspection services
For auction dates and full equipment listings, visit the Ritchie Bros. website.
Michener Allen Auctioneering
Michener Allen auction house offers used equipment for these three major industries with locations in Calgary, Edmonton, and Winnipeg.
Construction equipment
Industrial machinery
Farm equipment
You can find full information on upcoming auction events on their website.
Global Machinery Auctions
Global Machinery Auctions, which is headquartered in Alberta, Canada, lists a huge inventory of used construction equipment and heavy-duty machinery.
Farming equipment
Oilfield equipment
Construction equipment
Mining equipment
Cranes
Used attachments
They also provide helpful purchase options for buyers.
Online auctions
Financing options
Leasing options
Equipment condition certification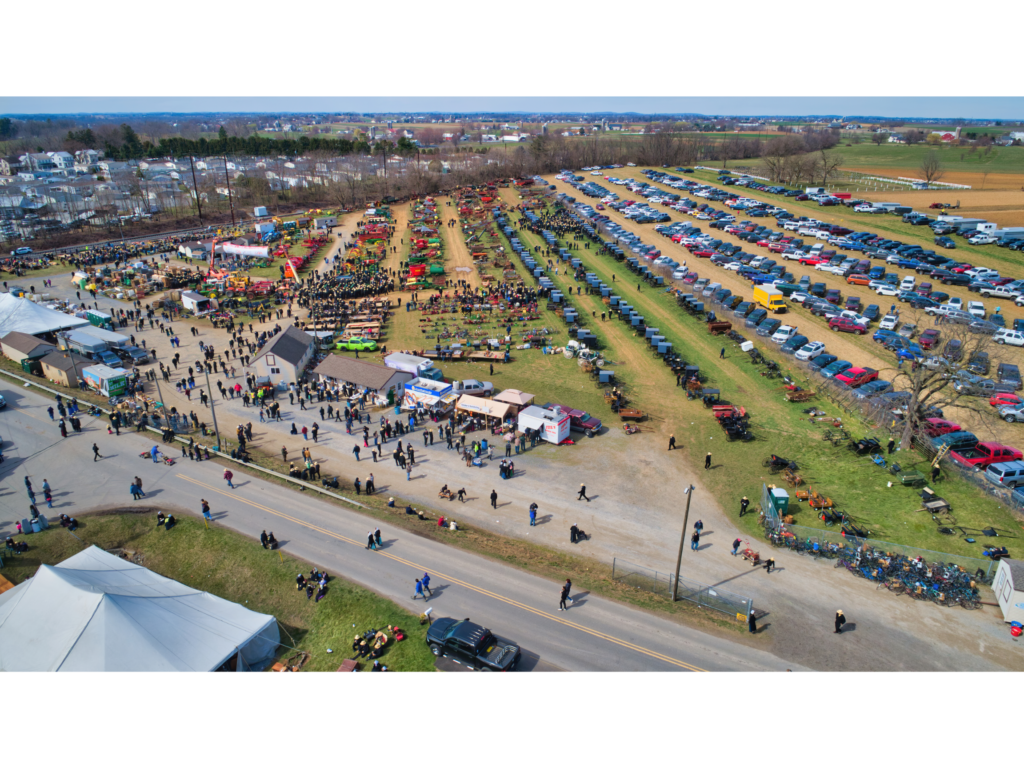 Tips for Buying Heavy Equipment at Auctions
When buying heavy equipment in an auction, research and planning are key. Here are a few helpful strategies to help you prepare.
Why a Machine Inspection Is Important
Having your potential purchase inspected before placing a bid is important. Most auction houses offer the opportunity for an in-person inspection where either you or a proxy can examine the equipment prior to purchase.
Some equipment sellers enlist the services of experts to conduct high-quality inspections on their machinery, providing accurate equipment condition inspection reports to prospective buyers. Knowing the condition of a machine before the bidding begins allows you to determine how much you want to spend, so you don't overpay for an item during the actual auction event.
Auction houses with a well-established online presence provide extensive inventory lists with machine specs as well as photos. By researching your intended machine on multiple auction sites, you can compare them. Online reviews can also be helpful in assessing how satisfied buyers are with their purchase, as this speaks to the quality of the machinery on offer by the auction house.
Online Auctions vs. In-Person Auctions
The growth of the online auction industry has opened up the market to a larger number of auction bidders compared to the more traditional in-person events. Previously, when attendance was mandatory, some purchasers would hire a proxy bidder to attend the event and bid on their behalf. While proxy bidders are still common, the ability to partake in an online auction allows for more flexibility.
What Are the Benefits of In-Person Auctions?
In-person auctions are an exciting place to purchase heavy machinery and equipment. While making purchases in an online auction open up the market greatly, there are several advantages to an in-person event.
Limited accessibility can equate to fewer bidders (compared with online) and, therefore, less competition for certain items. This may allow you to acquire an item for a better price.
An onsite visit allows you to personally inspect the machine prior to bidding.
The results of an in-person auction are known immediately. If you win the bid, the item is yours.
Experienced shipping services can transport your equipment, such as Trusted Dispatch.
How to Participate In Online Auctions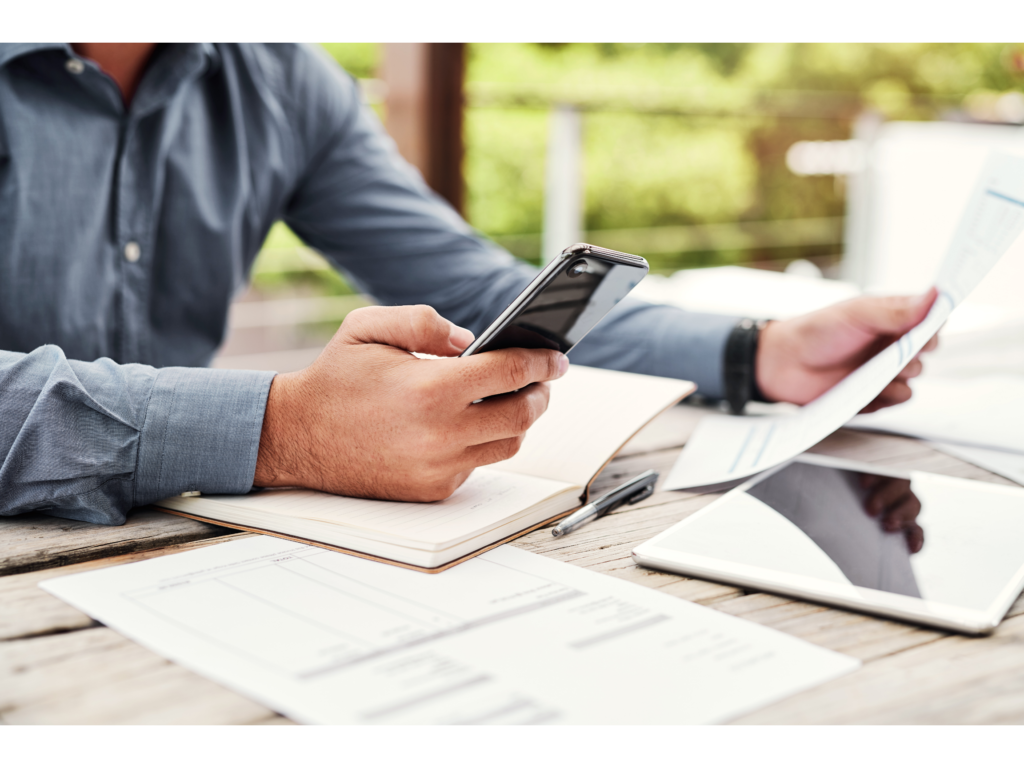 While attending an in-person event requires travel and possibly an overnight stay, participating in an online auction is easy. Simply search online for an auction site that is selling your intended purchase and sign up for an account. With most items being posted several weeks in advance, this gives you ample opportunity to do the necessary research.
As far as bidding goes, some auctions are similar to traditional in-person auctions, where bids are collected live, so interested bidders must be available at a specific time in order to participate.
Other online auctions post an item for a specified period, usually a couple of weeks, and allow bids throughout that period. Whoever has the highest bid at the end of the bidding period gets the sale.
Benefits of Participating in an Online Auction
There are many benefits of participating in an online auction, including the following:
No need to travel! Bid from the comfort of your own home.
Greater selection of auctions to participate in.
Longer bidding periods allow you to purchase without getting caught up in a rush.
Reliable shipping services across North America, such as Trusted Dispatch, to get your equipment safely to you.
Set Bidding Limits for Yourself at In-person and Online Auctions
When you decide to bid on an item, you've likely done the research and know the value of the machinery you are bidding on. However, live auctions can be a frenzy of activity, and when you've set your sights on a piece of equipment, it's easy to get caught in the hype and overbid. You know your budget, so once you've factored in the costs of shipping your equipment from the auction house to your destination, set a bid limit and stick to it.
How to Plan for Machine Transport from an Auction
Farming and construction equipment is often oversized, heavy, and difficult to move. Its transportation requires the services of a professional heavy hauler with a suitable truck and trailer to safely transport your goods. Shipping your heavy equipment from an auction site to your home location requires the use of heavy-haul shipping services.
When considering purchasing heavy machinery from an auction, you'll want to factor in the cost of professional shipping. You can do this by using our online shipping calculator for a free instant quote. It's best to do this prior to making your bid so you can include this in your overall budget. Keep in mind that the distance to be traveled and the complexity of the load affects the overall transportation cost.
When Do You Need the Equipment?
When choosing an auction from which to potentially purchase equipment, how does the auction date line up with when you need the equipment? There are several factors that might affect how quickly your equipment can be shipped to you.
Weather – Depending on the time of year, you might need to factor in weather conditions which may cause delays in delivery.
Multiple auction events – The larger auction events take place in the Spring and Fall seasons, so our drivers see a higher volume of load requests at these times.
Cross-border travel – Shipping equipment between the United States and Canada also comes with its unique set of requirements. While cross-border shipping is a common practice, hiring a customs broker will help to avoid any unnecessary delays.
When buying heavy machinery and arranging transportation services, always provide a suitable delivery window to ensure your business is not affected by unexpected hold-ups.
Frequently Asked Questions About Heavy Equipment Auction Transport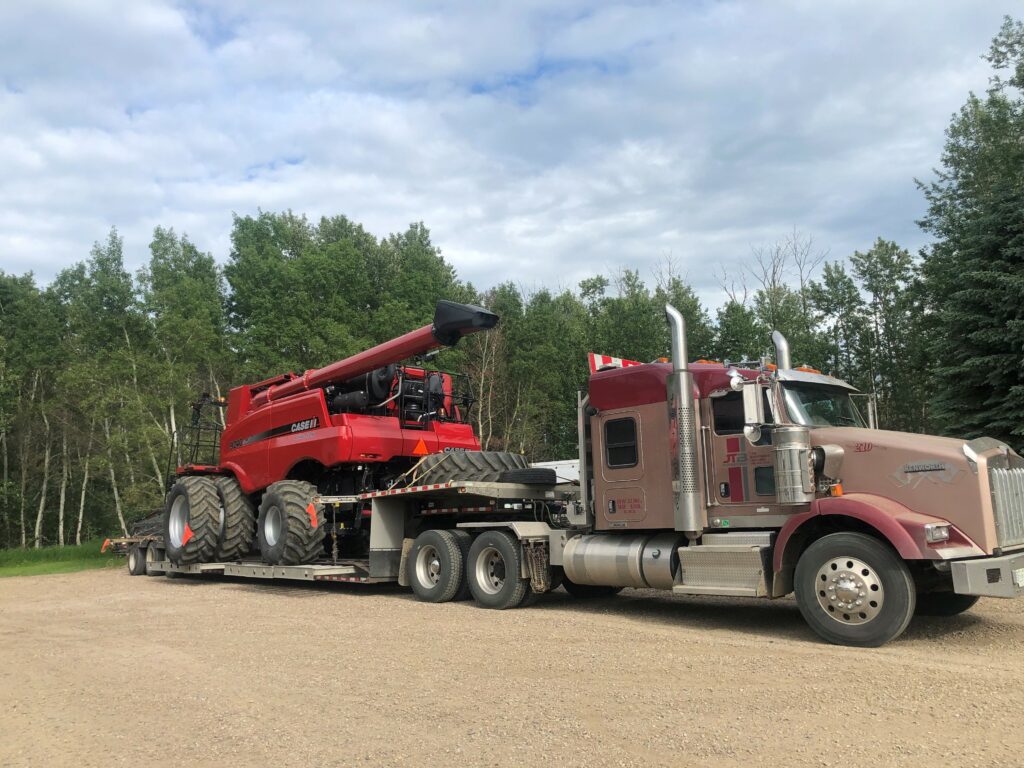 Can I get a Shipping Quote Before I Buy Equipment at an Auction?
Yes, you can get a free quote by using Trusted Dispatch's free instant shipping calculator. Simply input the three key pieces of information.
The pick-up location
The destination
The dimensions of the shipment (width, height, length, and weight).
If you don't know the exact measurements, use our powerful Specs Tool with over 60,000 pieces of machinery listed in our database. Simply enter the brand and model of the equipment to find your specs. Save your quote to publish later once you've won your bid.
If you have any other questions, contact our customer support. You can connect by phone or use the online chat during regular business hours or send us an email.
How Do I Connect With a Driver?
Once you've won your bid, simply post your load to connect with our network of drivers. Be sure to add any extra information or requirements that you may have. Photos of the equipment are also helpful as they allow a driver to assess the complexity of a load.
If your equipment cannot easily roll on and off a trailer, let the driver know that you will arrange for a load assist to make it easy to load and unload the equipment. This will improve the chances of your load being claimed. Loads are usually claimed within 24 to 48 hours. Once claimed, you will receive the contact details of your driver and can connect with them to discuss the details.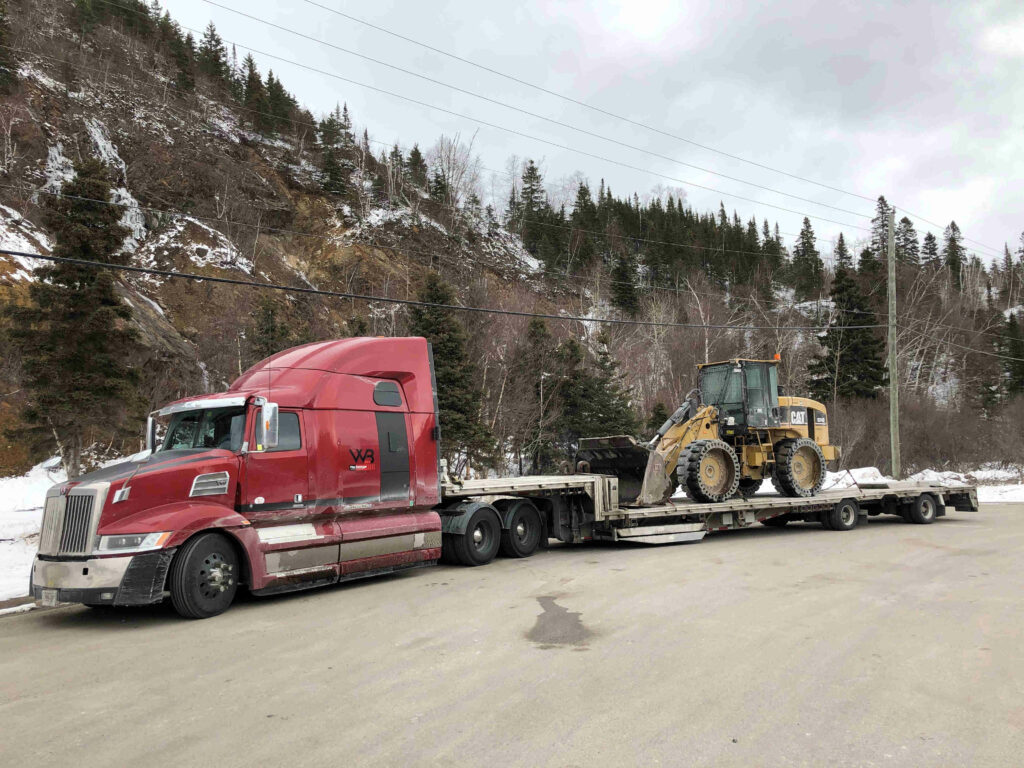 Can I Ship Equipment Anywhere in Canada?
Yes! Our heavy haul drivers have routes across Canada, making it easy to connect with a driver. It's essential to know that three main factors determine shipping costs:
Distance to be traveled
Time the driver spends on the road
The complexity of the delivery
While there are common Federal requirements for transporting oversized loads within Canada, each of the Provinces also has its own set of rules. These road restrictions are in place for several reasons:
To protect the road infrastructure
Ensure public safety
Maintain convenience on public roadways
Regulate safety measures for truck drivers
In the case of oversized loads, these shipments can pose a safety hazard if they are not transported correctly. In order to mitigate any risks, heavy haulers must use specialized equipment, including escort cars, to transport the load.
Height restrictions on bridges and overpasses may require the use of pole cars. Such restrictions also determine that the route taken may not be the most direct, adding to fuel costs as well as time spent on the road. Additional permits are sometimes required, which also add to the cost of delivery.
If you'd like to learn more about the rule and regulations for oversize loads in different parts of Canada, you can read these articles:
Can I Ship My Equipment from the United States To Canada?
Yes! Our network of professional drivers extends throughout Canada and the United States, so matching your load with a driver is easy.
Our heavy haul drivers have extensive experience with cross-border shipping. We also recommend hiring a customs broker to prepare the necessary documents. By doing so, you can minimize delays to ensure your shipment arrives when you need it.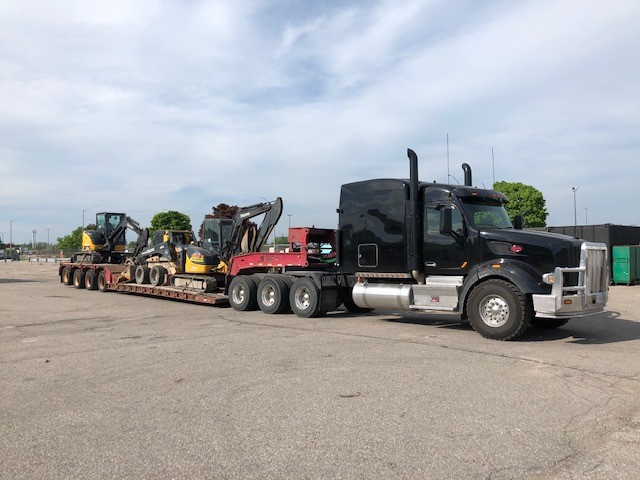 Can I Have More than One Piece of Equipment Transported at the Same Time?
Yes, you can! Loads are matched with drivers who have the trailer space to transport your equipment. A driver with a completely empty trailer may have the space to haul a tractor and a small bobcat at the same time. However, with larger pieces of equipment like a combine harvester and a seeder, the shipment would likely involve two separate trips for delivery.
When you have multiple shipping needs or have complex transportation requirements you'll likely have questions about the process. You can always reach out to our customer support so we can discuss the most reliable, cost-effective shipping solution for you.
Heavy Equipment Transport From Auctions Anywhere in Canada and the United States
With the prevalence of online auctions, buyers have a larger market in which to find the heavy machinery they need. This adds to their cost advantage.
At Trusted Dispatch, we support buyers by providing secure and reliable transportation at fair prices. With our network of heavy haul drivers extending across Canada and the United States, it's easy to match your load with a suitable driver. Secure transportation for your next equipment purchase by getting your free instant quote today.