How to Find Road Grader Transport in Canada
Purchasing a new road grader or a new-to-you machine is exciting. These pieces of equipment are useful for making roads and large areas even before flattening with a road roller. They're also valuable snow-clearing machines. If you've made a recent grader purchase or plan to in the future, you'll want to get that blade on the ground as soon as you can. But graders are huge pieces of machinery, and shipping should be a carefully considered process.
At Trusted Dispatch, we're ready to help you plan out the transportation of your grader. By working with us and connecting to a driver through our network, you can trust that your grader will get to you as safely and efficiently as possible.
Who Can Transport a Heavy Haul?
The only person that should be transporting a heavy haul load, such as a road grader, is an experienced and insured driver. Accidents are rare, but they do happen, mostly to new and inexperienced drivers. It's important to prevent accidents as much as possible and knowledgeable drivers who prioritize safety are essential. Loading and transporting must be done carefully and precisely in order to avoid unnecessarily dangerous scenarios.
The drivers in Trusted Dispatch's network are all fully vetted. They are insured owner-operators who have the experience and skills to safely transport heavy haul and oversized loads.
What Type of Truck and Trailer Do You Need?
The size of your machine will be a factor in determining the equipment needed to haul it. You'll need a good, strong semi-truck and a heavy equipment trailer. A slope-nosed truck might be needed—though it depends on your driver. A slope-nosed truck is very well-suited to hauling heavy loads and long trailers and can withstand rough terrain.
When it comes to trailers, there is quite a number to choose from. This is where having an experienced driver once again pays off since your driver will be able to determine what trailer will work best for your load.
Graders are typically quite long, so the trailer will need to accommodate the length and weight of the grader. The trailer you end up with will likely be a double-drop or a step deck. A double drop trailer has three sections: two higher ones on each end and a lower one in the middle. Typically 48 feet long, these trailers can accommodate 43,000 to 58,000 pounds and are able to carry enormous pieces of equipment. A step deck trailer has only two decks (one high, one low) but can still be 48 to 53 feet in length. Step decks are easy to load and can carry 43,000 to 62,00 pounds.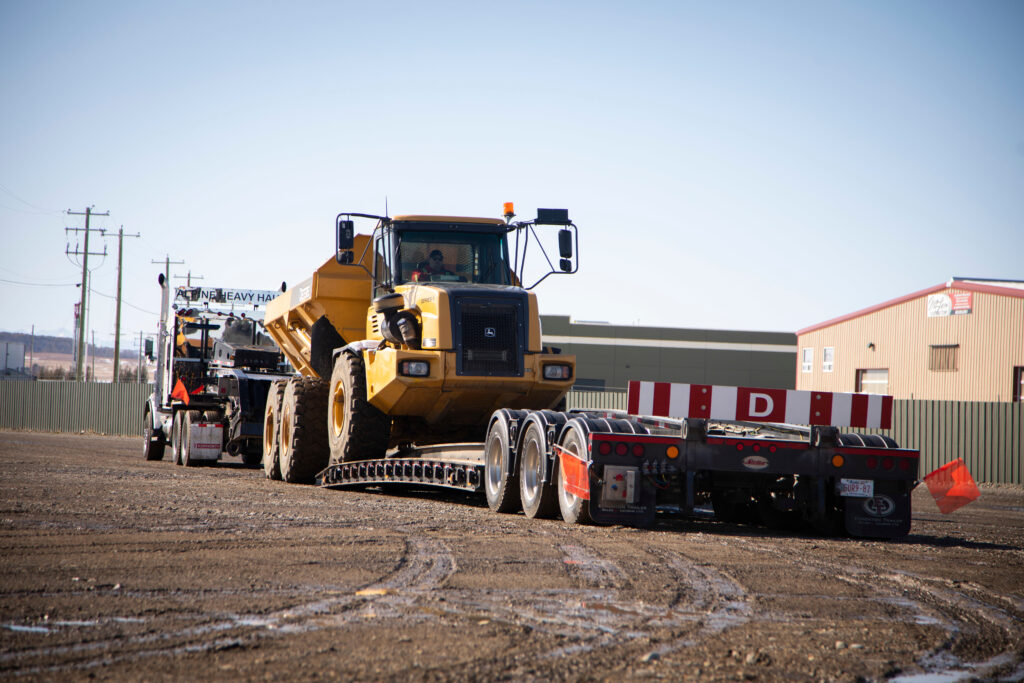 When Is a Load Considered Oversized?
There is a maximum width, length, and height that a load can reach before it is considered oversized. Due to the greatly diverse terrain across Canada, it is to be expected that size restrictions will change as you move through the country. The width restriction is usually 2.6 metres or 8'6″, and though it can vary depending on the province, it remains relatively consistent. Height restrictions are generally capped at 4.15 metres or 13'6″. Length restrictions vary more, so when transporting a long piece of equipment like a grader, this needs careful attention.
Length Restrictions in Western Canada:
British Columbia: 23m or 75′
Alberta: 23m or 75′ to 27.5 or 90′
Saskatchewan: 26m or 85′ to 27.5m or 90′
Manitoba: 12m or 40′ to 20m or 65′
What Are the Road Regulations of Oversized Shipments?
When dealing with an oversized load, different road regulations will need to be followed. This can include mandatory permits, signage, lights, flags, and pilot cars. These things are important for keeping the load, as well as the public, safe on the road. For example, pilot cars warn others on the road that an oversized load is coming, and they can alert the driver of any hazards coming up.
If you'd like to learn more about the rule and regulations for oversize loads in different parts of Canada, you can read these articles: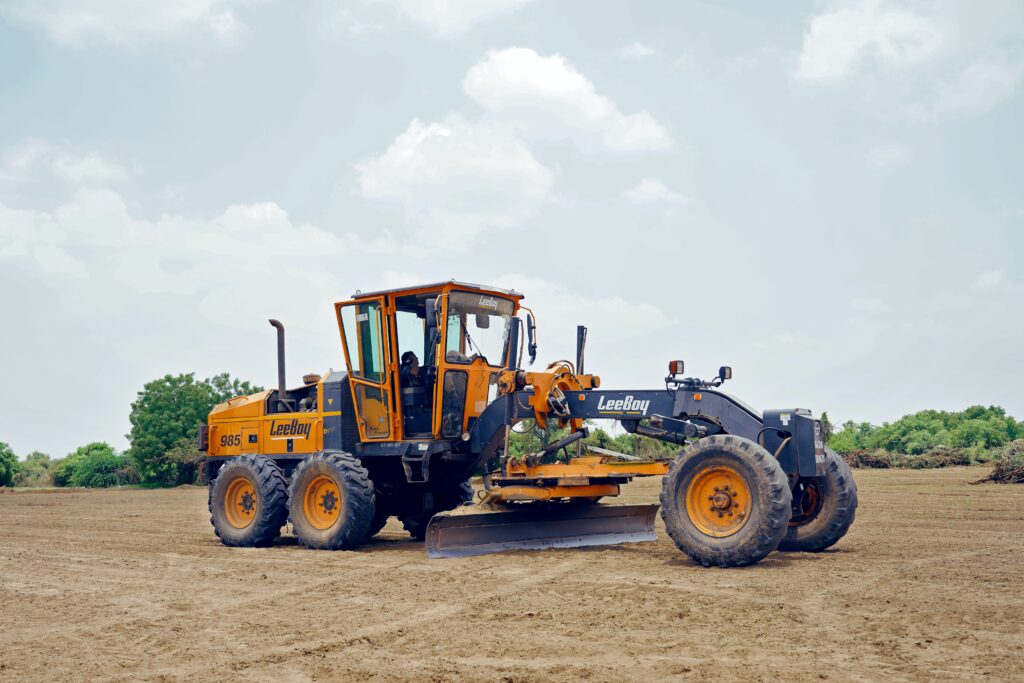 How to Prepare and Load a Motor Grader
Loading day is a big day and one you'll want to prepare properly for. Here are some general things you can do to prepare for any load:
First, we highly recommend taking pictures of your equipment both to document its condition and to let your driver know what they're dealing with. It is also important to clean off the machine to make tie-downs easy. You should also find an area with flat ground to park your grader so that it is easy to maneuver the truck, trailer, and grader for safe loading.
Why Work With a Professional Heavy Haul Company?
A professional heavy haul company like Trusted Dispatch does not cut corners. We work to do our jobs professionally, safely, and enthusiastically. If you work with us, your heavy equipment will be insured, whether you're shipping a road grader, an excavator, a backhoe, or a wheel loader, you will work with a professional driver, and you can expect accountability and transparency in all aspects. We don't want to withhold any information from you, and we want to make the shipping process as simple as possible.
Motor Grader Transport in Canada and the United States
Getting your grader on the road has never been easier than with Trusted Dispatch. We can help you get your grader shipped properly to anywhere in Canada and the United States. Customer service is available via phone, email, or online chat to answer any questions you might have. Whether your grader is oversize or regular, a driver in our network will be able to take it wherever you need it to go. Get started with Trusted Dispatch by getting your free, instant quote today.