What You Need to Know About Shipping Construction Equipment in Canada
Construction is a major industry in Canada, with projects in operation at all points of the year, from residential to commercial to industrial projects. Arranging equipment transport can sometimes cause a headache, no matter the size of your shipment or company. For example, certain times of the year make it easier to transport equipment than others due to levels of demand, weather conditions, and road accessibility. We've compiled some useful tips to help you navigate shipping construction equipment in Canada.
Best Times to Ship Construction Equipment in Canada
Picking the correct season for construction equipment transport can save money and time. Generally, fall is the ideal time for construction equipment transport. Fall weather is cool and enables easy navigation of roads, especially gravel roads. There is a window of time when there is less rainfall, and the temperatures have not dropped below freezing yet. During the fall, there is typically less traffic as school is in session and many people are back at work from summer vacation.
Another time of the year that is ideal for heavy-haul trucking is late spring. Shipping construction equipment in the late spring means the roads are far better than they were in the weather, but it's also a window of time before many road construction projects begin, allowing time to get equipment into place in time. Construction equipment auctions also take place in Spring and Fall, making it a great time to pick up new machines.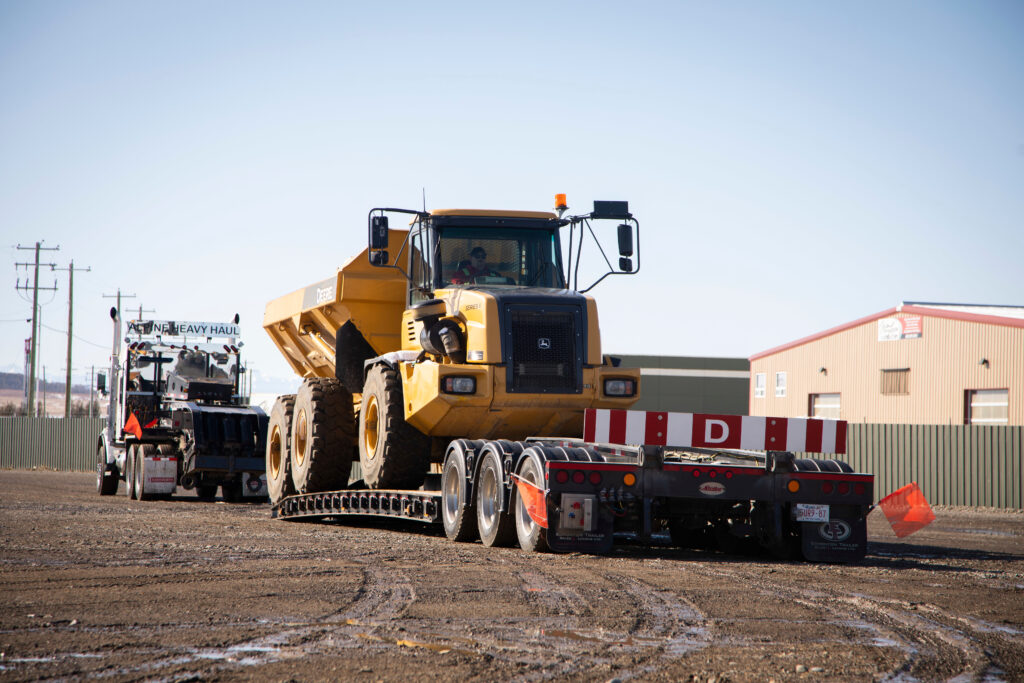 Oversize Shipping Regulations in Each Province
While there is overlap, each province in Canada has its own requirements for transporting heavy and oversized equipment due to different terrain and traffic flows. 
Western Canada Oversize Shipping Rules
These are the standard regulations for oversized equipment in Western Canada.
British Columbia
Height: 4.15m or 13'6"
Length: 23m or 75'
Width 2.6m or 8'6
Oversized loads require flashing or rotating lights on the roof and red markers on the outer corners of the load. A pilot car is necessary for some road conditions where it is difficult to see ahead.
Alberta
Height: 4.15m or 13'6"
Length: 23m or 75' to 27.5m or 90'
Width 2.6m or 8'6"
Alberta's oversized regulations require flags on the largest areas of the equipment. A trailing car is necessary if a load is between 3.87m (12'7") and 5.5m (18'). There are also regulations on the times an oversized cargo can travel.
Saskatchewan
Height: 4.15m or 13′6″
Length: 26m or 85′ to 27.5m or 90′
Width: 2.6m or 8′6″
There are specific guidelines in Saskatchewan that state when a pilot and trail car is necessary.
Manitoba
Height: 4.15m or 13′6″
Length: 12m or 40′ to 20m or 65′
Width: 2.6m or 8 6″
Manitoba requires a D or Wideload sign if the load is over 3m wide. There are specific regulations on trail and pilot cars and times when they can travel.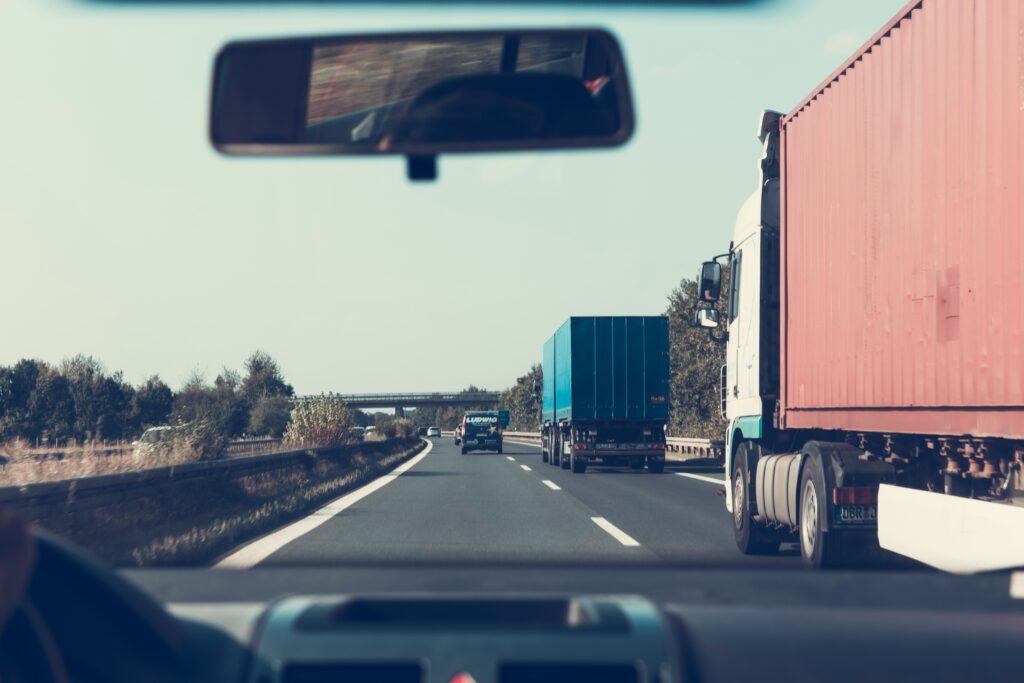 Eastern Canada Oversized Shipping Rules
In Eastern Canada, regulations are slightly different.
Ontario
Height: 4.15m or 13′6″
Length: 16.15m (53′) SPIF or 14.65m (48′) NON-SPIF
Width: 2.6m or 8′6″
There are restrictions for pilot cars, trail vehicles, night moves, and statutory holidays.
Quebec
Height: 4.15m or 13′6″
Length: 23m or 75′
Width: 2.6m or 8′6″
Similar to Ontario, there are strict regulations on trailing vehicles, night moves and statutory holidays.
New Brunswick
Height: 4.27m or 14′
Length: 30m or 98′
Width: 3.65m or 12′
Regulations require signage on both the front and rear of the vehicle. To follow safety regulations flashing or rotating lights are necessary.
Nova Scotia
Height: 4.15m or 13′6″
Length: 23m or 75′5″
Width: 2.6m or 8'6″
Nova Scotia transport requires permit approval from the TIR if the vehicle measures more than 4.88m high, 30m long and 5.49m high.
Prince Edward Island
Height: 4.15m or 13′6″
Length: 16m or 53′
Width: 2.6m or 8′6″
Prince Edward Island regulations must also apply to the rules of the Confederation Bridge onto the island.
Newfoundland
Height: 4.88m or 16′
Length: 35m or 114′8″
Width: 4.88m or 16′
Flashing lights and signage are required, but no escort vehicle.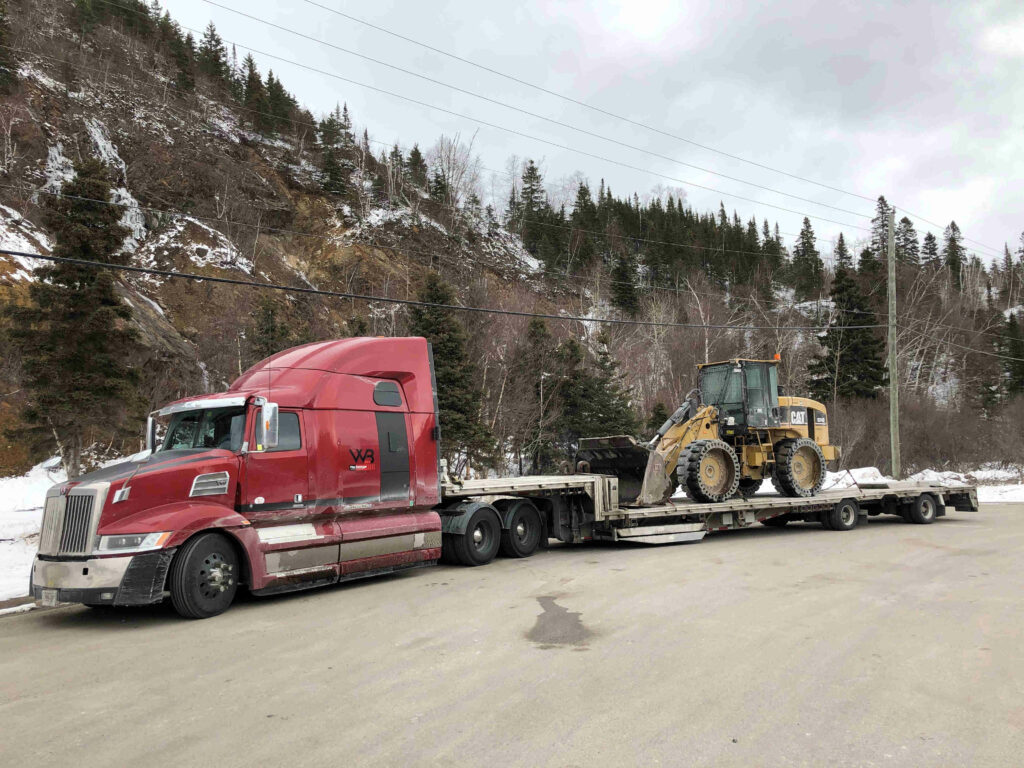 When to Consider Cross-Border Shipping Instead of Cross-Canada Shipping
There are times when transporting cargo cross-border can be easier and quicker than across Canada. For example, if you are shipping from Ontario to Alberta, there are many changes in provincial regulations. Purchasing the same equipment from Montana will have fewer changes and shorter distances.
When purchasing equipment, it is essential to consider the cost of transport and tariff fees. Customs brokers can help you navigate the rules and paperwork and find you the most cost-effective process.
Construction Equipment Transport in Canada
When you need to ship construction equipment across Canada or over the border, Trusted Dispatch is here to make it straightforward and efficient. Start by getting your free, instant quote today.