How to Get the Best Rate for Construction Equipment Shipping
Construction equipment shipping requires planning, expertise, and the right equipment. If you cannot do it yourself, you'll need to find a service that can do it for you. But how much does construction equipment shipping cost? When you are looking for a transport company to ship your construction equipment, there are several factors you need to consider when shopping for the best rate.
Factors That Affect Shipping Costs
Construction equipment is heavy and difficult to transport and requires the shipping services of a professional heavy hauler. These owner-operators have the suitable trucks and trailers needed to haul heavy machinery.
Truck and Trailer
The type of truck and trailer that will be used is dependent on the equipment you need to have shipped. For example, double-drop trailers are ideal for taller pieces of equipment, and step-deck trailers are used for heavier loads.
Oversized Loads
Oversized loads are more complex to transport and often require the use of additional pilot cars to ensure that the shipment arrives at its destination safely. These additional measures incur extra shipping charges.
Cross-Border Shipping
International shipping between Canada and the United States is subject to various tariffs that are not included in your shipping fees. Bear in mind that the further your delivery destination is, the higher will be the fuel costs, as well as the time spent by the driver on the road. 
When you hire a heavy haul trucking company to ship your construction equipment, looking for the lowest quote does not always guarantee the best service. You must consider the professionalism and experience of the driver who will ship your load.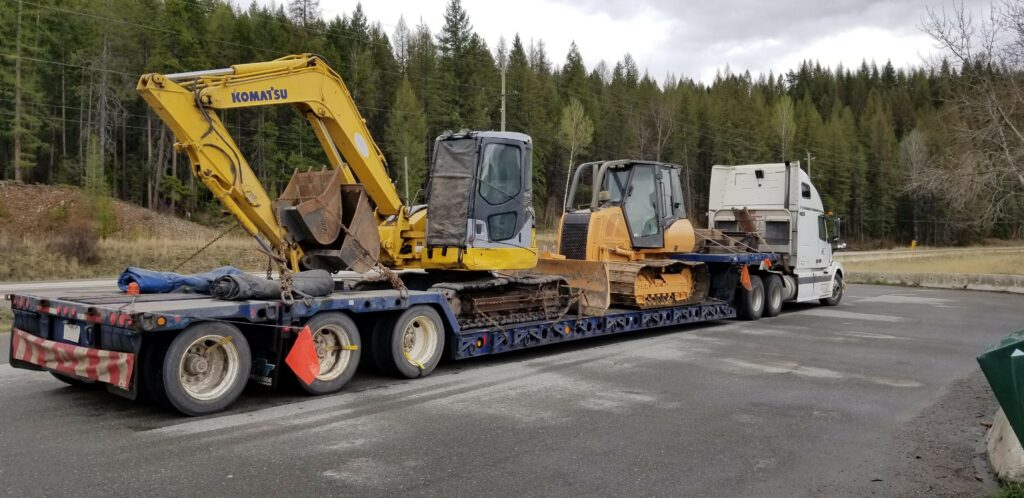 How to Arrange Construction Equipment Transport
Finding a shipping solution for your construction equipment is easy. Simply input three key pieces of information to receive your free quote.
Enter the pick-up location
Enter the destination
Enter the dimensions of the shipment (width, height, length, and weight).
If you don't know the exact measurements of your equipment, you can use our powerful Specs Tool, which has over 60,000 pieces of machinery listed in our database. Simply enter the brand and model of the equipment to find your specs. Once you receive your free quote, you can post your load to our load board to be matched with a driver.
How Load Boards Provide the Best Rates for Heavy Equipment Hauling
When you choose a shipping company that specializes in heavy equipment hauling, you are guaranteed to be connected with a professional owner-operator who has experience hauling heavy equipment and is fully cargo-insured. This helps to ensure that your shipment arrives safely and securely without incurring any damage.
What Does a Fair Shipping Rate Look Like for Construction Machinery?
At Trusted Dispatch, we guarantee fair shipping rates for our drivers and our customers. Our competitive rates won't break the bank, but they ensure your driver is paid fairly for the job that he does. While we do require prepayment for your shipping services, your payment is held in trust and only released to the driver when you confirm successful delivery.
Heavy equipment transport is a complex job. The job requires the right equipment and an experienced driver to handle the loading, long-haul transportation, and unloading of your equipment. Some companies try to attract business by offering low rates, but this may impact the quality of the service you receive.
How to Get the Best Rate for Heavy Equipment Transport
There are several steps you can take to ensure you get the best rate.
Book early – Urgent deliveries are subject to higher fees. If you can plan ahead of time, you will have access to multiple drivers and, therefore, not have to pay an additional fee to make a shipment worthwhile.

Respond promptly – Once you post your load, check your email regularly for any response from a driver. Many customers fail to do this and then miss the window of opportunity to connect with a driver that matches their routes and needs.

Take photos – Including a photo and detailed information about your load will allow a driver to understand your requirements and therefore respond more quickly.

Load assist – For complex loads that cannot be easily loaded onto the trailer using the roll-on roll-off system, offering load assistance can make your job more attractive for a prospective driver.
Raise the Rate On Your Terms
For complex loads, deliveries in remote locations, and last-minute jobs, boost your load to incentivize a driver to claim your shipment. If you have not had your load claimed within 24-48 hours, this provides a helpful option to secure a heavy haul driver.
Heavy Equipment Shipping in North America
When you are looking for heavy haul equipment transport across Canada and the United States, look no further than Trusted Dispatch for all of your shipping needs. We offer professional services with the best rates guaranteed. Get your instant free quote today.