How to Find a Driver For Construction Equipment Auction Transport
Auctions are a great way to secure construction equipment for your business. Online auctions, in particular, are a popular venue where remote buyers and sellers can connect virtually in order to buy and sell equipment.
With auctions happening across North America, your next purchase may be a few kilometers to many thousands of kilometers away. In either case, shipping construction equipment to its required destination is not as simple as loading it onto a friend's pickup or trailer and bringing it back home.
Construction equipment is heavy, oversized, and generally awkward to move. It requires the right equipment to haul it from one location to the next and an experienced driver to get it there safely.
What Equipment Is Needed to Haul Heavy Equipment
The type of trailer required to move your heavy equipment depends on the weight and dimensions of the machine. When you enter the details of the type of equipment you wish to transport, along with its weight and dimensions, your driver will decide on a suitable trailer to ship your load. There are various types of trailers to choose from.
Flatbed/Highboy trailers
Step deck trailers
Double drop trailers
Removal gooseneck trailers
Booster/Jeep trailers
These trailers each offer different-sized decks, which can accommodate varying sizes and weights of equipment. A step deck trailer works well for very heavy equipment, as additional axles can be added to accommodate the weight. Double drop trailers are usually employed for taller loads if the height is an issue.
Professional heavy haulers have years of experience and are well-equipped to transport all kinds of heavy equipment and machinery. They understand the type of trailer that is needed for different types of equipment and also have knowledge of the safety requirements to get your load safely from one location to the next.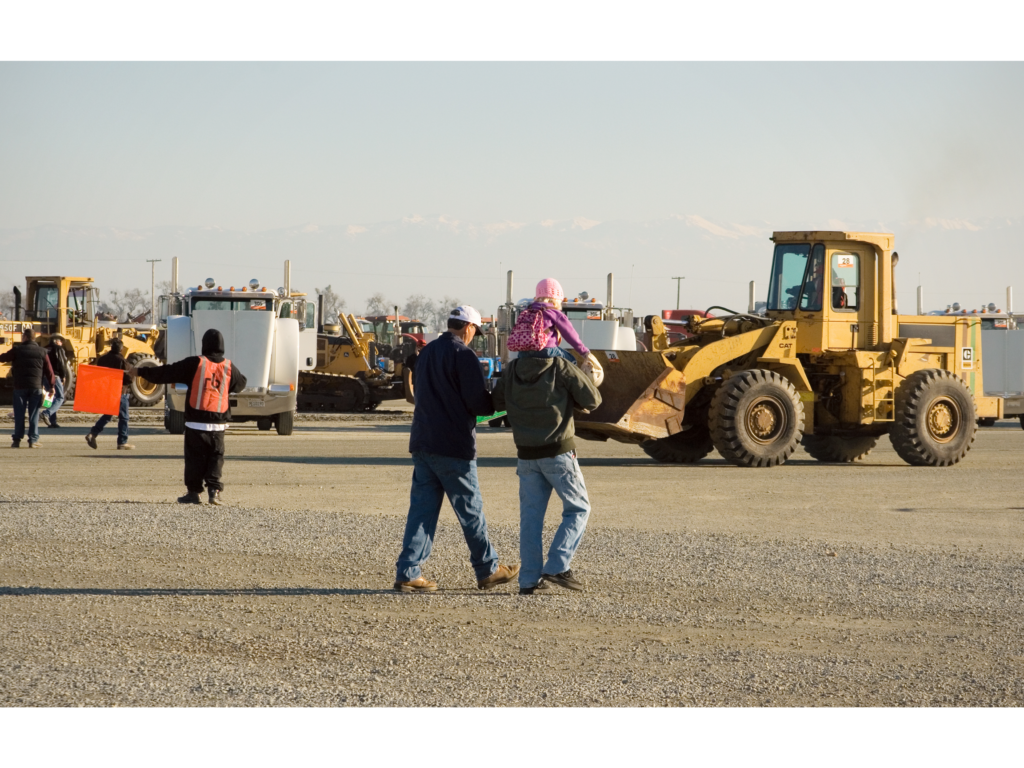 Shipping from Auction Sites
While you may have access to long-haul drivers in your home location, what do you do when you need transport services from a remote location?
Shipping heavy equipment from auction sites to your location is relatively easy. We regularly ship construction, farming, and agricultural equipment, as well as oil and gas loads across North America. When you use our load board, you can rest assured that your auction item will arrive safely, securely, and on time.
Where to Find Heavy Haul Owner-Operators
Our network of professional heavy haul drivers is located across North America to provide reliable transportation services for your heavy equipment. These owner-operators have the tools and experience to ship your construction equipment. All of our drivers are vetted for safety and professionalism and are fully cargo-insured. To find a driver, simply post your load to our load board. 
How a Reliable Load Board Should Work
Connecting with our drivers is easy. Follow these steps to get connected to a driver as soon as they claim your load.
Get your free quote.

Enter the pickup location
Enter the destination
Enter the dimensions of the shipment (width, height, length, and weight). If you don't know the exact measurements, use our powerful Specs Tool with over 60,000 pieces of machinery listed in our database. Simply enter the brand and model of the equipment to find your specs.

Post your load on the Trusted Dispatch app and wait for a driver to claim it.
While drivers claim most loads within 24-48 hours, jobs that are in remote locations or are more difficult to tackle may require you to boost your load to incentivize a driver.
Once your load has been claimed, you will receive contact information for the driver to discuss the details further.
You must prepay for your load, but we hold your payment in trust and only pay the driver when you confirm successful delivery.
Construction Equipment Shipping in Canada
With so many auction companies buying and selling construction equipment every day, transporting heavy equipment from coast to coast is a common practice. With our instant quotes, expert truckers, and big cost savings, your next heavy equipment haul is just a click away. Get your instant free quote today.