Why Safety Should be a Priority in Heavy Equipment Hauling
Hauling heavy machinery is a complex process that requires the use of special equipment and the services of a professional driver. These elements are required to ensure the equipment is transported safely and securely to its destination.
Prioritizing safety is important, and fines and penalties for not observing legal requirements can be high. For this reason, it is important to choose a heavy equipment shipping company that understands all of the aspects of safety and follows all necessary procedures to keep the driver, your equipment, and the general public safe at all times.
Why Safety Matters?
Heavy haul transport requires skill and experience. For example, hauling in summer is very different from hauling in winter, and you and your driver both need to know what to do to plan for a safe trip. No matter the season, from the moment the driver picks up your equipment until he unloads it at the delivery location, safety should be the number one priority. This is important for a number of reasons.
Reason One: By securing the services of a reputable company that knows what they are doing and follows safety protocol, you'll save money in the long run. A delivery that runs on time with a reduced risk of accidents saves money all around.
Reason Two: A safe delivery means everyone is happy! You have your equipment, and the delivery driver gets paid. Reputation is important in this business. Cut-rate transport practices and serious accidents don't reflect well on you or the transport company. When you choose professional and reliable services, everyone's reputation remains intact!
Reason Three: Regulations are in place to protect your shipment, the public, and the road infrastructure. Violations result in hefty fines and serious penalties. By following protocol, everyone benefits.
Heavy equipment transport is very different from moving furniture in a U-Haul or in the back of a pick-up truck. The ramifications of not following the safety and load securement rules are serious and can potentially be life-threatening. In this post, we will outline some of the key areas where safety protocols come into play.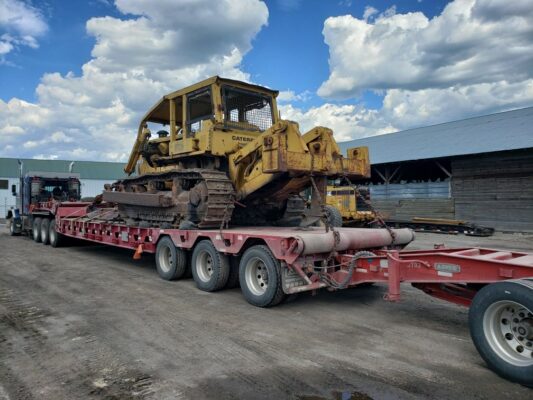 Machine Safety
You've invested heavily in your equipment. Whether you bought your new machine from a dealer or bought a used one at an auction, you want reliable transport. Heavy machinery is valuable, and any delays in receiving your equipment due to damage can affect your business operations. Therefore, choosing a reputable company to transport your equipment safely is in your best interests.
Using the Appropriate Transportation Equipment
The truck and trailer that will be used for transportation will be dependent on the dimensions and weight of your heavy equipment. This is why it is important to let your driver know these specs ahead of time, so they can prepare properly for your service. This includes preparing the right trailer as well as bringing the necessary chains for securement.
Safety When Loading and Unloading Equipment
Providing a space that is large enough to accommodate the load, as well as the truck and trailer, is important for loading and unloading safely. The surface must also be level, as working on uneven ground can cause your machine to topple over or slide off the trailer. Crashing your equipment during the loading process can cause damage to the equipment and potentially injure the driver and other personnel.
Public Safety and Protection of Infrastructure
The sheer size and excessive weight of heavy equipment make it a hazard for the general public if not transported securely. That's why there are rules and regulations for transporting heavy equipment on shared public roadways. Damage to infrastructure is also a serious concern when the equipment exceeds weight limits or height restrictions and is not secured with the appropriate attachments.
Rules of the Road
All Provinces and States have different rules that must be adhered to when using their road infrastructure. Heavy haul drivers are always expected to follow the speed limits when hauling heavy equipment. They must also abide by other rules stating maximum weights or maximum heights to prevent damage to the load or the infrastructure.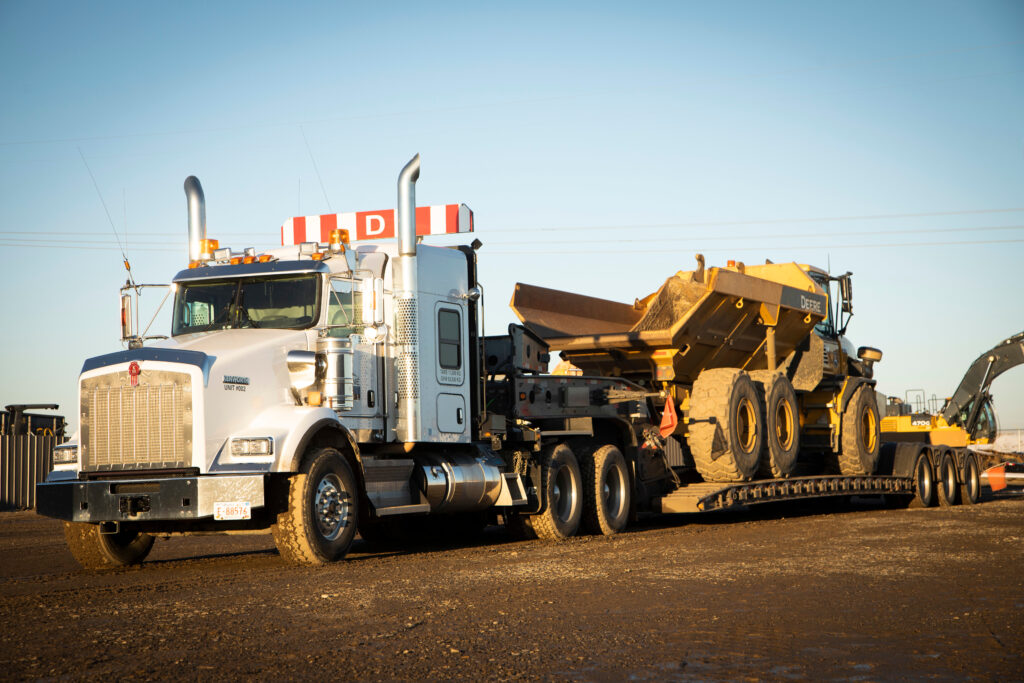 Oversized Load Restrictions
Oversized loads exceed certain weight, length, width, and height limits. Most of these loads are "non-divisible," which means they cannot be broken down into smaller parts to constitute a "normal" load. Several factors need to be considered when transporting oversized heavy equipment on public roads.
Bridges and overpasses may not be able to accommodate taller loads
Overly wide loads may infringe into other lanes of traffic
Heavy loads may cause damage to roads and older infrastructure
Travelling with oversized equipment requires the driver to apply for special permits for travel. Multiple escort or pilot cars may also be required for wide loads to protect the truck and other cars on the road. In addition to flags to bring attention to heavier loads, oversized banners displaying the words "OVERSIZE LOAD" or the red and white reflective stripes with the letter "D" in the centre, are also required to be placed prominently on the front and back of the vehicle.
Securement Rules
Securing the equipment properly onto the trailer bed is a vital component for safety. In Canada, the National Safety Code Standard outlines several requirements for securing heavy loads onto commercial trucks to ensure that the equipment does not shift or fall onto the roadway. It specifies rules such as:
The requirements for the securement system

Minimum strength
Steel strapping
Type of material used for cargo securement
Tiedown requirements

Adjustable straps for secure tightening
Working load limit
Minimum number of tiedown points
The Cargo Standards for Alberta website has full information on load securement rules and guidelines.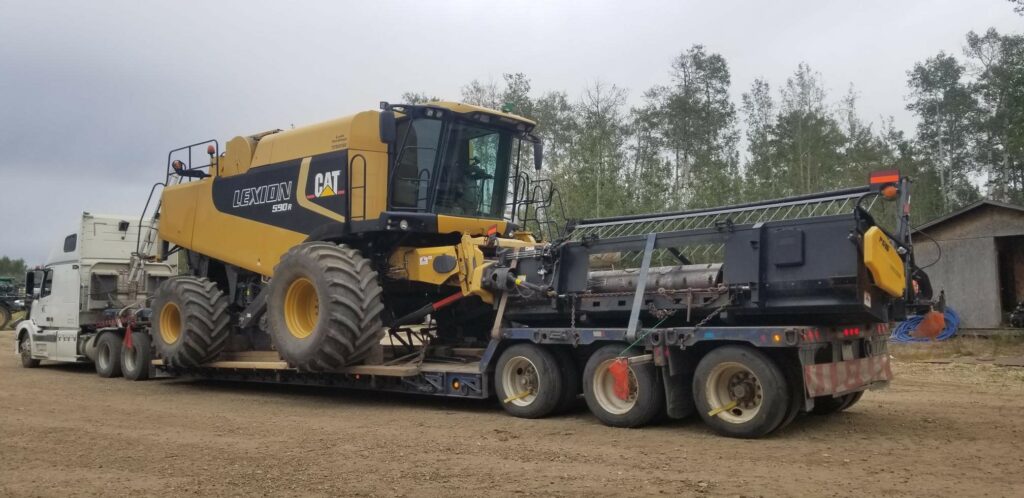 Protect Your Reputation
Not securing proper permits and adhering to rules is a serious violation that carries heavy fines and penalties. Not following protocol can harm people, damage infrastructure, impact your machinery, and have significant ramifications on the reputation of the transport company as well as your own.
We've all heard of instances where overpasses have been damaged by trucks carrying oversized loads that exceed the height restrictions. Highways have been closed for hours while the mess is cleaned up and damage to infrastructure is costly, with the potential to close down entire routes for weeks at a time.
Professional heavy haul drivers plan their routes based on the equipment they are carrying, as they understand the height and weight restrictions that will potentially affect their travel. When a company does not prioritize safety, that should be recognized as a red flag for heavy haul shipping.
Additional Considerations for the Safety of the Driver and Shipment
Professional drivers understand the importance of safety for their protection, the protection of their shipment, and those around them. Planning a successful delivery requires skill that comes with a high level of training and extensive experience on the job. A professional heavy haul driver must do the following:
Understand the complexity of the load and organize the appropriate truck, trailer, and securement devices.
Plan the route to account for any height and weight restrictions that may impede travel, cause accidents, or delay the shipment.
Factor in the appropriate rest stops along the way so he can remain vigilant and alert at all times.
Have extensive knowledge of road rules in different provinces and states.
Be fully cargo insured to ensure that the shipment is protected at all times.
Regularly maintain and check his vehicle and trailer to ensure that it is in good working order and conforms to strict legal standards.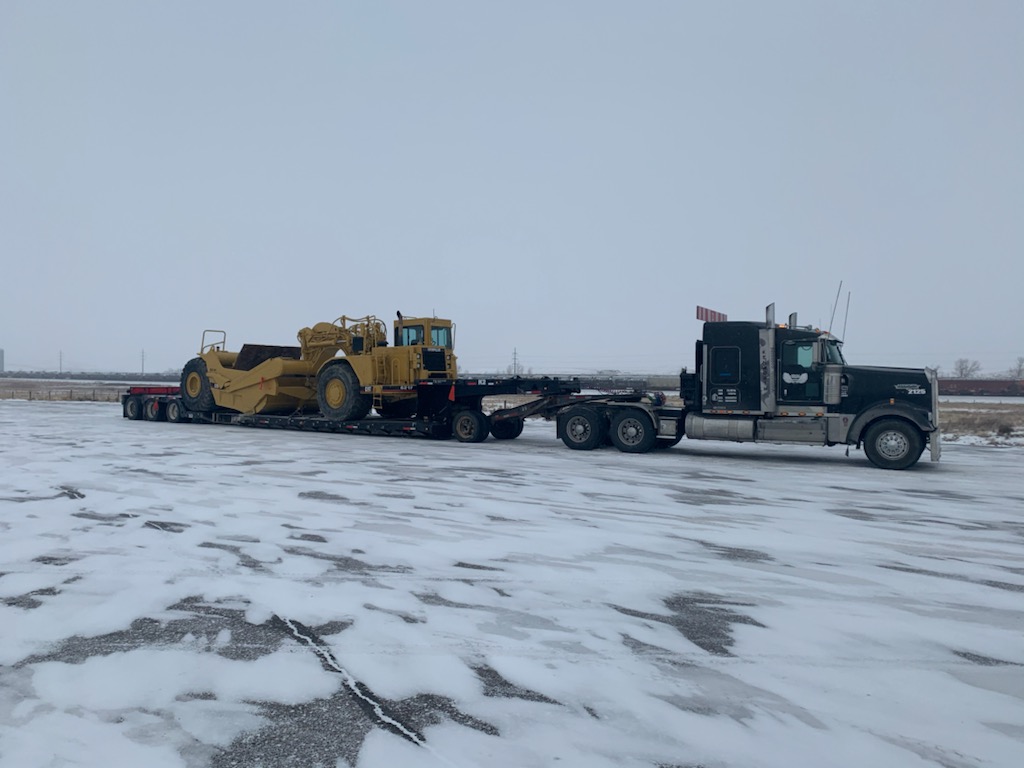 Warning Signs a Heavy Haul Company Does Not Prioritize Safety
When safety is not a priority, your shipment, the driver, and the public at large are at serious risk. Some red flags to watch for when looking to secure shipping services are as follows:
Lowball Prices
Lowball prices bring into question the level of quality you will receive for your shipping services.
As outlined, heavy haul shipping utilizes specialized equipment that conforms to specific standards as required by law. The need for a professional driver to meet these standards and safely deliver your equipment is crucial.
No Insurance
Cargo insurance is expensive, yet a driver must be fully insured to protect your equipment during transit. Check with the shipping company to ensure your driver is fully cargo-insured. The prices paid to professional drivers must also reflect the cost of insurance to protect your equipment, so lowball prices might also indicate a lack of sufficient insurance.
Poor Customer Support
Customer support is a vital service for any business and being able to connect with someone who can address your needs and answer any question promptly is important. Be wary of agencies that don't offer the option of phone support and only respond via email. Independent review sites also provide insight into the level of customer service offered to their customers.
Inexperienced Drivers
Inexperienced drivers do not have the knowledge or expertise to follow the required protocol when it comes to heavy-haul shipping. Professional drivers expect to be paid fairly for their time, experience, and commitment to safety. Receiving a low quote is a strong indicator that your driver is not a professional.
Heavy Equipment Hauling Companies in Alberta
Trusted Dispatch prioritizes safety across the board when it comes to having your equipment shipped safely from one location to another. We only work with vetted, professional heavy haulers who are fully cargo-insured. They have experience in shipping a wide variety of equipment, including farming and construction equipment. With extensive knowledge of provincial and state rules, cross-border shipping, and securement protocols, you can rest assured that your equipment will be in safe hands every step of the way. Call us today or use our calculator tool to get an instant free quote.