What You Need to Know About Heavy-Duty Equipment Transport in Winter
In Canada, when snow falls and ice forms on the road, driving becomes a bit more complicated. Especially at the start of the winter season, we see many cars in the ditch and slower driving due to unpredictable road conditions. Transporting heavy equipment is no easy task during the cold months, but it is doable with the appropriate preparations. Here are some tips for how you can get your equipment ready for transport and insight into how your driver will prepare for the trip.
Changing Conditions Due to Weather and Roads
Winter roads are unpredictable, and the severity of the conditions can change very quickly. Extra flexibility on timelines is often necessary to compensate for any possible time delays when transporting heavy equipment. Since weather can be unpredictable, it's always good to keep an eye on the forecast and stay in communication with your driver to delay or reschedule if necessary.
Time delays can occur for many reasons during the winter season. Driving during dangerous weather can put your truck driver at risk and can risk the safety of your valuable equipment. Drivers will only haul in a storm if the roads are safe and visibility conditions are also safe. Even truckers with years of experience need to take these safety precautions.
Another reason why a heavy haul might be delayed is because of road closures. Specific roads or highways may close due to unsafe road conditions, and time is needed to plan alternate routes for the driver to navigate.
Planning extra time before transporting your equipment will help with these possible setbacks. Another way to stay on top of your shipping is by picking the right heavy haul services. A company with top-quality responsive drivers makes it easier to adjust those plans as they change.
At Trusted Dispatch, our app allows you to check in daily and not miss out on driver updates. Our app gives you direct communication with the driver and the ability to navigate any obstacles in real-time.
Additional Preparation Necessary
For heavy haul transport in the winter months or any long-distance travel, additional preparations are needed to help with smooth transportation. One of the essential tasks is to start snow removal.
Ensure Snow Is Removed and Roads are Clear
The entire path from the road to your machine needs to be passable. That might mean removing piles of snow or salting and sanding for ice. Depending on where your equipment is getting picked up from and dropped off, you may need to allow some extra time to remove the snow.
For the best loading, your driver will need to park close to your machine with the trailer. It is essential to clear away any snow surrounding or covering your equipment before the driver arrives. It's also necessary to clear the surrounding ground to make it as level as possible. Heavy equipment cannot safely drive onto a trailer if the trailer is parked at an angle. This will greatly increase the risk of a machine sliding off the trailer or, worse, tipping the trailer and truck. Clearing the snow and ice off the roads around your machine will ensure safety and ease for the truck driver while loading and unloading the equipment on the trailer.
Another crucial task is to clear the tie-down areas of the equipment and any other points of contact.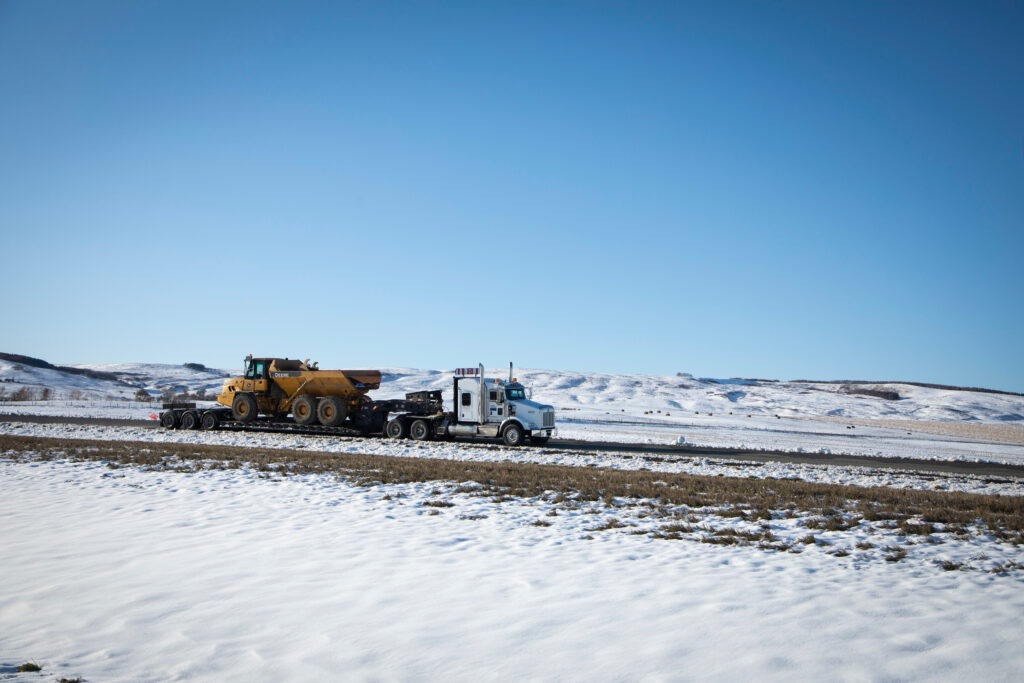 Check All Fluids
It is essential to inspect your machine before transport by checking your fluid levels, including your fuel, hydraulic fluids and oil. You need these fuels to be topped up before transport.
Prep the Machine for Starting
Ensure to prep your machine for starting before transporting. Winter days and nights can be cold, but you can prepare your equipment for those freezing nights by plugging in your machine. If your equipment has a diesel engine, using an oil pan as a heater can also help keep it warm and make it easier to start when needed.
If you have difficulties starting your equipment, consult your manual for helpful tips. Keep testing your machine before transport, and keep your driver updated on any troubles you may be experiencing. If you're having mechanical difficulties that require a delay in the pick-up time or a complete rescheduling of the transport, it's important to notify your driver as soon as possible. Ideally, you'll notify them before they arrive at your location.
Communicate with Your Driver
Communication with your driver once they've claimed your load helps make the transport process easier. This allows your driver to ask specific questions to help them prepare for the pick-up. It also gives you the opportunity to ensure you're fully prepared for loading day.
Here are some guidelines to follow for what to share with your driver to maintain effective communication.
Check the App
Once you've uploaded your job to the Trusted Dispatch load board, it's important to check the app regularly. Drivers typically claim loads in the first few days the posts are published. Not checking your app for days at a time could lead you to miss an opportunity.
Share Photos of the Location and Equipment
When you post your load to the Trusted Dispatch load board, adding photos helps your driver see what equipment your equipment looks like. The specs help them determine what trailer to use and if any permits will be required, but a photo also helps them plan ahead their loading strategy. In winter conditions, pictures of your pick-up or drop-off location can also help them prepare ahead of time for the surroundings.
Stay Updated
It's important to stay in touch with your driver leading up to the pick-up day. A few essential details to make your drivers' job easier are keeping them updated on any delays or problems leading up to pick-up day and ensuring your location is visible from the road. Communication with your driver, in general, is important.
Trusted Dispatch will ensure direct communication with your driver through the app for heavy equipment shipping. Your driver will be able to have direct contact with you through the app leading up to pick-up, and on the day of pick-up, the driver will most likely call you directly to confirm the last details.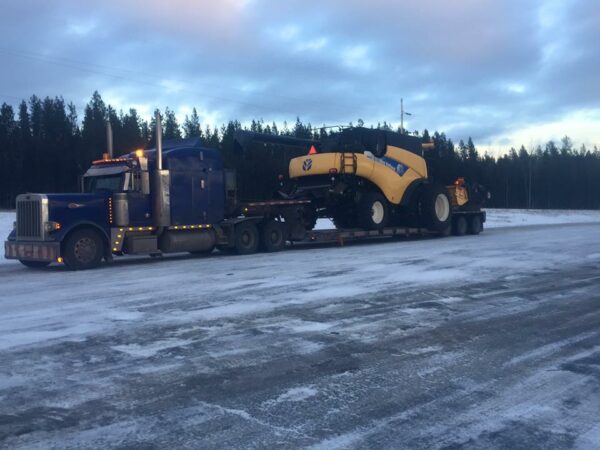 Reliable Winter Heavy Duty Equipment Transport in Alberta
If you're in need of heavy-duty equipment transport this winter, start by getting your free instant quote using our heavy-duty shipping calculator. Simply enter your pick-up and drop-off locations, followed by the specs and weight of your machine, and you'll get your free quote instantly.