5 Red Flags to Watch for In Construction Equipment Transport
When transporting large, heavy, and expensive equipment like construction equipment, you want to work with a company you can trust. Though accidents and mistakes can happen, you'll want to be working with people that do everything they can to prevent such things from happening. But how do you make sure you can trust a company? Here are five red flags to watch for in construction equipment transport to get you started on finding the best construction equipment transport company to suit your needs.
What to Watch for With Heavy Equipment Transport
There are a number of indicators of untrustworthiness that you should keep an eye out for when researching companies, such as low rates and lack of customer support. If you come across any of these things in a company, it might be best to keep looking. Therefore, when searching for a heavy haul trucking company, keep your critical eye sharp and hold these indicators in mind:
1. Surprisingly Low Rates
As great as low shipping rates are, unfortunately, they are usually too good to be true. Unusually low rates typically indicate an inexperienced company without insurance. They might rush through the job and fail to take necessary precautions in the process. Important details could be missed, and there's a good chance that the driver is not receiving a fair cut. For the sake of yourself and your driver, that's probably a company to stay away from. Lack of insurance and rushing leaves a frightening amount of room for error, and you shouldn't be taking those chances with such valuable, heavy machinery.
At Trusted Dispatch, our system calculates fair rates for everyone. We make sure that customers get affordable rates without any hidden fees, and our drivers get paid fairly for the experienced and professional work they do.
Before adding drivers to the Trusted Dispatch network, they are fully vetted to ensure that they possess the skill and experience to consistently and competently do their jobs. They also must have full cargo insurance. When you work with a driver through Trusted Dispatch, there is no doubt about it: your equipment will be in good hands. The work our drivers do is valued highly, and shrinking their payment in order to lower our rates goes against our values.
When to Expect Extra Costs
Any extra costs you may come across are usually associated with oversized loads and cross-border shipping. When cross-border shipping or shipping oversized loads, things tend to get a little more complicated. That little bit extra takes care of permits to meet rules and regulations and hiring of pilot cars when necessary.
In general, the amount of money required to move equipment is determined by where a load is going and what routes are available to the driver. In any case, extra costs are never hidden from you. Your driver will explain exactly where the extra fees are going and why.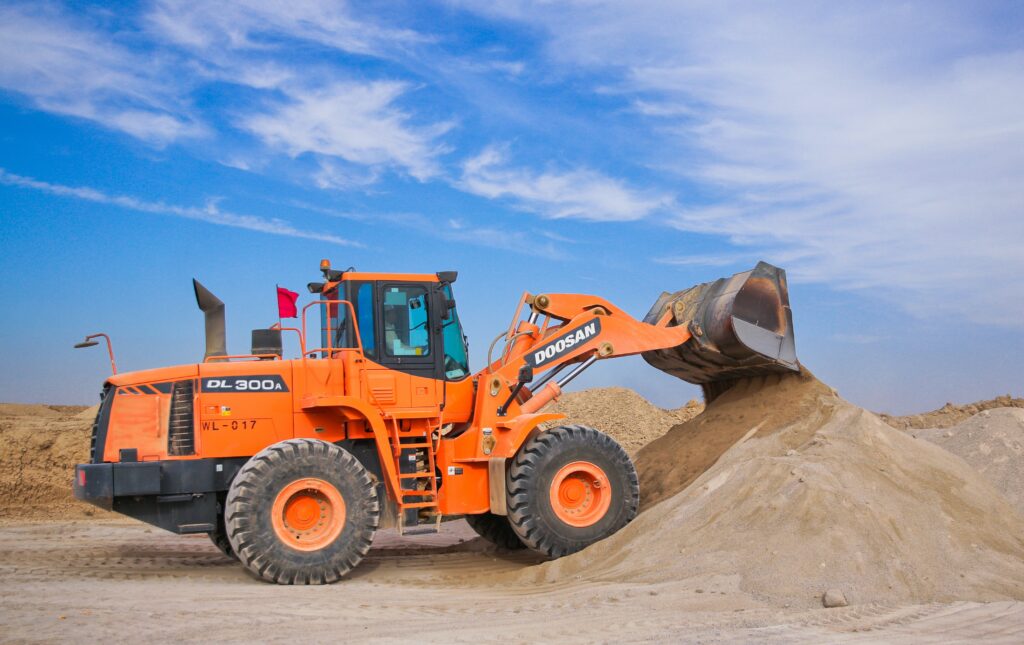 2. No Customer Support
A trustworthy company shows that it cares about its customers, and one big way for them to do that is by providing great customer support. When companies make themselves available for questions and customer assistance, they demonstrate their willingness to work with customers in order to achieve satisfaction. A company without reliable responses and vague replies might be one to steer clear of.
At Trusted Dispatch, we're always happy to answer your questions and provide guidance. Our friendly and knowledgeable customer support is readily available during regular business hours by phone, email, or online chat. If you have any questions, need help detailing your load, or have any confusion at all, we are ready to help!
3. Middlemen and Brokers
Middlemen and brokers might seem helpful at first, but they charge unnecessary fees. At Trusted Dispatch, we connect you directly to drivers, which means we have absolutely no hidden charges or fees for using our platform. We believe that customers should be aware of what they are paying for, and we work hard to earn the trust of everyone we work with.
4. Lack of Testimonials
When it comes to gauging the quality of a business, there isn't much that speaks louder than customer reviews. Customers will be honest about their experiences in their testimonials, so a company that tries to hide the feedback they receive may not be very reliable. Testimonials show how a business treats its customers, and they often point out potential problem areas that might not be clear in a quick click-through on a website.
Our feedback from customers is highly valued, and we take it seriously. Trusted Dispatch has a testimonials page that receives excellent reviews and a consistent five-star rating.
5. Driver Connection
Drivers are at the centre of a heavy-haul trucking company like Trusted Dispatch, and we want customers to feel confident when working with us. Our Drivers in Action page shows real loads in action, so you can see the experience of our drivers. Furthermore, when you match with a driver on the loadboard, you can chat directly with them to avoid any miscommunications and to facilitate trust.
With that kind of driver connection, it's easier to trust the drivers you're working with because you're never left in the dark. When transporting valuable and heavy construction equipment, you should feel informed and confident rather than lost and unsure.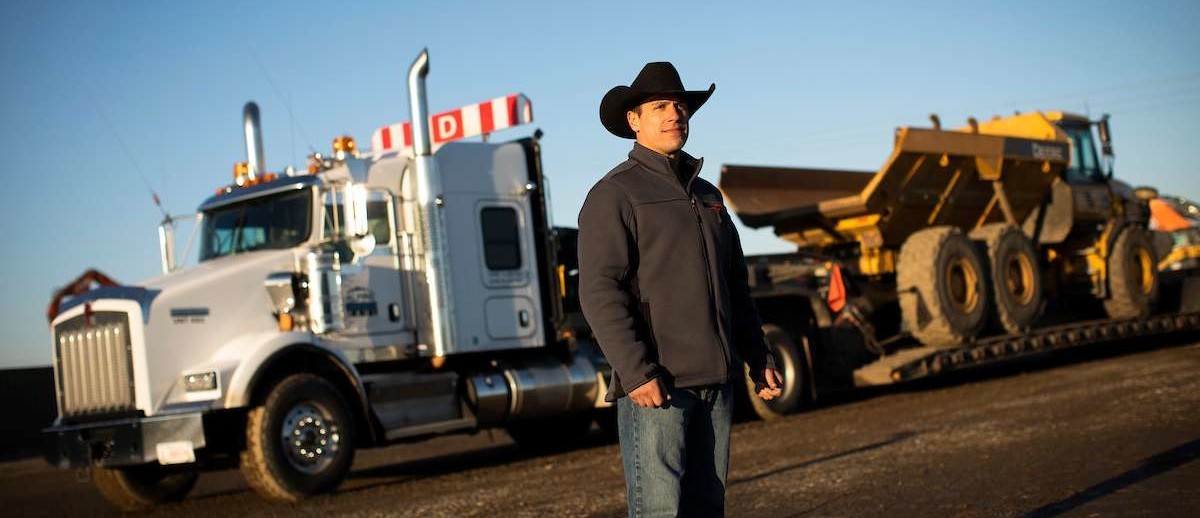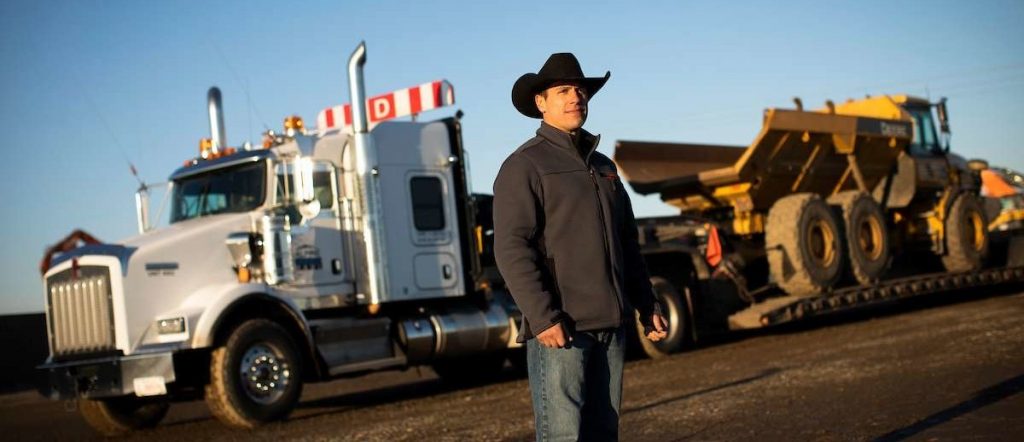 Your Reliable Construction Equipment Transport Company
Look no further than Trusted Dispatch for a construction equipment transport company to help you move your equipment wherever it needs to go. We strive for satisfaction from both customers and drivers at all times and will work with you to make that happen!
Our customer support team is always more than happy to answer any and all questions. Reliable construction equipment transport isn't supposed to be hard! You can find out first-hand just how easy it is by getting an instant, free quote today in just three easy steps! All you need to do is input the dimensions of your equipment (width, length, height, and weight) and your pick-up and drop-off locations, and you'll be good to go. We can't wait to hear from you!