What You Need to Know About Heavy Machinery Shipping in Alberta
Canada is a very geographically diverse country, and even when you focus on Western Canada, there is a lot of variation in terrain, and thus, variation in heavy equipment shipping procedures. To help you gain an increased and well-focused understanding of machinery shipping, in this article, we'll zoom in on Alberta.
Alberta still has a very diverse terrain which ranges from forests to mountains to prairies. Thankfully, road regulations remain standardized and attempt to accommodate all conditions. We'll go over:
How heavy-haul rates are calculated
What defines an oversized load in Alberta
Key differences in oversized loads
Loading, unloading and securing loads
The four seasons of weather in Alberta
How Are Heavy Haul Rates Calculated?
Before you get started, it helps to know how shipping rates are calculated so you know what to expect. It gives meaning to the number on your screen and can provide insight into the shipping process.
The size and weight of your load are the first things we'll ask you for in order to calculate your instant, free quote, and it is one of the biggest factors that go into the calculation of shipping costs. The weight of your equipment determines the number of axles required (which impacts the trailer needed) and the number of tie-downs to ensure that the load is safe for transport. The length, width, and height of the machine determine the type of trailer you'll need. It also determines whether or not you will need oversized permits. When your load is overweight, overwidth, over length, or overly tall, then your load becomes oversized and a few more steps will be involved in the shipping process.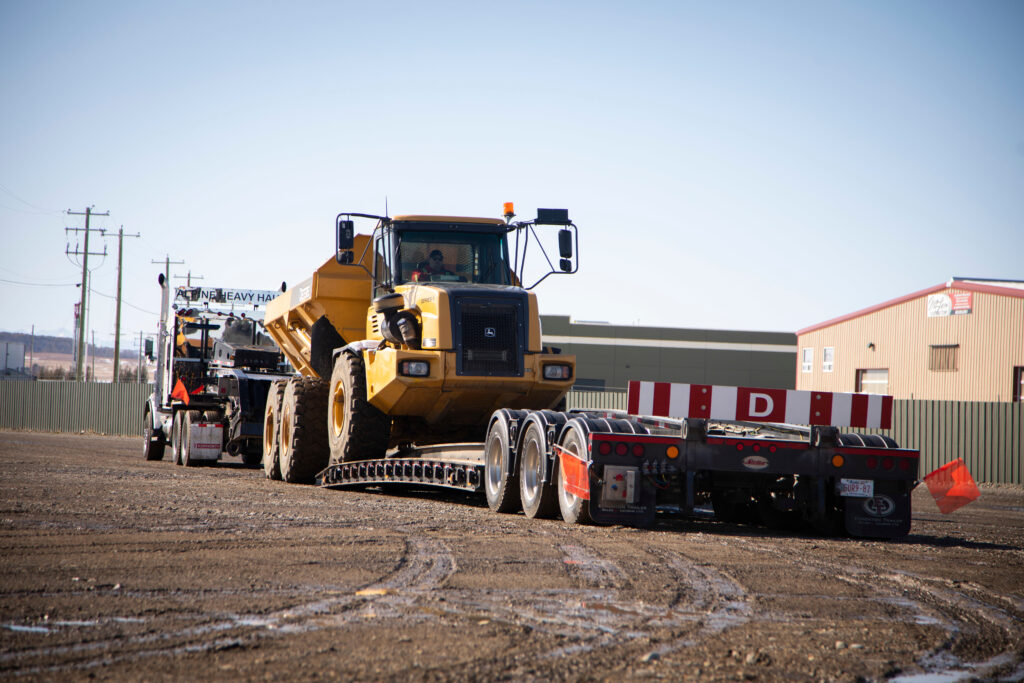 What Is Considered an Oversized Haul in Alberta?
The dimensions which define a load as oversized in Alberta are as follows:
Height: 4.15m or 13'6"
Width: 2.6m or 8'6"
Length: 23m or 75' to 27.5m or 90'
When you have an oversized load on your hands, know that it is not impossible to have shipped, but don't forget that a few more complications will arise. At Trusted Dispatch, we are here to help, and our drivers are highly knowledgeable, so you won't have to do this on your own. We'll make sure all regulations are followed, all permits are acquired, and delays are minimized.
How Are Oversized Loads Different?
Oversized loads, if not regulated and transported correctly, can pose a serious safety hazard in many ways. Therefore, route restrictions, time restrictions, signage requirements, and more must be enforced.
Oversized loads are often restricted by certain routes. Due to their size, many roads are unsafe for them to travel on, such as single-lane highways, and sometimes tunnels and bridges. They are also often restricted by time—they must stay off the roads when they are at their busiest; usually during rush hour and before holidays.
Signage and pilot cars are often present as well. In Alberta, the widest parts of the load must be marked by flags. When the load is between 3.85m and 5.5m wide, it must be followed by a trail car, and if the load is over 5.5m wide, a pilot car must also be present.
As a prairie province, agriculture is a large industry in Alberta, and some exceptions to these rules exist for farming equipment. This depends on how far it is travelling and why.
How to Measure Heavy Machines
Measuring a machine seems straightforward, but you should make sure to consider all aspects of the machine to account for extra little details. For example, when shipping an excavator, the machine can be loaded with the boom poised down or raised up. If it is raised, the boom will be the tallest part of the load, and that is the measurement that should be taken for the height (this will also increase the length of the load).
If you are shipping attachments such as a bucket for a dozer, they need to be included in the list of items indicated on your load (posted on the Trusted Dispatch load board). They will add weight and are very important to include. With oversized loads, weight must be carefully considered and distributed across the trailer to prevent potential road damage.
These details can be included in the notes and pictures you will provide when you post your load. Trusted Dispatch's drivers are very knowledgeable, will know what to do with that information, and can work with you to make the load safe. If you miss a couple of details, don't worry, because your driver will catch them and ask you for them.
If you find yourself unsure of the dimensions of your machine, Trusted Dispatch has a powerful specs tool available to help you out. With over 60,000 makes and models of machines pre-loaded, by entering the model of your machine, the tool will bring up a match and list the dimensions for you.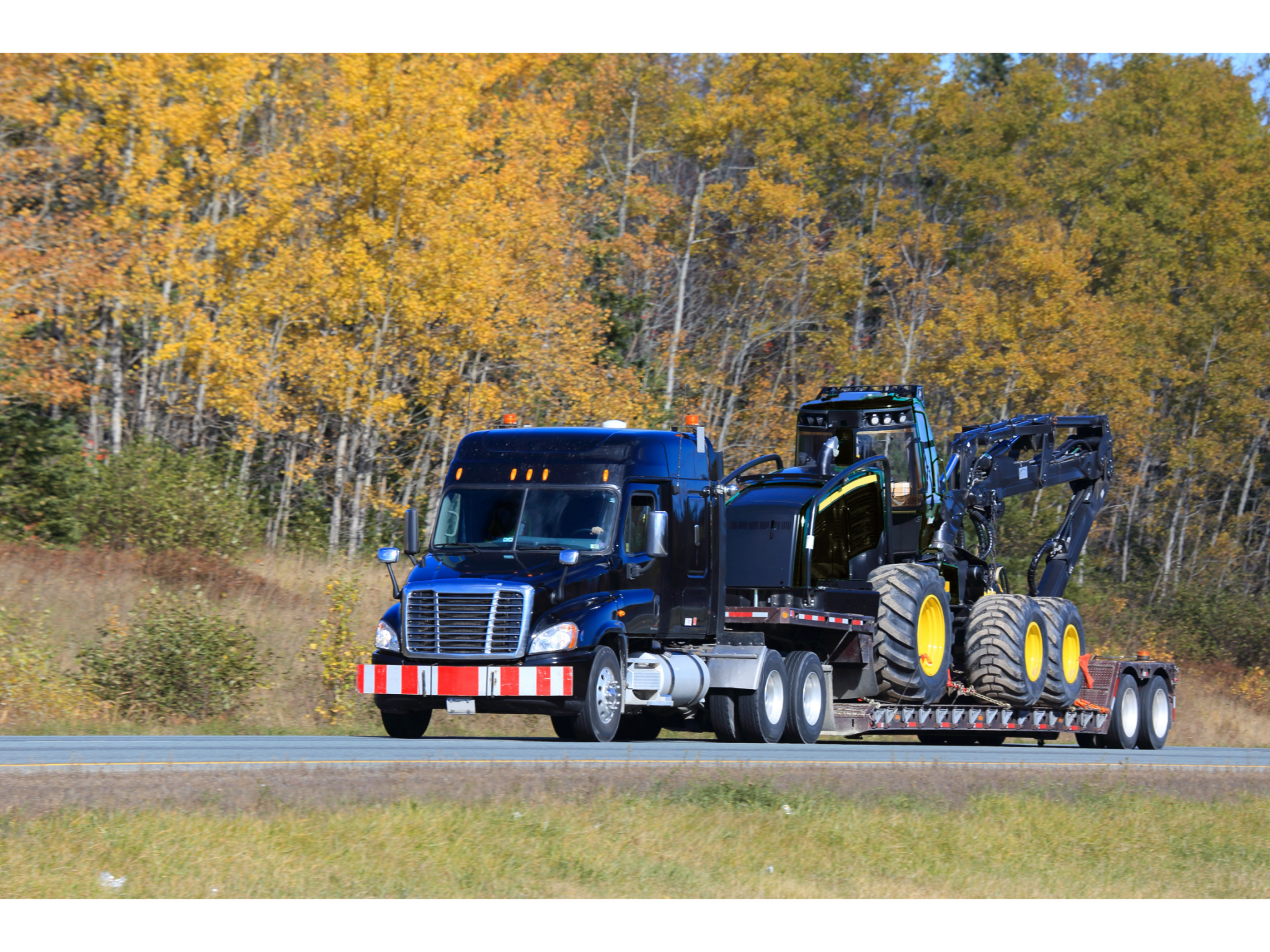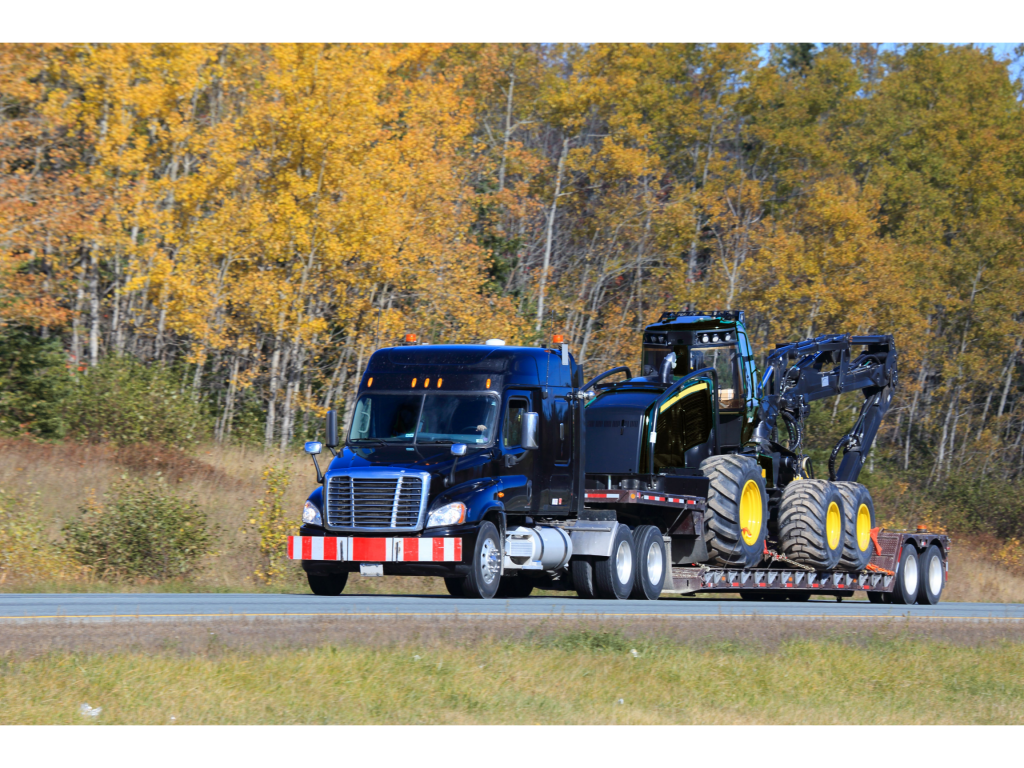 Who Can Transport Heavy Loads?
The only people who should be transporting heavy loads are experienced, licenced, professional drivers. An experienced driver can significantly reduce the stressors associated with heavy equipment transport. They know what they are doing, so they can help fill in any blanks in the process for you. Forget trawling the internet for information—your driver can help.
They are also owner-operators, and will always have insurance. They never take shortcuts, and always follow procedures properly. Before they are added to Trusted Dispatch's network, they are fully vetted to ensure that they have the experience and knowledge to safely transport heavy machinery.
Loading and Unloading a Heavy Haul
Easy loading and unloading come with a professional driver. They know how to choose the right trailer, load the trailer properly and secure it, and unload it safely. When a driver picks up your load, they will pick a trailer based on the dimensions and weight that will accommodate the load (this is where it helps to include photos with your load posting).
If you feel inexperienced with the loading process, your driver will be able to direct you. They know the best positions to park the machine and trailer in for loading (an open, flat area), and have specific knowledge on safely loading the equipment to prevent tipping or damage got the machine and trailer.
Securing the Load
In Alberta, there are specific rules for securing heavy loads.  It is important to know the rules of securing loads well, as fines for violations can reach CAD $776.

The load must be secured so that the vehicle cannot turn over, and the load is unable to sway, fall off, blow off, or leak. Certain points (typically the four corners) on the machine must be secured with the right tiedown. Often there are additional tie-down points on machines with attachments. Tiedowns for heavy machinery are usually chains, though another common tiedown is ratchet straps. Rope and bungee cords may not be used as tie-downs as they cannot be tightened.
If you feel confused or lost, that's okay! We don't expect you to know these rules in and out, but we do expect the drivers in our network to so they can uphold safety standards and protect your equipment (as well as avoid some big fines). One of the biggest jobs of heavy-haul drivers is knowing all these details—how to park the machine, what kind of locations are good for tie-down, what chain to use, and more.
Arranging the Paperwork
Heavy equipment shipments usually require permits to get them on the road, particularly if they are oversized. If you don't know what paperwork and documentation you need, your shipment may be delayed as you try to get it all sorted out. And if you're shipping across the border into the United States, there will be another pile of paperwork to sort through. Trusted Dispatch's professional drivers will know how to arrange basic paperwork before travelling and will collaborate with you to keep everything in order. Their goal is to prevent delays during transit due to missing paperwork or failed inspections.
For extra help when crossing the border, you can hire a customs broker, who will help you deal specifically with the extra forms needed to ship out of the country and again, reduce the time and stress involved with heavy equipment transport.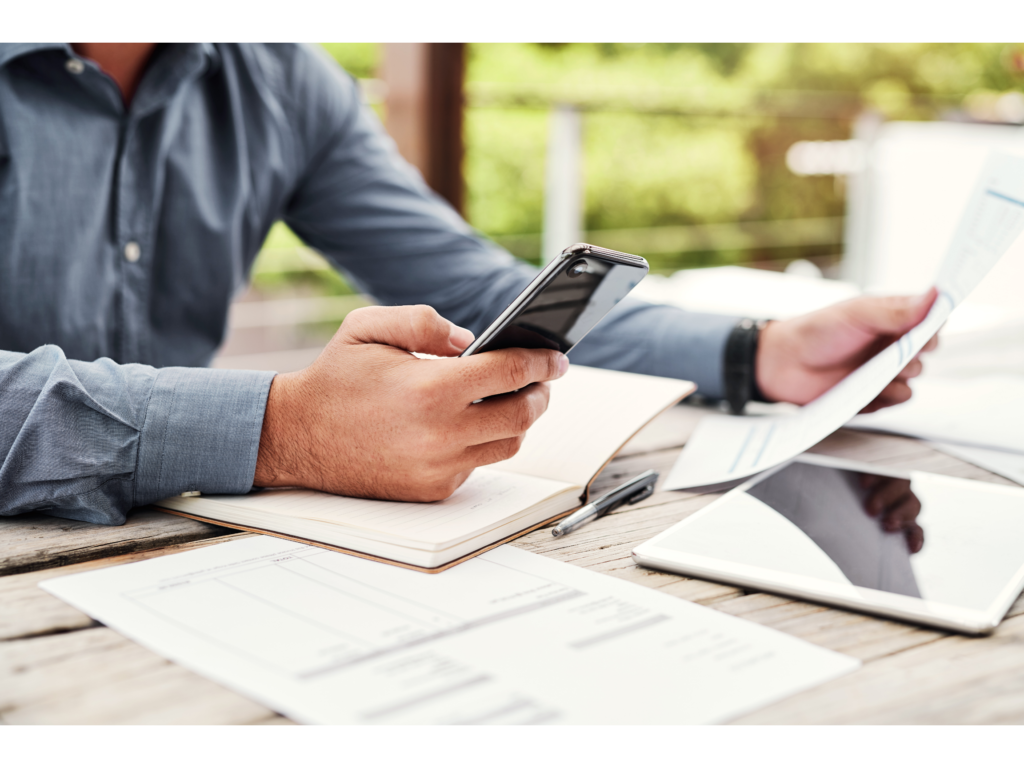 Hauling Heavy Loads in Four Seasons in Alberta
If you're from Alberta, you know that our seasons can be quite erratic and intense, and you must consider weather conditions when transporting, loading, or unloading heavy machinery. If you're not from Alberta, let us introduce you to our crazy seasons.
Winter Preparations
Everyone talks about Alberta winter. It's long, brutally cold, and generally all over the place. Very cold temperatures make engines hard to start, so if it's cold (at or below ten degrees Celcius (and in Alberta, we can see temperatures close to -40)), you should plug the engine into power overnight, and/or start the engine early to make sure it is warm enough to move the equipment.
Make sure all fluids are topped up, and that the right types for winter are in use. For example, engine oil gets thicker in the cold, and if the wrong type of oil is in the engine, it'll have to work extremely hard to lubricate the necessary parts of the engine.
As we've discussed, it is very important to park your machine on level ground for loading to prevent tipping accidents. However, in the winter, level ground may be hard to find, since everything is covered in ice and snow. You'll have to do your best to find level ground, though that might mean clearing some snow.
Spring Preparations
Though the spring equinox takes place in March, Albertans can face snow and cold temperatures until early May. The ground can thaw and freeze multiple times over, and just like in winter, level ground can be difficult to find. Cold snaps can come on unexpectedly, so you should still stay on top of maintaining the necessary fluids.
Spring is also dirty: there is an abundance of muck, snow mould, and dirt leftover from winter roads, so you'll need to keep the machine clean for loading day.
Summer Preparations
In the summer, there are lots of holidays, so you might want to arrange your transport around these. Due to restrictions on travel times for oversized loads, you can speed up travel time by working around holidays.
Summer creates some of the best road conditions of the year, but it is important to note that there is a significant increase in construction projects resulting in reduced speed or even road closures. To combat this, your driver will research the best, most efficient, legal route, but this could lengthen the travel distance which may affect your quote.
Fall Preparations
Fall is a great time to ship heavy equipment, as roads are usually free of snow and ice, and some construction projects may be wrapping up. Due to mild temperatures, it will be easier to find level ground for loading. However, with Alberta's short fall season, the threat of a cold snap is still present, and it is not a bad idea to keep the machine clean and keep fluids topped up.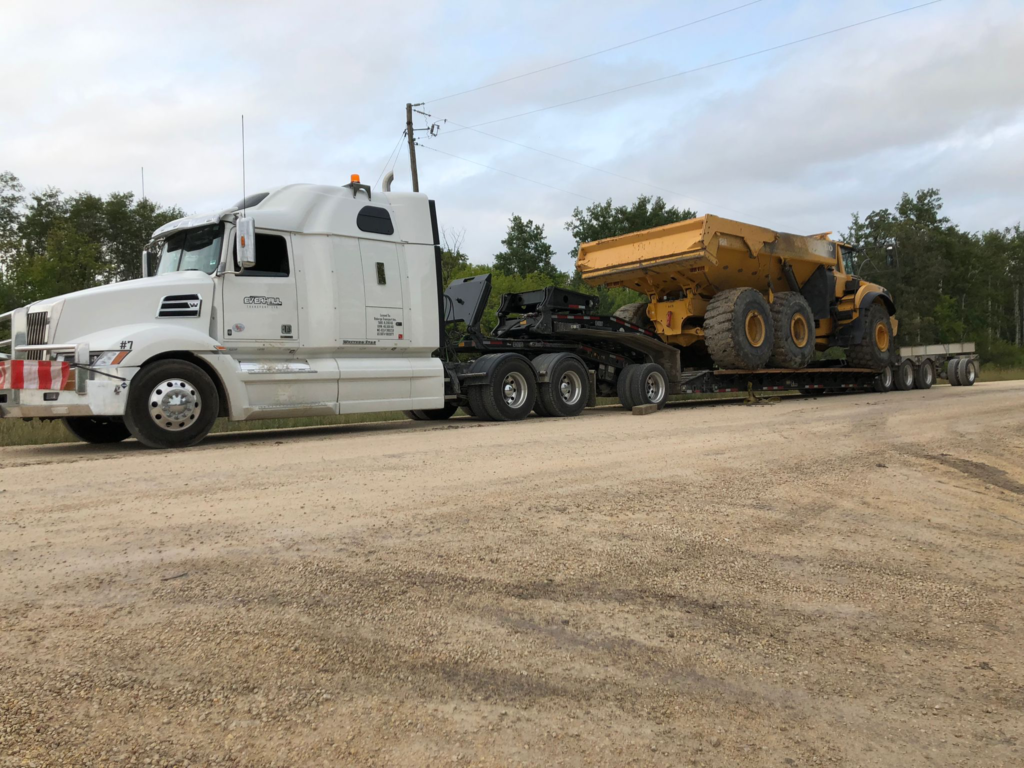 Choosing the Best Heavy Haul Shipping Company
Knowing what you do about heavy-haul shipping, you've probably come to the correct conclusion that it is important to choose an excellent shipping company. Such a company should provide reliable, personable customer support, fair, transparent rates, an easily understandable process, and expert drivers. We are happy to tell you that Trusted Dispatch offers it all!
We are available to chat and answer any questions during regular business hours via email, phone and online chat. We believe in providing fair rates for both customers and drivers, and we stay transparent about what the rate covers.
The drivers in our network are all fully vetted before they are added, and all have lots of experience, are highly knowledgable, are owner-operators, and are fully insured.
We work hard to keep our process simple and user-friendly, and once you get started with a free, instant quote, you'll see for yourself how easy it is. All you need to do is input the dimensions of your machine (height, length, width, and weight), and provide the pick-up and drop-off locations for the load, and just like that, you're ready to get started shipping with Trusted Dispatch.