How to Ship an Excavator Safely
The early fall months see a surge in construction equipment shipping while the ground is still dry and before the snow sets in. Excavators are versatile piece of machinery that comes in a variety of sizes and require specialized equipment transport services to get them from one job site to the next.
The costs to transport an excavator vary depending on the size of the heavy equipment. Mini excavators are easier to handle compared with large general-purpose excavators, which are considered oversized freight and are more difficult to transport. In such cases, these oversized loads may require permits and pilot cars for transport, which add additional costs. Excavators also come with a range of attachment tools that need to be shipped and might require a separate truck and trailer. 
When shipping your heavy machinery, preparation is vital to ensure your equipment can be efficiently and safely delivered to its destination.
Tips for Preparing Your Machine
Clean the Machine
Clean the excavator so you can assess for any existing damage. This will also make it easier to assess any damage that might occur during shipping. A clean machine also makes it easier to identify the tie-down points when loaded onto the truck.
Top-Up Fluids
Your machine must be functioning for pick-up day. We highly encourage you to top up fuel and hydraulic fluids and to ensure the engine and battery are operational. It's especially important to have your machine ready for loading in colder temperatures. Not checking to see if your machine will start may result in your shipment needing to be rescheduled.
Plan to Provide Load Assist
Most transport companies provide trailers with a roll-on/roll-off system to load the machine onto the truck bed. This is not always compatible with excavator attachment tools such as buckets, hydraulic breakers, and rippers. Some excavators and tools may require a load assist to get the equipment onto the truck, so you will need to have the service ready on shipping day.
Park in Strategic Location
Ensure the equipment can be loaded and unloaded on a flat surface. Be sure to account for enough space to maneuver the truck and trailer.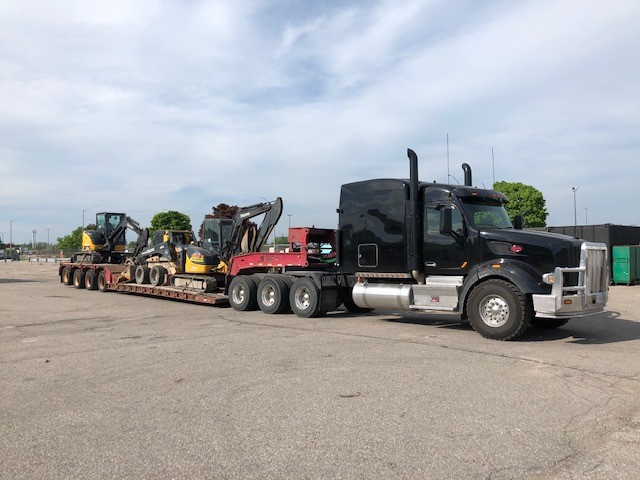 How to Find the Specs for Your Machine
Contact the manufacturer or refer to the manufacturer's website for detailed information about your equipment. Alternatively, at Trusted Dispatch, we have a powerful Specs Tool with 60,000 makes and models of equipment pre-loaded into our system. This tool makes identifying your equipment and getting the relevant weight and dimension specs easy.
The Shipping Process for Excavators
In order to calculate the cost of shipping services for your excavator anywhere across North America, you will need to enter three key pieces of information to get an instant free quote.
The pick-up location of your excavator,
the drop-off location,
and the dimensions of your excavator, including height, width, length and weight.
Once you receive your free quote, you can post your job to our load board. It helps to add as much additional information to your post as possible to make it easy for our professional heavy haulers to connect with your load. You can add details such as:
Shipping dates and deadlines
Details of attachments that may require shipping
Photographs of the equipment
Location instructions
All of this additional information will provide better insight to your driver to assess what will be needed for the job. If your equipment requires a forklift or crane to load it onto the trailer, a driver is more likely to accept your load if you offer to have the service provided on the day of shipping and at drop-off.
Permitting and Trailer Selection
Your driver will determine the type of truck and trailer that will be required to transport your load. There is a variety of trailers available for use, from removable gooseneck trailers to double-drop or step deck trailers. Your professional driver has experience in hauling heavy machinery and will choose the most effective trailer to ship your load.
Depending on the shipment, a driver may also need to secure a pilot escort and require a permit, especially for oversized loads. The most direct route is not always the best one. Some roads may not be suitable for tall loads due to height restrictions on bridges and overpasses, so longer alternate routes may have to be taken.
Expert Excavator Shipping in Canada and the United States
When it comes to construction equipment shipping, Trusted Dispatch has your heavy-haul shipping needs covered. Our expert heavy haulers are located across North America, so you can have peace of mind, knowing that your load will be delivered safely and securely to its destination. Use our free quote calculator and secure your professional heavy haul driver today.