5 Important Tips for Bulldozer Transport
There are many scenarios where you may need to have a bulldozer transported. You've just bought a new bulldozer from an auction, and you need to have it transported. Or maybe you need to move your current dozer to the construction site your company is working on. Perhaps you're working in forestry, and your project requires an additional bulldozer, or maybe you work in the oil and gas sector and need to move a dozer to a new site. All these industries (particularly oil and gas and forestry) are prominent in Canada and require the movement of lots of heavy equipment.
Whatever reason you have for transporting a bulldozer, your heavy-haul shipping needs to be done right. You'll want to find a trustworthy Canadian heavy-haul shipping company, such as Trusted Dispatch, to help you get the job done. Not sure of where to start? We're here to help. Here are five important tips for bulldozer transport.
Find a Driver With Heavy Haul Expertise
It takes a lot of work to haul heavy equipment, and it is a process that needs to be done correctly to keep the equipment and everyone involved safe. Bulldozers are heavy, expensive machines, and it's important to transport them with care. Drivers require skill and training to do their jobs, and when transporting bulldozers, you'll want only the best drivers taking charge.
At Trusted Dispatch, you can trust that our drivers are experienced and knowledgeable, so your machine will be in good hands. All drivers in our network are owner-operators, and we put them through a vetting process to ensure they can do their jobs safely and competently. With Trusted Dispatch, you can be confident that no matter who picks up your load, your equipment will arrive safely at its destination.
Know How to Prepare for Bulldozer Shipping
Knowing how to prepare your bulldozer for shipping can take a great deal of stress off both yourself and your driver. It will help you both feel more confident and ready to handle the load.
One of the most helpful things you can do in preparing for shipping is to take photos of your load and post them on the Trusted Dispatch load board. This helps your driver prepare adequately for your specific load, and you can document the condition of the equipment.
Another important step is cleaning your machine. Clearing away dirt allows you to inspect the equipment for damages and ensure that all securing points are accessible.
Finally, you should park your load in an accessible loading area. This means on even ground for safe loading and a large, open space to accommodate the maneuver of large pieces of equipment.
If you still need help with how to prepare, ask your driver! The drivers in our network are highly experienced in the shipping process and are happy to help address your concerns.
Pay a Fair Rate for Construction Equipment Hauling
When transporting a bulldozer or other heavy equipment, you do not want to be looking for the lowest price. Instead, you should be searching for a company that can do the job the best, and that means a company that asks for a fair rate. Low prices often indicate no insurance and less expertise. When transporting heavy and expensive equipment, you want to know your load is passing through knowledgeable, careful hands. Drivers in Trusted Dispatch's network are professionals with unique skill sets. Their time is valuable, and they deserve to be paid fairly for the work they do. 
By shipping with Trusted Dispatch, you will receive a rate that is as accommodating for customers as possible while still paying drivers fairly. Keep in mind that oversized loads and cross-border shipping will require a higher rate not included in quotes. You can get started working with a company that cares about its customers and drivers by getting a free, instant quote today.
Know Your Oversized Load Restrictions and Costs
Bulldozers are large pieces of equipment and can push your load into the oversized/wide load category. This is important to keep in mind, as oversized loads require some extra details that bring in some extra costs, and we don't want you to be shocked by the final bill. Often, bulldozer hauling requires extra permits and pilot vehicles, though the rules and regulations vary from province to province.
However, there are drivers at Trusted Dispatch with plenty of experience transporting oversized loads, and they will be able to help figure out those details. Often, they will offer an all-inclusive rate to take care of the specifics, so there is less work and stress for you, the customer, and your shipment will meet all necessary regulations.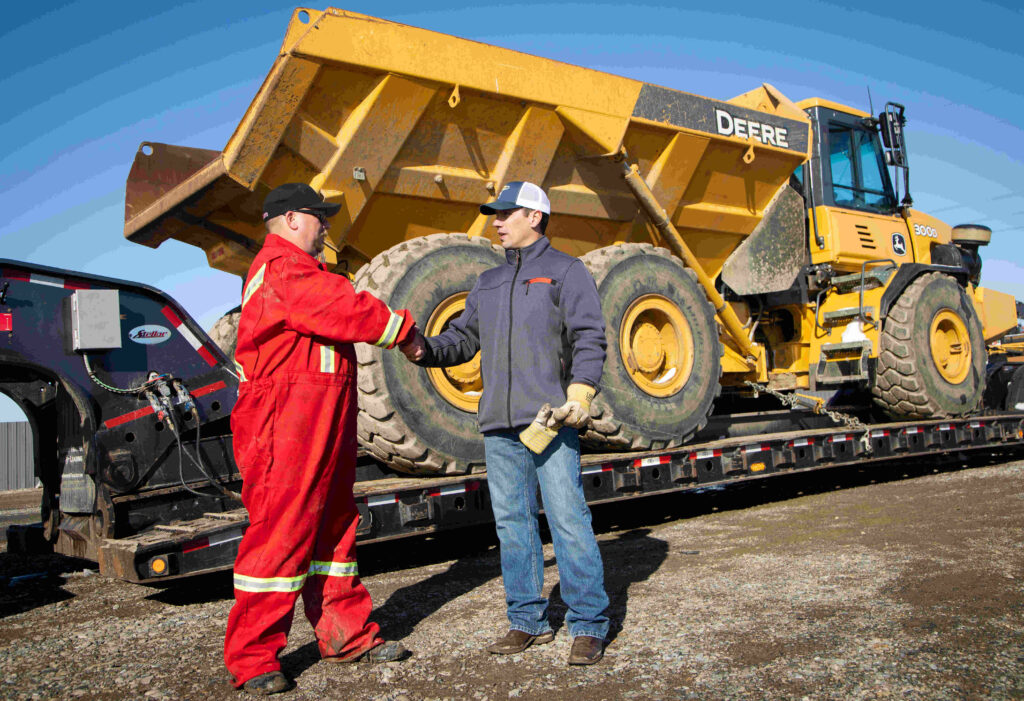 Hire a Driver Who Is Licensed, Bonded, and Insured
Though we do our very best to keep everyone safe and accident-free, heavy-haul shipping is not without risks. Accidents may be rare, but they can still happen, so it is important to prepare for any outcome and hire a driver who is insured. That way, if anything goes wrong, you'll be covered for any accidents or damage.
Trusted Bulldozer Transport Across North America
At Trusted Dispatch, we are ready to help you get your bulldozer moved anywhere it needs to go. We offer easy, efficient, and professional shipping anywhere in Canada and the United States, and we strive for customer satisfaction. We care about forestry, oil and gas, and construction workers, and we want to work with you to help meet your needs. We can be reached during regular business hours via email, phone or online chat.
Join the leagues of customers raving about Trusted Dispatch, and get started with your free, instant quote today!