How to Get the Best Heavy Equipment Hauling Rates
Hauling heavy equipment is a challenging task. Whether you are moving a piece of construction equipment from one job site to the next or you are looking to bid for a new piece of farming equipment on one of the many auction sites in North America, you are hoping to find the best possible shipping price for your equipment.
Finding a reliable transport company to haul your heavy equipment is just as important as doing the research required to find a machine at an auction. When looking to secure the best heavy equipment hauling rates, there are several factors to consider that will affect your shipping costs.
Where Are You Hauling Your Equipment?
When it comes to transporting heavy equipment, the distance from the pick-up location to the drop-off point is the main factor determining the price. Longer distances contribute to increased fuel costs and more time that the driver has to spend on the road.
Our network of professional heavy haul drivers is located across North America for far-reaching shipment possibilities. While there are no limits to where you can ship your equipment in North America, a load that needs transporting from coast to coast or across the Canada-United States border will command a higher price.
When you get started with Trusted Dispatch's free shipping quote calculator, you simply enter a pick-up location, drop-off location, and the type of machinery to be transported, along with its dimensions. You will receive your free quote within seconds, so you know the estimated cost of hauling your equipment. Suppose your shipment is straightforward, meaning it is not oversized, doesn't cross the border, and is not a rush shipment. In that case, you'll be matched with a driver at the quoted cost within a couple of days. If your shipment requires additional services, the actual cost may be higher for several important reasons.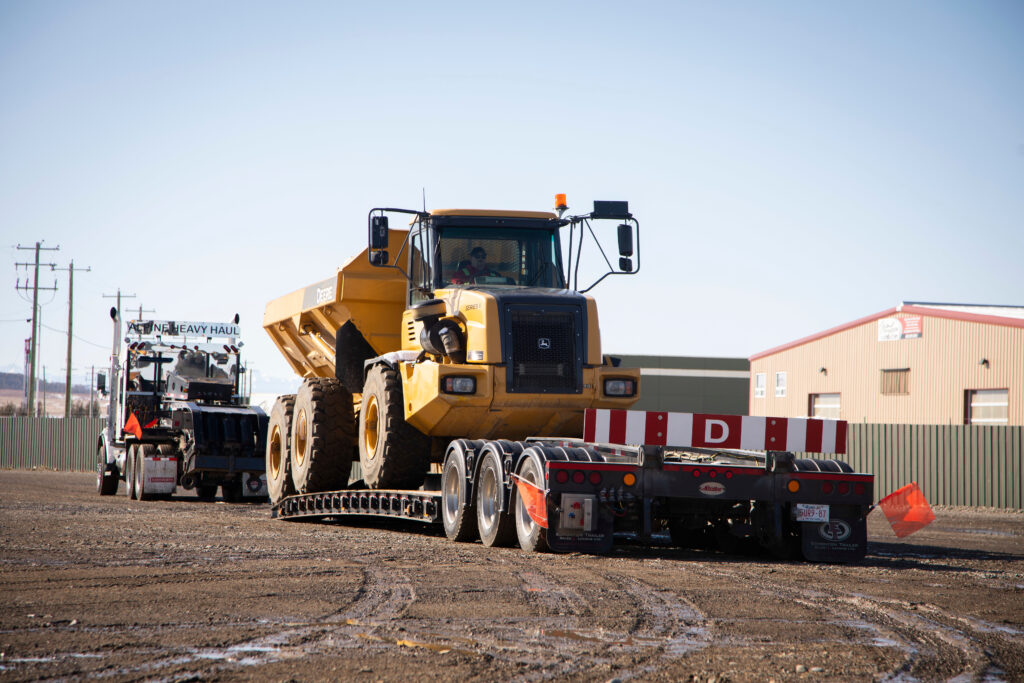 Does Your Machine Require Special Transport Service?
Is your equipment oversized? Within Canada, Federal and Provincial rules stipulate specific requirements for the transportation of oversized loads with the purpose of:
Protecting road infrastructure.
Ensuring public safety.
Maintaining convenience on public roadways.
Regulating safety measures for drivers.
This may result in using specialized trailers or hiring pilot escorts to accompany oversized loads. Oversized permits may also be required to transport your equipment. These additional measures add to the cost of hauling your equipment and contribute to the overall cost of your load.
Are You On a Tight Deadline?
Shippers who don't have any time constraints are more likely to have a driver claim their load at the quoted price generated by the shipping calculator. Loads that require urgent shipping with tighter delivery windows may be more difficult to accommodate. Attracting the right driver might require paying additional fees due to the added pressure or convincing a driver to go out of their way to pick up your shipment.
With Trusted Dispatch, most shipments with flexible delivery dates are claimed by a driver within one to three days. If your load is not claimed during that time, you have the option to boost your load in order to entice a driver or wait and see. If you decide to boost your offer, you get to decide the rate you wish to offer, over and above the rate calculated by the shipping calculator tool.
In other circumstances, a driver that is willing to go out of their way or rearrange their schedule to pick up your load sooner may propose a price that is worth their while. You always have the option to choose whether to accept the offer or pass on it.
Heavy Equipment Shipping that Delivers Peace of Mind
When you are looking for a shipping company to deliver your heavy equipment, the lowest possible cost should not be your only priority. Heavy haul shipping can be a complex process, and lowball quotes generally point to inexperienced drivers or a lack of insurance, which compromises the level of service you ultimately receive.
At Trusted Dispatch, we thoroughly vet our drivers to ensure that only the most professional and qualified heavy haulers will ship your machines. From farming equipment and mining equipment to oversized construction equipment, our drivers know how to handle a wide array of heavy machinery.
They also carry comprehensive cargo insurance, so you can have peace of mind knowing that your equipment is protected at all times. The quality of service on offer is key to ensuring that your goods reach their destination safely, securely, and on time.
Get Fair Heavy Equipment Transport Costs with Trusted Dispatch
At Trusted Dispatch, we guarantee that you will receive a fair shipping rate for the professional services we offer. With our commitment to fair prices, you stand to save money on your heavy equipment transport thanks to our leading-edge technology and innovative approach to transportation services. Get your free quote today!