How to Find Reliable Excavator Transport in Canada
When you need to transport an excavator or any type of construction equipment, you want to find the best business. New and used excavators can run into hundreds of thousands of dollars. For equipment of this size and value, it is crucial to have a reliable team to transport your machine wherever it needs to go.
There is safety to consider. You want to know that your machine is going to reach the destination intact. An experienced heavy haul driver will be better able to ship your machine securely than someone who has never shipped heavy equipment before. Cost and insurance are also factors to consider. Is the driver insured for cargo? Are you being quoted a fair rate by the shipping company? With so many questions to consider, you may wonder where to start. The easiest place to begin is with the details of the make and model of the excavator that you need to be shipped.
What Type of Excavator Do You Need to Ship?
Excavators are perfect tools for any construction site, with large buckets to create holes, foundations and trenches. Excavators can handle many distinct jobs just by switching out the bucket for other tools and have enormous variability for your building needs. Typically there are three types of excavators.
Mini Excavator
Also called compact excavators, mini excavators are easy to transport and typically weigh under 6 tons. They are small, compact, powerful machinery that can fit into narrow or hard-to-reach spaces.
Midi Excavator
If you're looking for the best of both worlds, strength and small size, midi excavators are a perfect choice. The midi weighs between 6-10 tons and is the smart choice for small jobs that require heavy lifting. Their smaller size allows easier maneuverability, increasing their popularity for commercial construction sites.
Standard Excavator
Standards are typically used for commercial or industrial construction and are larger excavators weighing around 10-90 tons. They have impressive variability with multiple attachments to replace their bucket. Also referred to as full-size excavators, these are the highest-selling excavators on the market.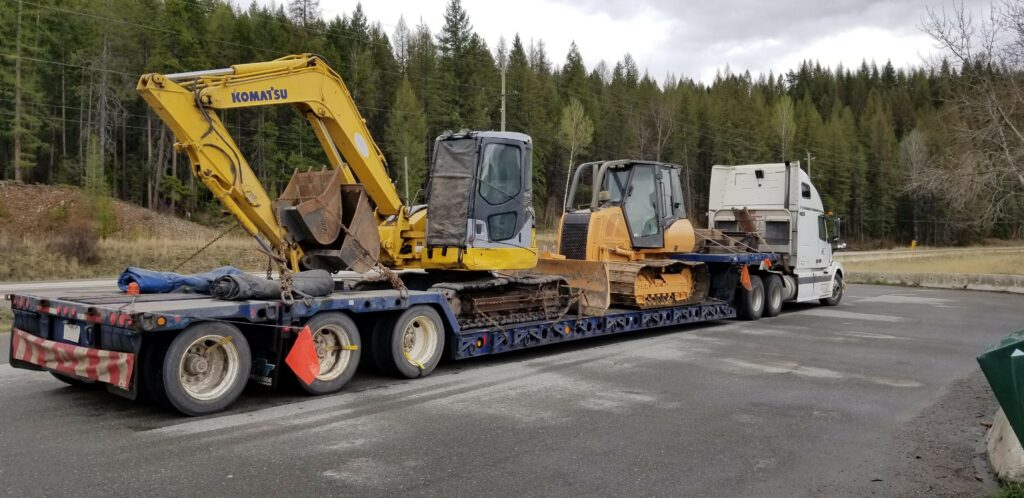 5 Steps to Shipping an Excavator
No matter what type of excavator you need to ship, there is a similar process to arrange transport. Here are five simplified steps to help you get started with shipping your excavator.
Research the Specs
It's crucial to know the size of your excavator as it will determine what size of truck and trailer is needed. Knowing the dimensions of your item will also determine what type of trailer is required and if the boom arm and bucket might need removal for smoother travel. If you need help determining the dimensions of your excavator, the Trusted Dispatch Specs Tool is preloaded with over 60,000 pieces of equipment and their measurements.
Find a Driver
If you don't know anyone with the equipment to haul an excavator and you are unable to transport the excavator yourself, what's the best option for transportation? Heavy haul shipping companies are available to meet your needs. Here at Trusted Dispatch, our drivers are reliable, experienced professionals with heavy equipment, such as construction machinery and farming equipment.
Arrange Logistics
Oversized loads have different regulations per jurisdiction and require more pre-planning before transport. It is essential to arrange permits and signage beforehand, as each district has their own set of rules to follow. Oversized loads cannot take specific routes, as height restrictions will determine their travel. Pre-planning the route and dates will help avoid any time delays if the transport is unable to fit under certain bridges or underpasses. Working with experienced drivers, such as those in the Trusted Dispatch network, can help you prepare adequately for any load requirements.
Prepare for Loading
Loading and unloading can be one of the most dangerous tasks of transporting heavy equipment. It's essential to have an accessible location to create an easy and smooth loading process. A flat, open area is preferable for loading heavy equipment.
Check Restraints and Tie Downs
Safety is a top priority when transporting your equipment. At Trusted Dispatch, we put
safety first, and so do the drivers in our network. Your driver will double-check tie downs and restraints, and drive slowely before pulling away onto a highway to ensure that your machine is secured and won't ship during the drive.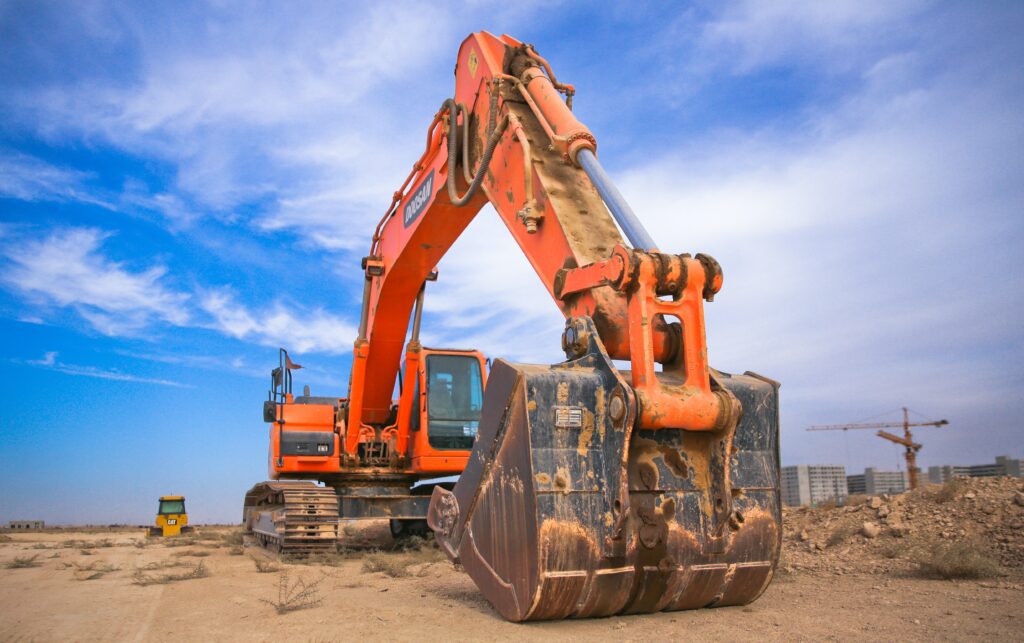 Construction Equipment Shipping Services
When looking for construction equipment shipping services, there are a few essential steps to research:
Get a quote to compare rates. Checking multiple transport companies to compare rates will help you find the best rate and timeline.
Talk to customer support if you have questions.
Look for a commitment to safety and secure transport. Each transport company should have this information on their website.
Look for signs of experience. At Trusted Dispatch, all of our drivers are highly trained and experienced.
Read the testimonials. The best way to know if a company is reliable is by checking other customers' experiences.
Heavy Equipment Transport for Excavators and Other Construction Machinery
When you need heavy equipment transport or excavator shipping, Trusted Dispatch is here to get the job done. Our network of experienced, professional owner-operators can transport your construction equipment anywhere in North America. Start by getting your free, instant quote today.