What Is Included in Heavy Equipment Hauling Rates?
If you haven't done a lot of heavy-haul shipping before, you might be curious about how the shipping costs are broken down. When you just see a number on the screen, it can be hard to conceptualize the service that it actually represents. We've listed some things in this article to give you a better idea of what will be included (and what won't) in your heavy equipment hauling rate.
Professional, Licenced Drivers
Trusted Dispatch's network drivers are skilled, knowledgeable, and have years of experience transporting heavy equipment. Therefore, part of your shipping rate is a reflection of the skill and experience of your driver. The drivers in our network are owner-operators who provide their own equipment—which includes specialized trailers for your particular load. They also have their own cargo insurance, which makes them trustworthy and reduces stress for you.
With their years of experience, the drivers are well-versed in the loading and unloading of equipment, routes to navigate, and the rules of the road when shipping heavy equipment.
Cost of Transportation
The cost of transportation will vary based on the load you need to be transported, as quotes are determined by distance, load weight, and machine dimensions.
A heavier machine that needs to travel further will burn more fuel and thus will cost more. The transport rate covers fuel, wear and tear of machines and trucks, and the expertise needed to haul large loads.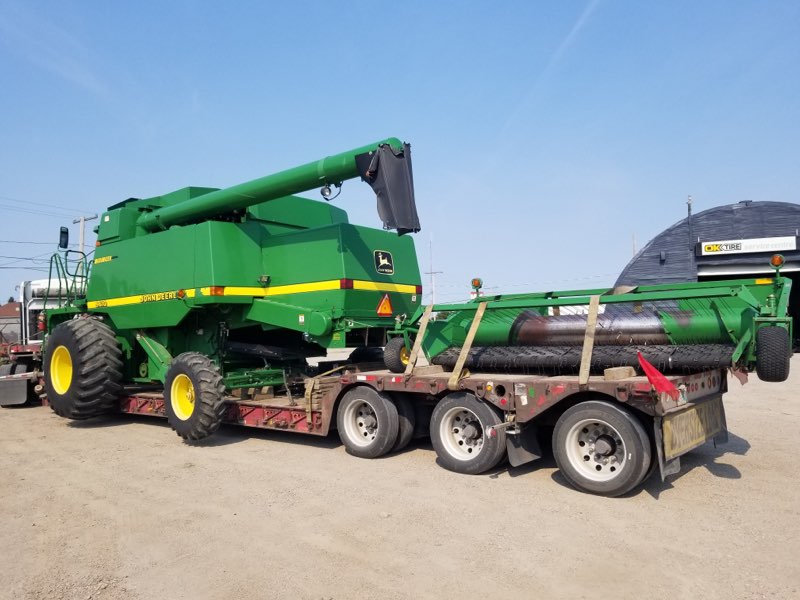 What Is Not Included in A Heavy Haul Quote?
Sometimes you only need to arrange a simple shipment that is domestic and not oversized. In those cases, the final bill will likely be the same as the quote you received in the beginning. However, when loads get more complex, additional charges may be necessary. Typically this happens with oversized and/or cross-border loads.
Cross-Border Processing Costs
There are a few costs associated with shipping a load across the border that won't be included in your initial quote. Certain tariffs, fees, and taxes must be paid, and extra costs can pile on if the fees and paperwork are not handled correctly, and your timeline will be delayed.
A surefire way to avoid delay at the border is to hire a customs broker. Customs brokers know nearly everything there is to know about getting shipments like yours across the border, and they can save you a lot of time, stress and money by sorting out the paperwork and fees for you. Of course, the cost of a broker is an additional fee, but with the time and money they help you save, it's usually worth it. To help you find a great customs broker, we have provided a list of recommended customs brokers for your use.
Oversized Equipment Permits
When your shipments are oversized, you need permits to get your load on the road. There are more regulations surrounding oversized loads, so after sorting out permits, you still may need to pay for a pilot or escort vehicle. Fortunately, the drivers in our network are professionals and know how much this will all cost before you do, and they often offer all-in prices after seeing your load. That way, you will know about the extra costs from the start, and they won't be a surprise later.
Get the Best Heavy Equipment Transport Costs in Alberta
At Trusted Dispatch, we strive for simplicity and transparency. We don't want the shipping process to be stressful for you, so we want to make sure you know what to expect and that the process is easy. We are available to answer questions during regular business hours via email, phone, and online chat. You can get started with your load by getting your instant, free quote today. We can't wait to hear from you!