Freight Brokers vs Load Boards: The Benefit
There are different models of heavy equipment hauling companies. Freight brokers are intermediaries to work as agents to connect shippers with drivers for a significant fee. Trucking fleets have a staff of drivers and their own trucks but don't usually accommodate loads that aren't on their established routes. Load boards provide a place for customers who need to ship equipment to and from anywhere in North America to find professional drivers that are available to make the shipment happen. Load boards have the most flexibility, fair rates, and ability to accommodate heavy loads on any route.
Inside this article:
What is a freight broker?
What is a load board?
Four benefits of using a load board
Considerations for shipping across the border
What you need to ship heavy equipment safely
What to look for in a heavy hauling load board
How to Decide Which Options Is Best For You
When it comes to heavy equipment transportation services, there are two ways to secure a heavy haul driver. You can find a driver using a freight broker, or you can directly post your load to a load board and secure a driver yourself. While connecting through a freight broker has been the traditional method for hiring a trucking company, technology has come a long way, making load boards a less expensive and more convenient way to move freight.
What Is a Freight Broker?
A freight broker is a person who is in the business of finding carriers for shippers to haul their freight. They connect a shipment to a driver and are commonly contracted for heavy-haul shipping. They also assume financial responsibility by invoicing shippers and paying carriers and other agents.
In providing a service to shippers, the freight broker will also charge a separate fee for his services. This may be high and is in addition to the fees you must pay the carrier to ship your equipment. In other cases, they may simply take a cut of the total cost of shipping which again increases your shipping costs.
What Is a Load Board?
A load board, which is also known as a freight board, is an online service that functions to connect shippers with a driver. Load boards are easy to use, and many truck owner-operators will search load boards to find available shipments that are on their route. By connecting with a driver directly and cutting out the middleman, you pay lower fees than if you had hired a freight broker. Drivers get better pay as well, so everyone wins.
4 Benefits of Using a Load Board
It is not difficult to find a carrier to ship your freight load, as there are numerous load boards that are designed to help shippers connect with a trucker. Load boards offer several advantages over using a freight broker.
1. Better Shipping Rates
Freight brokers charge a fee for the service they provide in connecting shippers to carriers. By cutting out the middleman and posting to a load board, you will pay a much lower shipping rate.
2. Fast and Easy Process
Connecting through a freight broker takes time and includes documentation that must be prepared to contract the services of the broker. They also tend to be busy organizing several shipments at a time, so communication may be slow. Alternatively, it is easy to post your load to a load board and find a driver in real time.
3. More Control Over The Process
By posting your load to a load board, you have more control over the process. You can talk directly to your driver to discuss the shipment. You can find out more details about the process and negotiate pick-up times.
4. Driver Reviews
Some load boards may provide driver reviews to help you decide on a driver. By talking directly to a driver, you also get a better idea of their competency and experience in doing your job.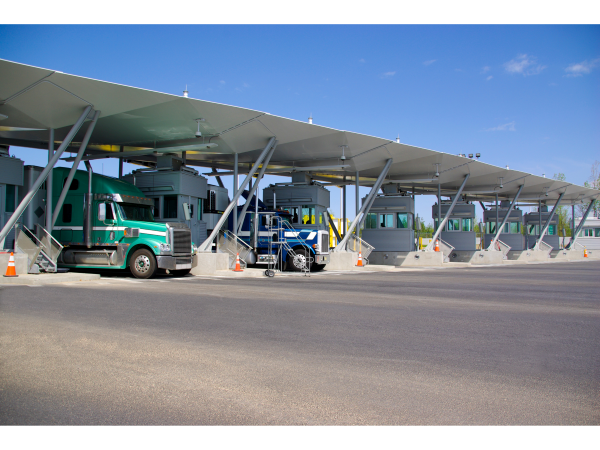 Do I Need a Freight Broker to Ship My Load Across The Border?
Some people may think they need to hire a freight broker when shipping heavy equipment across international borders. A freight broker does not necessarily have the knowledge or experience in the customs process. They will simply hire a third party to take care of the paperwork, and you will end up paying the bill.
While the customs process is complex and requires extensive documentation, you can still post your load to a load board and hire a customs broker directly. They will take care of the paperwork for you and ensure that your shipment can be transported easily across the border.
What Do I Need to Find a Carrier to Ship My Load?
Shipping equipment using a load board is not a complicated process. A heavy haul driver only needs a few pieces of information to accept your job:
The pick-up location and drop-off destination
The time frame to deliver your machine
The specifications of your machine
Equipment specifications are important to allow the driver to prepare to ship your load. Decisions they will make include the type of trailer to be used, the type of securement, and the transportation route.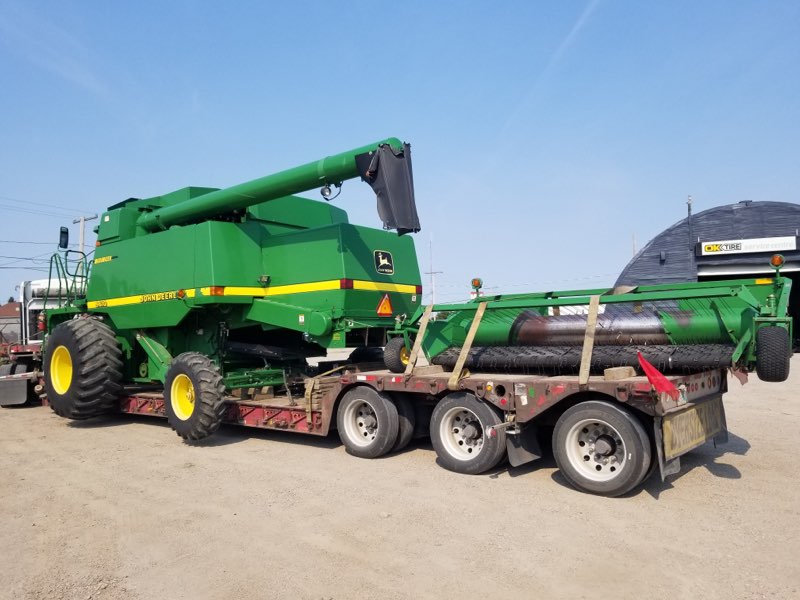 Considerations for Shipping Your Heavy Equipment
Type of Trailer
There are several types of trailers that may be utilized depending on the shipment. While flatbed trailers are commonly used, they may not be appropriate for taller, heavier loads. In such cases, a heavy haul driver will use a removable gooseneck trailer instead. These trailers can be fitted with several additional axles to accommodate heavier weights, making them ideal for transporting oversized loads.
Type of Securement
Ensuring your equipment is properly secured is vital for the protection of your equipment, the safety of the driver, and other people who are also travelling on public roads. Federal and provincial rules dictate the grade and weight of chains that must be utilized to secure a piece of heavy machinery correctly to the truck deck.
Transportation Route
When travelling on provincial highways, a driver must be aware of restrictions that may impede travel. Wide, tall, and heavy loads all pose a danger to public safety and a potential hazard to public infrastructure if not secured correctly or in bad weather. A load that is too tall will damage an overpass, and a load that is too heavy may put stress on public roads. Your driver may need to recommend a particular route and the use of a pilot vehicle.
How To Prepare Heavy Equipment For Transport
When preparing your heavy equipment for transport, there are several things you should do before the driver arrives.
1. Clean Your Machine
Cleaning your heavy equipment is important for two reasons. Firstly, it will allow you to assess for any damage before shipping. Secondly, a clean machine makes it easier for the driver to locate the tie-down points for securing your machinery to the truck bed.
2. Remove Personal Belongings
Remove any personal belongings from inside the cab. If you've sold your machine or you're sending it to an auction location, you'll also want to clean up the inside of the cab. Another important step is to secure all doors and windows properly.
3. Prepare For Loading
When loading and unloading heavy equipment, you will need to provide a wide space to accommodate the machine, the truck, and the trailer. The surface must also be even, as uneven surfaces can make it more challenging to load or unload the equipment, potentially even causing your machine to topple during the process.
4. Have Any Documents Ready
When transporting your machine across international borders, it's essential to provide your driver with the necessary documentation to pass through customs.
How to Find a Reputable Trucking Company
While connecting to a load board is a fast and convenient way to find a driver for your next shipment, there are several factors to consider.
1. Assess the Experience of the Driver
Shipping heavy equipment is not the same as connecting a trailer to your pick-up and taking a short drive. Heavy haul shipping requires the services of a professional heavy hauler with knowledge and experience. There is skill involved in loading and unloading heavy equipment on and off the truck bed. Any error can result in the machine and the truck and trailer toppling over, causing damage to the equipment and harming the driver and others who may be close by.
2. Is There Any Customer Service?
You don't want to wait until things go wrong to figure this one out. What level of customer service can you expect from the company? Do they have people you can talk to on the phone before confirming a shipment?
3. Can I Connect With the Driver?
While freight brokers and carriers usually connect to discuss a shipment, messages can be lost in translation, and miscommunication can occur. By connecting directly with the driver, you can discuss the important details and confirm pick-up closer to the time.
4. How are the Customer Reviews?
Independent review sites such as Google Reviews, Facebook, and Yelp are helpful in finding out what people think about the service they have received. While 5-star reviews are great, how does a company respond to unfavourable ones? Often the manner in which they respond to all of their reviews, including the negative ones, is a good indicator as to the level of customer service you might expect.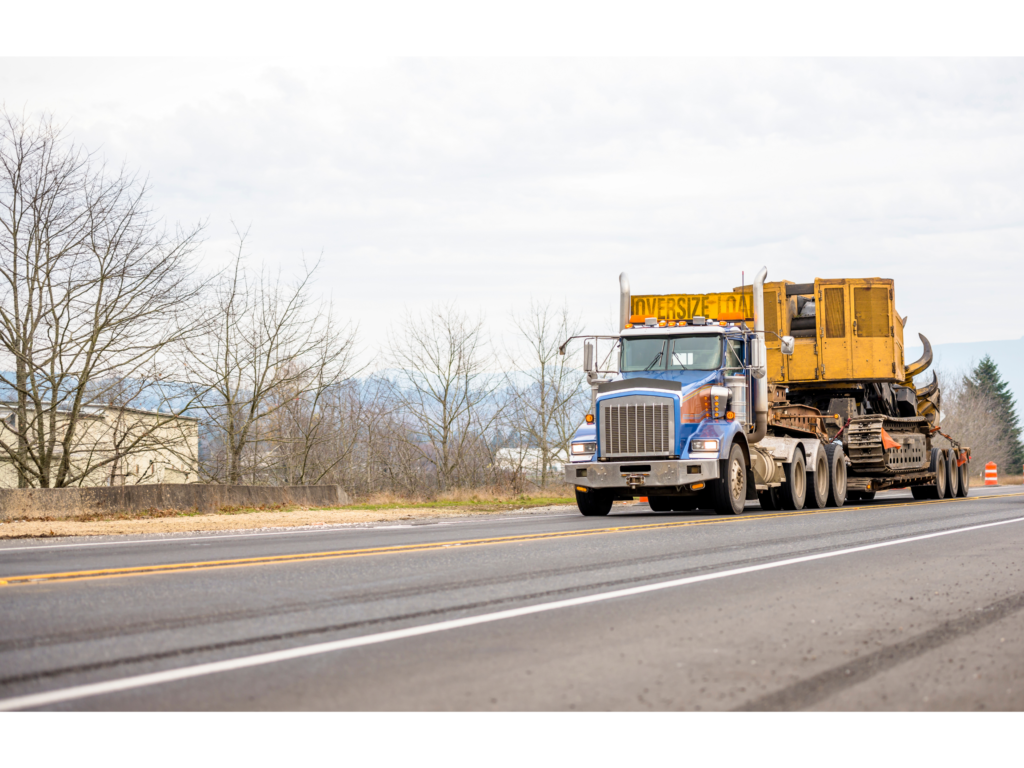 Why Choose Trusted Dispatch?
At Trusted Dispatch, we understand shippers find it difficult to connect with a competent driver. This is why we have created a system that is both fair and transparent for your peace of mind.
Do You Like Transparent Fees?
We guarantee cost savings for our shippers with our leading-edge technology and a new approach to shipping. Use our free calculator tool to get your instant free quote now. Simply input three key pieces of information:
The pick-up location
The drop-off location
The dimensions and weight of your machine
Our advanced algorithm factors in shipping costs which vary due to the distance travelled and the dimensions of your load. That way, you don't have to worry about additional charges because everything is already included in the quote for you.
Do You Know Your Specs?
If you don't know the dimensions and weight of your machine, don't worry. Use our powerful Specs Tool to find out. Our Specs Tool is a database that contains the specs of over 60,000 pieces of heavy machinery. Enter the make and model of your equipment, and the specs will be displayed. If you have questions, just call us.
Do You Prefer to Talk to a Person?
While we are not freight brokers, we do think it is important for you to be able to talk to someone when you need to. There are some special circumstances where arranging the details of a shipment requires extra coordination. Our team is here to smooth out wrinkles in the process when needed.
Call Customer Service
At Trusted Dispatch, we pride ourselves on our direct customer service. You can reach us on the phone during regular business hours or connect using our online chat service. We can also be contacted 24/7 via email and Facebook Messenger if you have questions about the process, getting a quote, or connecting with a driver.
Connect With Your Driver
Once you have posted your load to the load board and have connected with a driver, you will receive their contact details so that you can communicate with them directly to further discuss your shipment.
Are You Worried About Your Payment?
While we do ask for payment upon confirming a driver, we hold your fees in trust until your shipment has been safely delivered. Once you have received your load, simply confirm your shipment, and the payment will be released to the driver within seven days. This provides peace of mind, knowing that if your shipment is not delivered, your payment will be returned. It also gives peace of mind to our drivers, as they can be fully compensated once the shipment is complete.
Would You Like to Hire a Professional Driver?
When you book your heavy haul shipment with Trusted Dispatch, you benefit from working with only professional drivers.
Carefully vetted for skill and experience
Fully cargo insured
Wide range of shipping experience in forestry, construction, mining, and agriculture
A professional network located across Canada and the United States
Extensive knowledge of federal, provincial, and state heavy-haul shipping guidelines
Use a Load Board For Your Next Heavy Haul Shipment
If you like the idea of cost-savings coupled with expert heavy-haul truckers who can ship your equipment safely to its destination, contact us at Trusted Dispatch. We are here to answer your questions! Alternatively, get your instant free quote by using our free calculator tool and get started with your next shipment.