10 Things to Know About Owner-Operator Truck Drivers
Inside this article:
The benefits of being an owner-operator
Why owner-operators should use a load board
What it means to be an owner-operator:

trained expert
skilled
certified professional
high-risk job
safety-first necessary
knows the rules of the road
highly organized
truck maintenance
unpaid hours
freedom of the road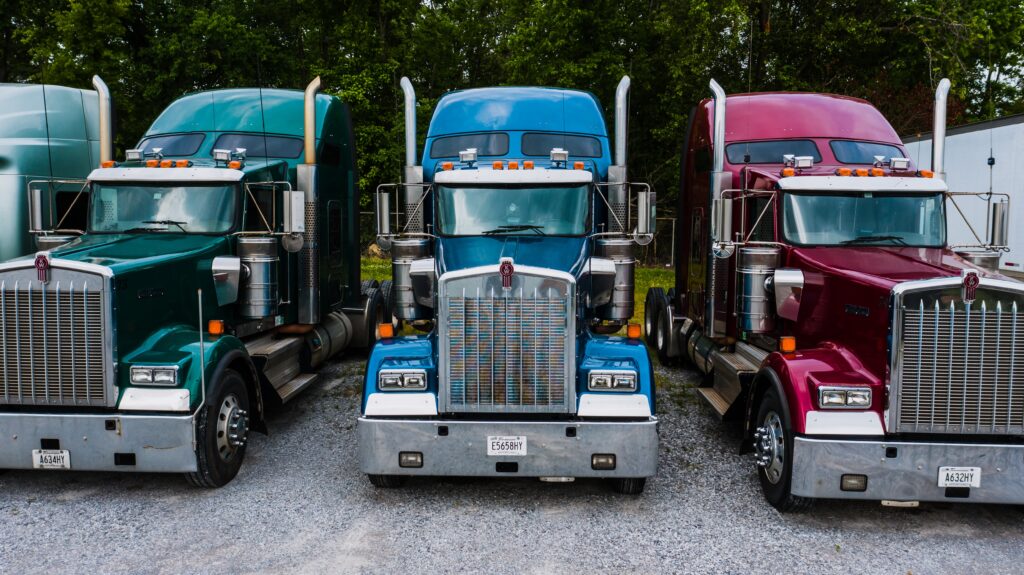 Being an owner-operator truck driver is more complicated than it seems. It takes a certain amount of knowledge, skill, and strength, and it's definitely not for everyone. The job requires time management, organization, and many certifications. But before we dive into the details of being an owner-operator, let's lay down a clear definition of the job.
What is an owner-operator truck driver? An owner-operator is a driver that leases or owns their own truck, and with that ownership often comes more individual freedom that doesn't always exist when working for large-scale trucking companies. At big companies, there's a lot going on with many employees. Working for an employer also means that loads will be predetermined for you with significantly less flexibility.
As an owner-operator, you have the ability to choose jobs that work for you instead of what works for a company. You also maintain your own truck, acquire your own permits and certifications, and are essentially running your own small business. That means finding your own jobs, too, and this is when heavy equipment load boards become very useful.
What is a Load Board?
A heavy equipment load board, such as Trusted Dispatch, is a useful way for owner-operator truckers to find jobs that work for them instead of going through a transport company or picking up odd jobs through word of mouth. Customers can post jobs to the board, and skilled owner-operators can find loads that work for them—almost like Uber, but for heavy-haul trucking.
Once your load is posted to the load board and gets picked up by a driver, you'll get to talk directly to them and sort out details together. There is no need to go through a company. But if you're planning on frequently working closely with owner-operator truck drivers, you should understand a little more about what they do. Here are ten things to know about owner-operator truck drivers.
1. Truck Drivers are Trained Experts
Many people don't consider the training that goes into being an owner-operator truck driver, but heavy haul shipping isn't something you can just hop into the driver's seat and get started on. You must learn the appropriate skills to drive a large truck and haul equipment with it, and that means training to become qualified to do so. Driving a large truck with a heavy trailer attached to it is not the same as driving a regular motor vehicle. Many things become more complicated, such as backing up, turning, and more. Further, drivers must familiarize themselves with additional safety procedures and road rules associated with driving commercial heavy-haul trucks and hauling heavy equipment.
When hauling heavy equipment, drivers need to know how to load and unload from their trailers and how to properly secure and maintain the load.
2. Truck Driving Takes Skill
Huge trucks with oversized loads attached are not easy to maneuver. It takes a skilled driver to calmly and carefully take a load where it needs to go with little to no trouble. Backing maneuvers, setting up the driver's seat and mirrors correctly, managing inclines, turning, and more become much more difficult in a large truck. It takes practice (and an extra driver's license) to be able to safely drive a large truck and additional skill to haul something with it. This is why Trusted Dispatch fully vets drivers before adding them to the network to make sure that only the best, most trustworthy drivers are hauling your heavy equipment.
3. Many Certifications Are Involved
There are a number of certifications required to become an owner-operator truck driver. First, you need to get your commercial driver's license (CDL). This is required for operating any kind of commercial vehicle, including a truck. To get this license, you need to pass knowledge tests to get a commercial learner's permit. Then you need to practice driving with a CDL holder in the vehicle with you before taking the skill test to get your own commercial driver's license.
Next, you need to be registered as a business in order to qualify as a commercial vehicle and operate legally. After that, the certificates required to operate depend on where the owner-operator plans to work. If they operate only in one province, then they only need a provincial operating status. If they operate in multiple provinces, then they will fall under federal jurisdiction and must obtain a safety fitness certificate with a federal operating status (if the vehicle weighs more than 4,500 kg).
Finally, an owner-operator must purchase insurance to make sure they are covered in case of an accident. t Trusted Dispatch, we never add uninsured drivers to our network.
4. It Can Be High Risk
Every job has its risks, and unfortunately, heavy equipment transport comes with quite a few of them. Accidents happen, especially on the road, when drivers are tired. Long hours of driving can lead to increased fatigue, which, when not kept in check, can lead to accidents. Unpredictable road conditions, other drivers, and any road hazards also add risk to the job.
It is up to the drivers to keep themselves and others safe by staying well rested, pulling over when they need to, and practicing defensive driving. They need to be ready to deal with snow, rain, freezing rain, ice, darkness, and more while doing their best to keep loads on track for safe, on-time delivery.
There is also added personal risk due to the stress of truck driving. Being on the road constantly is stressful, with traffic, risky conditions, and time pressure. Further, being away from home for extended periods of time can take a toll on drivers' mental health. It is also difficult to find time for oneself when on the road, particularly for self-care, because when you're sleeping in the can of the truck, it can be difficult to eat well, get active, and take care of your body. Professional drivers know how to counteract these risks and take care of themselves and their health while on the road.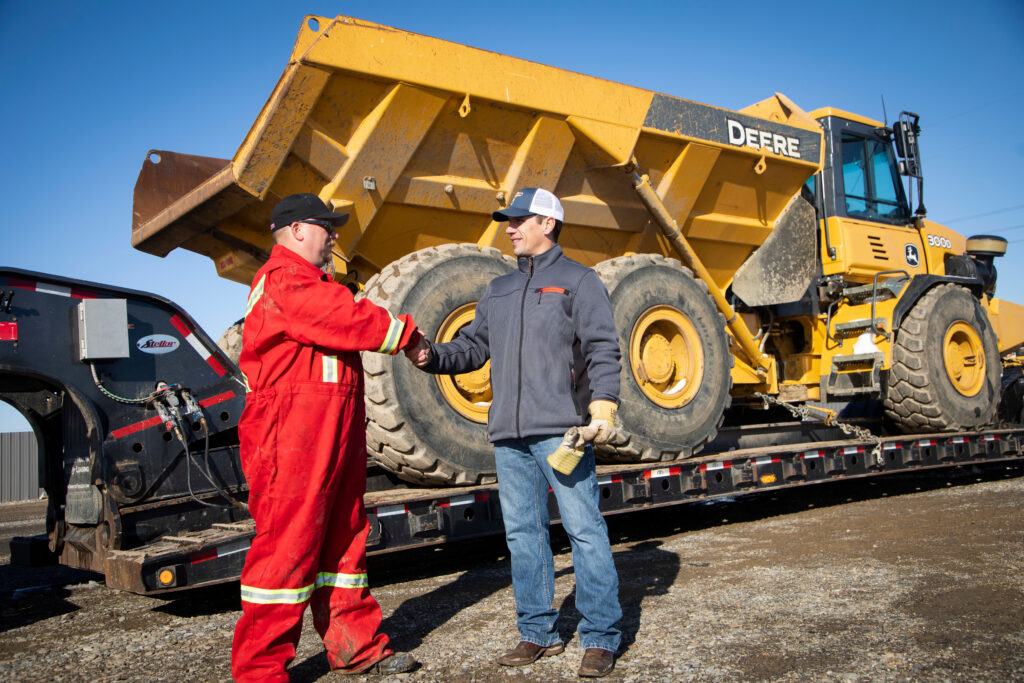 5. Keeping the Road Safe
The high risk that comes with heavy-haul trucking is a significant reason why owner-operators work so hard to meet safety standards. If they don't, the repercussions could be severe. Our drivers always communicate with customers before loads even get on the road to ensure that safety is a top priority from the beginning, and they follow federal safety regulations as well as their own safety program.
Starting with loading day, drivers will ensure the right trailer type is carrying your machine and that the equipment is loaded safely onto the trailer. They'll also check that all the correct points are secured properly with adequate chains.
As they drive, they remain conscious of the heavy load they are transporting and take care to drive safely and respond to conditions, whether they be road, weather, or personal. That could mean allowing extra transport time in case of severe conditions and accounting for time to sleep and eat in order to stay safe.
6. Knowing Road Rules and Regulations
Knowing the rules and regulations of the road is another big part of being a successful and safe heavy-haul truck driver. When transporting heavy loads, especially oversized loads, the rules get more complicated, so it's even more important to be on top of them. For example, oversized loads cannot travel during certain times. In order to avoid fines and delivery issues, drivers need to know those time restrictions and communicate with the customer to get the load delivered on time.
Part of maintaining operating status means complying with the Canada Motor Vehicle Transport Act, Canada's Commercial Vehicle Drivers Hours of Service Regulations, and following their own safety and maintenance programs. That means drivers need to be highly familiar with these documents.
7. They Have to be Organised
When you're an owner-operator truck driver, you're in charge of all the paperwork pertaining to your truck, so it is essential to be organized in order to keep track of jobs and stay on top of insurance, registrations, maintenance, and any other records. Files need to be labeled, stored properly, and kept in an easily accessible place, such as a file box to bring necessary paperwork on the road. If transporting the physical papers is not possible, then they need to keep organized digital records instead. Time management is also essential to keeping everything in good shape.
8. They Maintain Their Own Trucks
Large trucks carrying heavy loads need to be kept in excellent condition in order to stay safe on the road, and that means keeping up with a regular maintenance program. It is entirely possible for these trucks to be taken into a shop to get procedures done, but many drivers are skilled mechanics and usually know their trucks very well and thus choose to perform maintenance themselves. This means staying organized and finding the time when they're not on the road to keep the truck in the best possible shape for all the loads it carries.
9. They Often Work Unpaid Hours
Truckers are usually paid by mileage rather than hourly, which makes sense until delays on the road start to pop up. Any extra time spent slogging through traffic or sloughing through poor weather conditions often goes without payment because, despite the extra time, it's the same mileage. The need for loading breaks and driving appropriately for the conditions adds time that isn't compensated, which could entice drivers to move faster and drive with less caution.
There are more unpaid hours when you factor in truck maintenance, load planning, communicating with clients, dealing with permits and paperwork, and more.
However, through Trusted Dispatch, we do our best to make sure drivers are paid fairly. They do receive better rates through the trucking load board since communication moves directly between the customer and driver, eliminating the middleman. And when loads are a bit more complicated, such as loads that cross the border into the United States, drivers will sometimes offer flat rates to help you with paperwork.
10. They Love to be On The Road
Most truck drivers don't choose to spend their work lives on the road if they don't love it, so if you ask, most truckers will tell you that yes, they do love spending their days on the road driving past forests, mountains, prairies, lakes, rivers, and more. Heavy equipment shipping offers a unique opportunity for drivers to travel across Canada and the United States. And there can be some pretty spectacular views from the cab of a truck. Canada has some very diverse terrain, and truck drivers get to see it all, from the coast to the Rocky Mountains, to the prairies, and beyond.
Finding a Reliable Heavy Equipment Transport Company
If you're looking to find expert drivers to help you transport your heavy equipment, look no further than Trusted Dispatch. Our network is full of skilled drivers ready and waiting to help you out once your load is posted to our heavy haul load board. And when you ship with Trusted Dispatch, you can always trust that your load is in good hands. Before adding a driver to our network, we fully vet them to confirm that they meet all of our standards, which include being an owner-operator and being fully insured.
Not only do we have excellent drivers working in our network, but we also have a simple, straightforward process to make heavy equipment shipping as easy for you as possible. To get your load started, it only takes three steps: inputting your pick-up location, inputting your drop-off location, and providing the dimensions for your load (height, weight, width, and length). If you have any questions, you can contact us by phone, email, or online chat. Get your heavy haul load on the move by getting your free, instant quote today.