Shipping Heavy Equipment
You just spent a lot of money on a machine, and now you have to pay to ship it. Or, maybe you just need to move equipment to a different job site.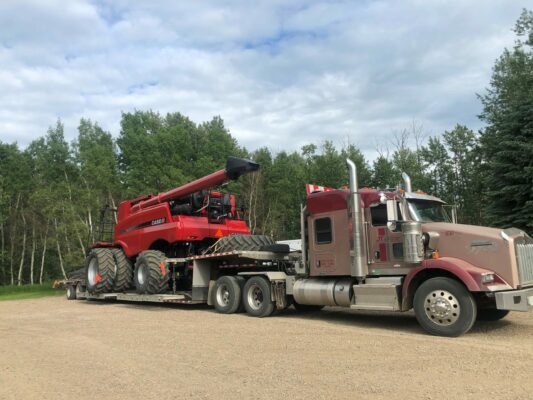 Shipping equipment can be costly compared to other heavy equipment services. You want a shipping cost that is within your budget.
Fortunately, there are a number of ways of keeping your costs down without resorting to low-cost (sub-par service) haulers.
One of the first steps you need to take to decrease shipping costs is to know few crucial factors. Then you need to understand which of these elements are in your control and how they influence price.
The following factors are generally not in your control:
Weight. The weight of the load will determine the size of the trailer and how many axles are on it. Heavier loads require more axles and larger floats, which then require larger trucks to haul them.
Dimensions. The length, width and height of the machine will dictate the type of trailer, which will have an effect on rates.
Distance. Mileage adds up. After delivering the load, the driver has to return back to their starting point and the shipper pays the hauler for those empty miles.
Location. Different jurisdictions across the country have different regulations regarding axle and trailer types, which can push up price. The regulations mean haulers need to purchase trucks with the regulated axle configurations. Because this can cost more the increase gets passed onto the shipper. Also, the number of companies eligible to haul your load to or through locations with unique axle regulations will decrease. So this can lead to higher rates.
Oversized. Oversized/Over Dimensional loads can require permits and an escort vehicle, which greatly increases the cost to transport heavy equipment.
Regulations. Besides axle and oversized rules, some jurisdictions have other restrictions. Like no heavy hauling at night. This can negatively impact your schedule or the route selection.
Unfortunately, there aren't an equal number of factors that have an effect on price that are within your control.
Knowledge is power
Get informed. If you know what services and equipment you need, as well as what is impacting your cost, you can make decisions to mitigate the impact of those factors. Thus only paying for services you need.
Professional truck drivers will serve as trusted advisors, but you have to know what kinds of questions to ask them. And, you should always have a second source of information to vet any advice. Also, dishonest haulers will take advantage of you. Being informed helps you avoid dishonest and sub-par haulers.
Schedule
If you need to ship something right away or on a certain day like a Combine needed for harvest, it can cost you more money. That's because the pool of haulers that can accommodate those dates will be decreased.
If you can allow a flexible shipping timeline haulers can then coordinate delivery of your equipment with transport of another load. The driver will optimize the schedule (such as on the return trip of another delivery) and a part of those savings will be passed onto you, the shipper.
Hauling doesn't have a busy season, like other industries, such as construction or agriculture. But there can be times (such as after a large auction) when the demand for heavy haulers is high. Once the market approaches total hauling capacity, the competition for services drives up prices. Being flexible with dates makes it easier to negotiate a better price.
Quotes
The price you pay will largely depend on which companies you approach for quotes and how many companies you approach. Getting more quotes increases your chances of getting competitive deals.
With this information, you can determine your shipping cost estimate.
The best way for shippers of heavy equipment to get a lot of quotes on their load is to post the load on a trustworthy load board.
Trusted Dispatch is the best load board in Canada for Heavy Equipment buyers, sellers and anyone that needs to ship equipment within Canada or the US. The company's online system allows shippers to quickly and easily, get quotes, post their load and contact haulers.
Shipping Quote from Trusted Dispatch
With Trusted Dispatch, getting a quote is easy.
The drivers listed with Trusted Dispatch are professional truckers that meet Trusted Dispatch's standards for customer service, industry knowledge, quality equipment, and safe operation.
QUOTE
Simply go to the platform's Get a Quote page and enter the load's pickup and drop off locations. Use the company's machine specification tool (Spec tool) to autofill all the important load data (dimensions and weight) so you don't waste time having to look up that information yourself.
Once you submit your load information, you will receive a quote immediately. That's all done in 3 clicks of a button!
It is that easy to determine the cost to ship heavy equipment. You can learn more about Trusted Dispatch's shipping process, here: https://trusteddispatch.com/shipping-process.
POST THE LOAD
If you're happy with the quote, and verified the load details, you can post the load for free. A message goes out to the haulers on the platform informing them a new load is available.
DRIVER CONNECTED!
When a driver agrees to haul your load at the calculated rate, you are notified via e-mail, text and the app. You can review that driver's profile along with their star rating, reviews, experience etc. And either accept or decline the driver.
Multiple Pieces of Equipment?
Shipping multiple items is easy as well. For multiple loads, just input the dimensions for the single item going on one load, then post duplicate loads when prompted.
When shipping multiple small items on a single load, input the total dimensions of all the items stacked in the desired orientation. You can still use the Spec tool to find the dimensions of each item, however you will need to calculate the total weight and dimensions and enter them.
Data drives down the cost of shipping heavy equipment
Plus, the company's software gives shippers access to statistics and trends with current and historical information to drive better decisions with data.
With the information provided by the software, heavy equipment shippers can publish reports, to share insights with your team, replace inefficient and erroneous human reporting with automated, real-time insights and get alerts via text or email for potential immediate action.
This information will allow you to identify gaps in your shipping processes, drive down costs, increase speed and scalability and decrease costly mistakes caused by human error.