Do you work at dealerships shipping heavy equipment? Calling all branch managers! Sales & rental coordinators! Service managers!
Are you the go-to, the coordinator or THE person responsible for getting shipping quotes and organizing transport for your customers once they have purchased heavy equipment?
Are you tired of going back and forth with drivers and brokers? Requesting and receiving multiple quotes via e-mail, phone, and sometimes experiencing those long waits.
Meanwhile, your customer just wants the equipment, like, yesterday. Then finally when you do have the information, having to relay all the details to the heavy equipment buyer? Sometimes starting the entire process again due to changes in the destination, adjusting equipment dimensions or weight, and the inevitable re-quotes etc.
There must be an easier way to ship heavy equipment, right?
Shipping is the last piece of the puzzle in the "sales process". Everyone that works at a dealership knows this.
Not everyone realizes it is one of the most important stages too. The final step. You know and your team knows the sale is not usually fully complete and counted until that equipment is shipped and off your property.
You might already have your list of go-to guys that you trust and have used before. Well, we are not here to rock the apple cart, we just want to give you another option for your consideration. It might be one day your go-to guy does not have any availability. And that is where Trusted Dispatch can come in handy, especially if you are in a pinch.
Our system allows you, or your customer to connect with an Owner Operator passing through Canada and the United States (check out our Drivers in Action) with the availability, correct equipment and know-how to get your important heavy equipment load picked up and delivered safely, legally, and of course cost-effective.
And yes we can handle cross-border heavy equipment shipping, we even put together a customs broker resource to assist you. We know working at a dealership can be busy.
So not only can you get your quote in an instant, but we also have a large database of Owner Operator Drivers that continues to grow. We can get you, or for that matter, your customer, connected with a trusted professional trucker without all the usual hassle.
Shipping heavy equipment hasn't been easy for dealerships. Take a look at the shipping solution that might just be a great fit for the dealership you work on.
So how does it work you might be asking?
Trusted Dispatch allows you to get an instant shipping quote for heavy equipment in only 3 simple steps.
It's intuitive and easy to use. You can even share the quote and the link for your customer to carry on and ship the equipment if you prefer. Our system can calculate the shipping rate for loads up to 110,000 lbs! If your load is above that our system will automatically send your load out to our professional Drivers as a "Request For Quote" You'll then get a quote direct from the driver!
Are we a good fit for a dealership?
Our Owner Operators run many truck and trailer types, almost all are open deck equipment trailers (take a look at our trailer rundown).
For example, Step Decks, Double drops, RGN, Low Boys and specialist trailers. We even have Drivers that run gooseneck trailers that can handle smaller equipment loads. Our Drivers are experts when it comes to hauling all manner of heavy equipment legally and safely, including permitting requirements, pilot escorts, route planning, safely loading and securing your equipment.
Whether it's a Combine with Duals, our drivers have trailers with pull-outs. All the way to shipping a Dozer that requires an additional jeep. We can help and have the knowledge to support dealerships around Canada and the US.
Features:
Pick Up & Drop Locator:
Accurate mapping: street and satellite. Making it easy for you to enter a business name, postal or zip code, pinpoint the location by moving the cross hairs, or simply use the current location button.
Get your free instant quote.
Spec Search Tool:
No need to scour the internet looking for the dimensions and weight of the equipment you need to ship! Simply use Trusted Dispatch's Specs Tool.
Enter the model and the system will find the equipment and pre-populate the weight and dimensions for you.
SHARE the quote directly with your customer:
When you have your instant quote, you can share that great rate with your customer. They can pick up from where you left off, review the quote, make any changes they like and choose to use Trusted Dispatch. We will look after your customer, just as well as you have.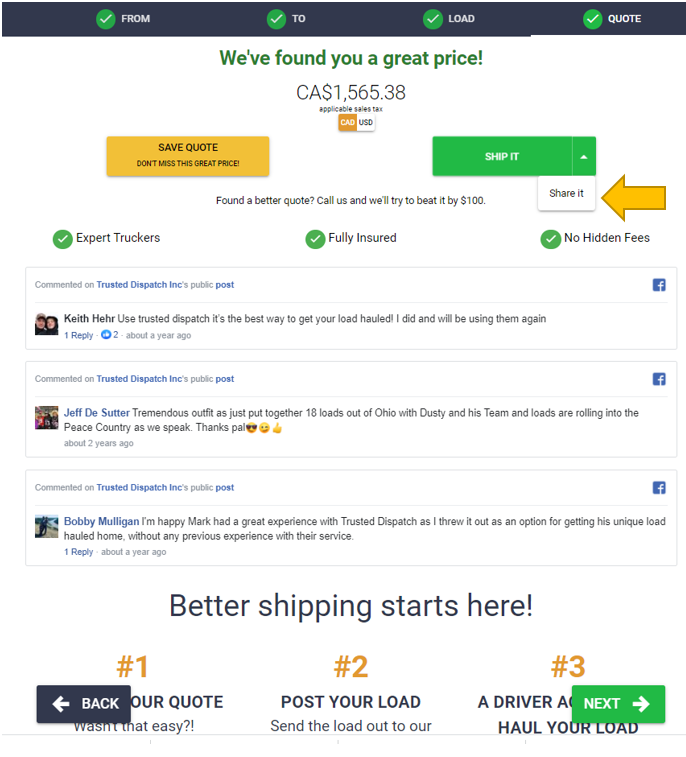 Dealerships shipping heavy equipment, learn more about the shipping process when using the Trusted Dispatch's system.
Customer Support:
Just because we are a digital load board with the very best heavy haul drivers does not mean you can't reach us! We have real people in the office ready to help you. Contact our Support team and speak to an actual Human! Call us+1-587-956-8681
We understand your needs when it comes to shipping equipment. We are here to help.